The Blue Bloods Episode Idea That Would Put A Dark Spin On The Family Dinners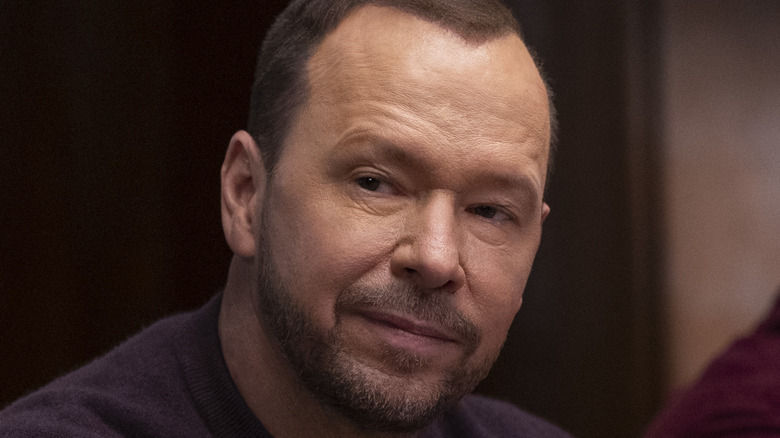 Courtesy of CBS Entertainment
If you have ever watched any number of episodes of the CBS police procedural "Blue Bloods," then you are more than familiar with the dinner scenes. The Reagan family gets together every week to break bread and bond over the week's events. It is a sweet and somewhat necessary addition to the episodes, as it lends commentary to the series' themes in a natural way. These dinners are also the only time the entire cast is on set at the same time, which is important for showing all the bonds between characters, actors, and everybody involved — even if, as Tom Selleck once mentioned to Cinema Blend, the filming of these scenes can be a long process. "We embrace family dinner," Selleck said, "the only problem is it takes 6 to 8 hours and you have to just keep eating the same old food."
One Redditor, though, feels they have an idea to make the dinner scenes even better. Because while the dinner scenes are typically only an exclamation mark on the end (sometimes the middle) of an episode, u/readdeathmasque has a different vision for one installment. As they posted "I think they should do an entire episode that's just around the dinner table. Different things can happen; people could come and go, but I'd like to see a whole episode like that."
Each episode of "Blue Bloods" circles around members of the Reagan family as they navigate the circumstances in their particular corners of the justice system. With an entire episode focusing on the dinner scene, some creative writing would need to occur. Here are a few ways that kind of episode could work.
A hostage situation keeps everyone there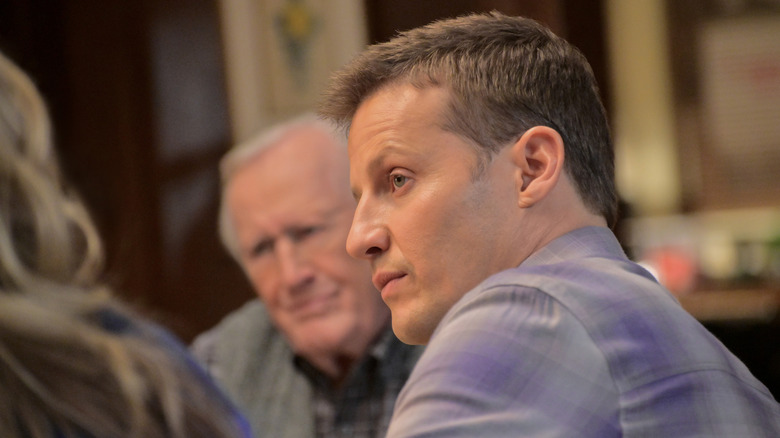 Courtesy of CBS Entertainment
The first, and maybe the most obvious way for the writers to make an entire episode of "Blue Bloods" center around the dinner table would be a hostage situation. What better way to keep a bunch of cops in one place than to arrange for a sinister criminal to force them there?
u/balasoori responded to the original post hesitantly before delivering what could be the most readily workable scenario for it to actually work. Their comment says, "It wouldn't work. What makes this series great is that we see different characters in their roles as cops, A whole episode on a family dinner would be quite boring unless they have a hostage situation where a bad guy breaks into the house and holds the family hostage during Sunday dinner." 
This proved to be a lightbulb moment for the same Redditor, who then wrote,  "D***, I just wrote [the] plot to an episode."
With four decorated officers around the table and literal decades of criminals locked away by the Reagans, there is a long list of criminals who could return for revenge to take out the family. Perhaps the most compelling of stories would revolve around a criminal put away by Frank Reagan (Tom Selleck) before he rose to 1PP. Of course, like Frank, this criminal would be in their 60s or older, so their son and grandson showing up could put family against family, legacy against legacy. This approach could also serve as a backdoor pilot to the young Frank prequel series that fans want to see. And if the show did take this route, perhaps one more way they could stick to the familial theme is to have Joe Hill (Will Hochman) be the catalyst in a Reagan victory.
A major character death causes people to come and go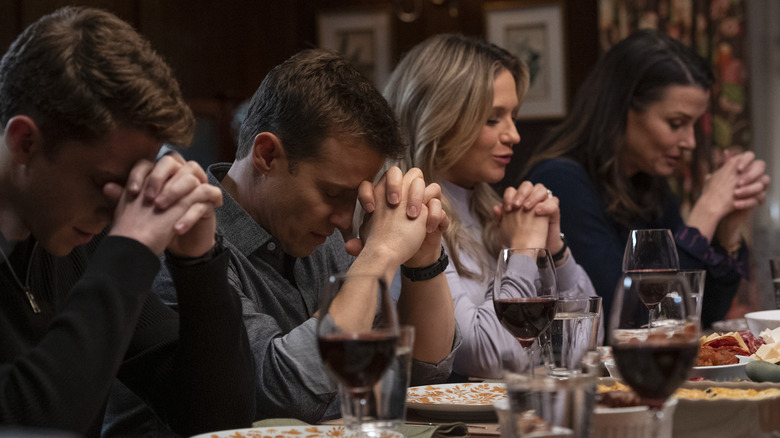 Courtesy of CBS Entertainment
Alternatively, there's another — and perhaps more emotional — approach the series could take.
Law enforcement is a dangerous life. From gangs targeting police to corrupt officers trying to get rid of good cops on their tail, police face daily dangers. This fact makes it relatively likely that the Reagan family, one deep in the business, would meet their fair share of tragedy. 
That brings us to a likely subject matter for a special episode focused entirely on the family dinner. To date, the Regans have lost Henry's wife, Betty, to an unknown sickness. They have lost Frank Reagan's (Tom Selleck) wife, Mary, to an undisclosed illness. Frank's second-oldest son, Joe, was killed before the Season 1 premiere by the Blue Templar while he investigated them. And finally, the only family death to occur during the series run is Linda Reagan (Amy Carlson), who perished in a helicopter crash between Season 7 and 8. Reagans' lack of onscreen deaths gives the series an interesting and emotional option for an episode — that is, focusing on one character as he interacts with each of the others until it is revealed at the end of the episode to have died in some way. 
"Blue Bloods" has a particular formula. The death of a central character is the emotional moment that could shake the formula off, to focus entirely on the grief of the characters and audience.
The whole episode is an evolution to a new chapter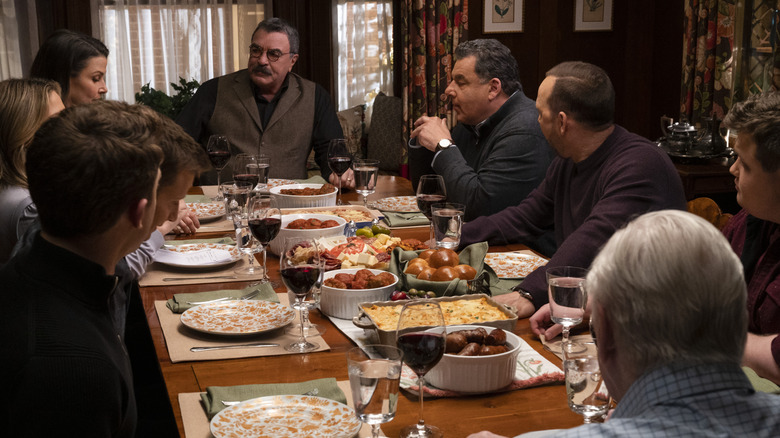 Courtesy of CBS Entertainment
The end of an era is a monumental occasion. This kind of occasion can cause writers to break the mold and write an episode utterly different from the others. Maybe for "Blue Bloods," after over a decade of the family business, it is time for an era to end, thus prompting a reason for an episode that focuses solely on the Reagan dinner table.
Frank gets older by the season, and it is only a matter of time before he announces his retirement from the New York Police Department. Maybe after his retirement, he and his father decide to move on from the big house and settle somewhere where the fish bite. Selling the home where his children grew up is a momentous occasion for the family to come together for one last family dinner.
With the episode's focus being on memories, each member of the Reagans would get an opportunity to speak one-on-one with Frank, and to tell him their favorite memory in the home. One of the ways the writers could punch up the episode, giving it an extra dose of emotional poignancy, is to have Mary Reagan show up ... obviously not for real, but an imaginary conversation between Frank and his late wife about the decision to move on from their home and start his retirement would be a fitting end for his character.