Why The Opening Of Better Call Saul Season 6 Means More Than You Think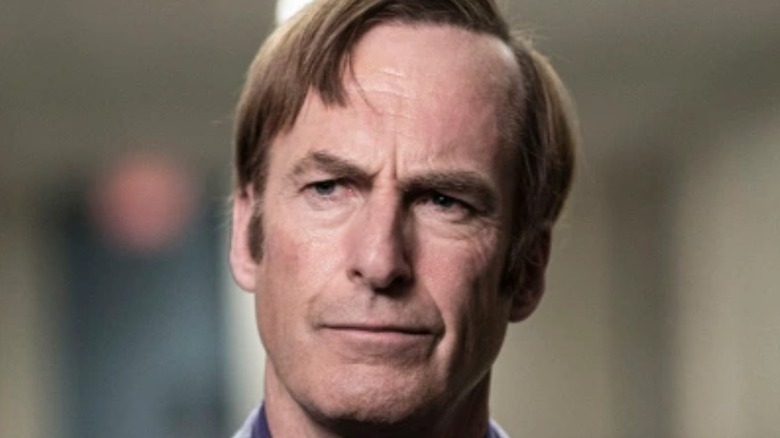 Greg Lewis/AMC/Sony Pictures Television
This story contains spoilers for the Season 6 premiere of "Better Call Saul" and all of "Breaking Bad."
"Better Call Saul," the prequel series to the massively popular AMC show "Breaking Bad," is in its sixth and final season, after years of build-up since its premiere in 2016. Traditionally, the first episode of each season would begin in black-and-white and the presumed present day, where Jimmy McGill (Bob Odenkirk) would be in hiding under the name of Gene Takavic, working at a pretzel bakery in a quiet mall.
However, the final season premiered a bit differently. The premiere episode opens in what appears to be falling action after Walter White's (Bryan Cranston) cover is blown and Gustavo Fring's (Giancarlo Esposito) death. Instead of airing in black-and-white, the episode starts with a smooth, relaxed tour through a mysterious house, as more people carefully move objects in and out. The luxurious shot ends with a pineapple cork laid on the pavement, forgotten by the movers but signifying the end of the relationship between Jimmy McGill and his likely ex-wife, Kim Wexler (Rhea Seehorn).
The Season 6 premiere likely signals an end to Kim Wexler's relationship or life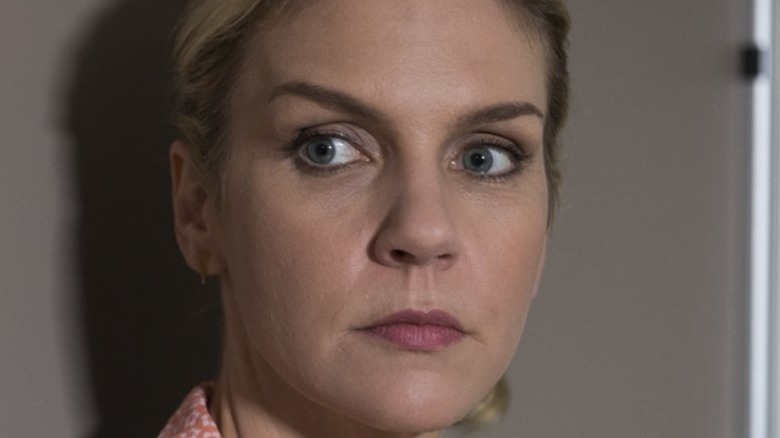 AMC
Although AMC is doing its best to keep everything under wraps, they couldn't help but let a few details surrounding the second half of the season slip. In an interview with The Hollywood Reporter, the outlet's chief television critic Daniel Fienberg asked series creators Peter Gould and Vince Gilligan questions about the creation of the wildly successful prequel series and its eventual ending.
They spoke briefly about the upcoming cameos of Walter White (Bryan Cranston) and Jesse Pinkman (Aaron Paul), then mentioned the audience's excitement surrounding new characters such as Rhea Seehorn's Kim Wexler and Michael Mando's Nacho Varga. Later on, Gould and Gilligan discussed the Season 6 premiere, and how AMC licensed out orchestrated music from "Days of Wine and Roses" to set an easy, old-fashioned romantic tone to kick things off in style. Gould also seemed to tease how the choice of music could foreshadow the end of something, most likely Jimmy and Kim's relationship, or perhaps Kim's life, though Bob Odenkirk did mention in 2021 (via The Guardian) that he doesn't believe Seehorn's character will die in Season 6.
"Dave [Porter] did some wonderful music in this episode, but [the opening] is actually the Jackie Gleason Orchestra playing 'Days of Wine and Roses,'" Gould said. "It's a tragic love story and so that felt right. Thomas Golubic is our music supervisor, but I think I found that, actually, and I would play it on my way to work every day. It just felt right, that giant orchestra. That's the very beginning of easy listening music. I've been told that Jackie Gleason more or less invented easy listening music."
"Maybe you might call it kitsch," Gould concluded. "I forget what the formulation is, but there is real emotion in kitsch."