The Better Call Saul Season 1 Episode Detail That Went Right Over Our Heads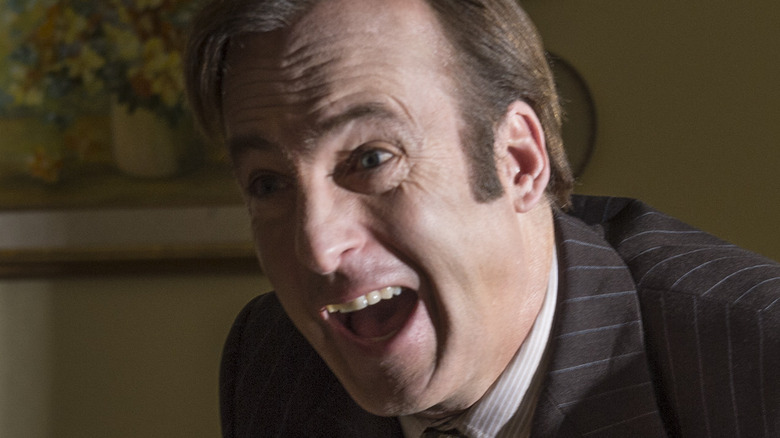 Ursula Coyote/AMC
The production team behind "Better Call Saul" have always rewarded the "Breaking Bad" prequel's loyal audience with minute details to catch, including interesting title schemes for its episodes. Most notably, "Better Call Saul" played around with an anagram within the first letter of the title for each Season 2 episode that read "FRING'S BACK," signaling the return of signature "Breaking Bad" antagonist Gustavo Fring (Giancarlo Esposito) to the prequel series (via Vanity Fair). The Peter Gould and Vince Gilligan-helmed series appears set on creating a naming scheme for its final run of episodes, too: the first seven episodes of Season 6 are all titled along the lines of "X and Y," with episode titles like "Wine and Roses," "Carrot and Stick," and the midseason finale "Plan and Execution," as Jimmy McGill, aka Saul Goodman (Bob Odenkirk) and Kim Wexler (Rhea Seehorn) go to painstaking efforts to ruin Howard Hamlin's (Patrick Fabian) career that would also end the Sandpiper class-action lawsuit and grant Saul his major payout. 
As it turns out, Seasons 2 and 6 are not the only "Better Call Saul" seasons Gould, Gilligan, and the show's writing staff took a thematic approach toward naming its episodes. Almost all of Season 1's titles follow a specific one-word pattern that showcases a fun grammatical rhyme scheme. 
All but one of Better Call Saul Season 1 episode titles end in 'o'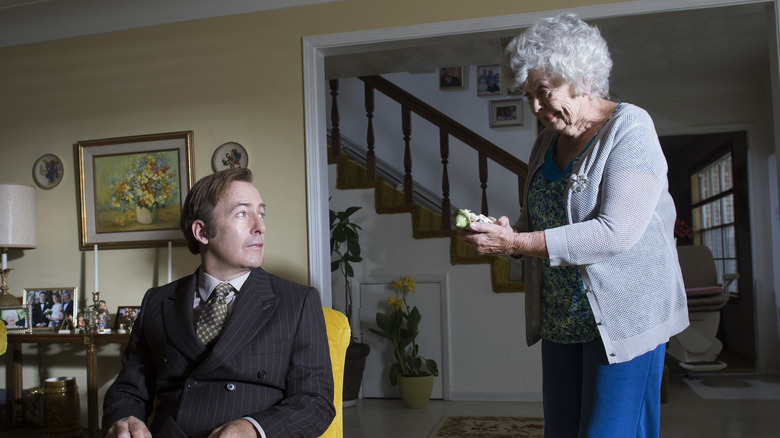 Ursula Coyote/AMC
"Better Call Saul" fans who take a closer look at every Season 1 episode title will note that each of the 10 episodes' titles ends with the letter 'o', except for "Alpine Shepherd Boy," the midway point in the season. However, there was no grand design for the Season 1 title theme.
On an episode of the "Better Call Saul Insider" podcast, executive producer Vince Gilligan said that the "Better Call Saul" writing staff decided over lunch one day to name each episode of the season a word that would end in the letter 'o.' Gilligan said they formed this idea while making "Alpine Shepherd Boy," and that they originally wanted to name the episode "Jell-O" in reference to the advertisements Jimmy puts for his elder law practice on Jell-O cups at a nursing home: "Need a will? Call McGill!"
Gilligan and the writers said they came up with the idea to end every episode of the season with an "O" at the lunch table, and that this episode — which ultimately wound up the only one with a title that didn't follow the pattern — was the one that gave them that idea. "We were not allowed to name the episode Jell-O," Gilligan said on the podcast. "It kind of harshed our buzz and slowed our roll in terms of ending every title with an O [this season]."
Instead, the episode's final title is a nod to the figurine that Mrs. Strauss (Carol Herman) presents Jimmy with, who she calls the Alpine Shepherd Boy. Gilligan said the production went with that tile because the episode's writer, Bradley Paul, approved of it as a secondary option.