When Is Better Call Saul Season 6 Coming Back?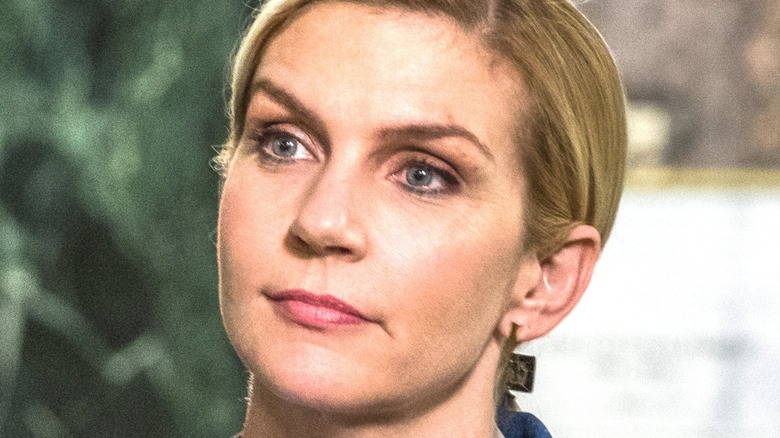 Nicole Wilder/AMC/Sony Pictures Television
"Better Call Saul," the prequel series to the acclaimed AMC drama "Breaking Bad," has been showcasing Jimmy McGill's (Bob Odenkirk) slow transformation into the shady criminal defense lawyer Saul Goodman since its premiere in 2015. Now, the series is halfway through its sixth and final season, with the midseason finale having aired on May 23, 2022.
The ending of the midseason finale, "Plan and Execution," certainly left a lot up in the air for viewers. The episode sees Jimmy and Kim (Rhea Seehorn) go through with their plan to tarnish Howard Hamlin's (Patrick Fabian) reputation in order to force the Sandpiper deal to finally be closed. Their plan went off without a hitch, with the duo now nearly experts at pulling off such schemes — they even expected Howard to show up at their apartment for a confrontation. What they didn't expect, however, was for Lalo Salamanca (Tony Dalton) to show up at their home as well. In fact, Jimmy didn't even know he was alive, as Kim made the decision not to fill Jimmy in.
With Howard unintentionally in Lalo's way, Lalo doesn't hesitate to pull out his gun and shoot Howard, promptly killing him, much to Jimmy and Kim's horrifying shock — as well as the viewer's. Fans are dying to know how Jimmy and Kim are going to move past Howard's death — which they are indirectly responsible for — and what exactly Lalo wants from them.
For fans curious as to when the show will be back so that they can get these answers, we know exactly when "Better Call Saul" Season 6, Episode 8 will air.
Better Call Saul is returning on July 11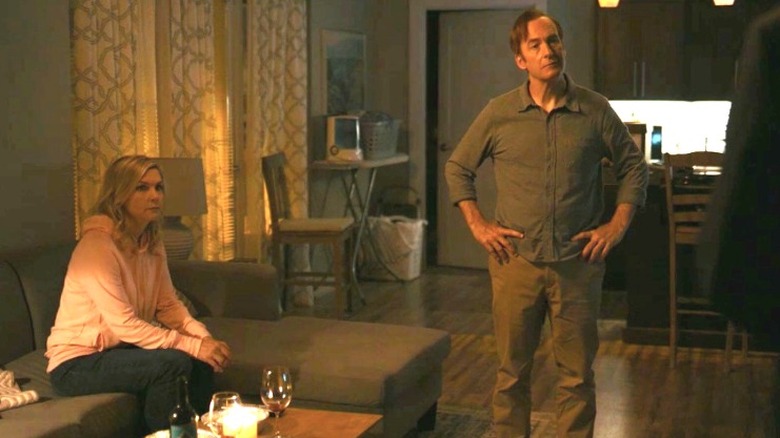 AMC
"Better Call Saul" has been confirmed to be returning on Monday, July 11 at 9 p.m. ET/PT on AMC (via Deadline). If you don't have cable, you can also subscribe to AMC+ (which starts at $8.99 per month) to catch the final set of episodes, as well as other options such as Sling TV or YouTube TV. There are six episodes left in the final season of "Better Call Saul," with the series finale set to air on August 15, 2022.
Fans can definitely expect to continue experiencing a range of emotions when "Better Call Saul" returns for its final episodes — at least according to co-creator Peter Gould. In an interview with Entertainment Weekly in April 2022, ahead of the series premiere, Gould teased what the final season has in store, declaring, "Whipsaw, rug-pulling, there's even some gaslighting. It's also devastating. Upsetting."
Of course, there are also some exciting cameos coming up. Gould revealed at PaleyFest LA in early April that Bryan Cranston and Aaron Paul would be reprising their roles as Walter White and Jesse Pinkman for cameos in the final season of "Better Call Saul" (via Variety). These cameos, along with whatever other tricks Gould and the writers have up their sleeves, will impact the entire "Breaking Bad"/"Better Call Saul" storyline. Gould told EW, "We're pulling a lot of threads together — sometimes they're threads, sometimes they're ropes ... I don't think you're going to look at Breaking Bad the same way again after you've seen this whole season."