The Beloved Stranger Things Character The Duffer Brothers Were Originally Going To Kill In Season 1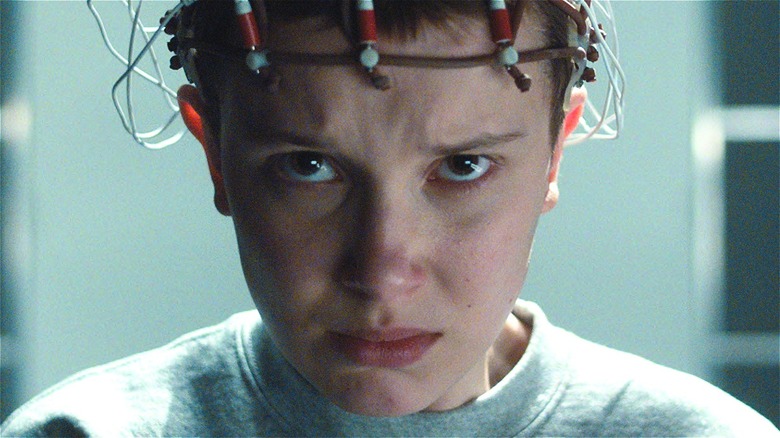 Netflix
The very first season of "Stranger Things" helps to establish the stakes of the series, and it doesn't just involve critical roles against Dungeons & Dragons baddies. Created by Matt and Ross Duffer, the series features a plethora of now-instantly recognizable child actors, including Millie Bobby Brown and Finn Wolfhard. The events of "Stranger Things" kick off when Will Byers (Noah Schnapp) mysteriously disappears and a young girl named Eleven (Brown) arrives. These incidents herald several other unexplained happenings around the town of Hawkins. These include other missing persons, a growing government presence, and strange organic growths appearing in seemingly random locations.
"Stranger Things" quickly shows that nobody is really safe in the first season. Within the first few episodes, Will becomes a prisoner in the extra-planar dimension known as the Upside Down, and a kindly restaurant owner is killed just because he attempts to help Eleven. One of the most shocking deaths in the first season is that of Barb Holland (Shannon Purser). Per Vanity Fair, the tragedy of Barb's gruesome death caused fans of the series to establish their own hashtag, #JusticeForBarb. Accordingly, it might interest fans to know that another fan-favorite character from Season 1 was on the proverbial chopping block, but received a last-minute reprieve.
Steve Harrington was supposed to die at some point in Season 1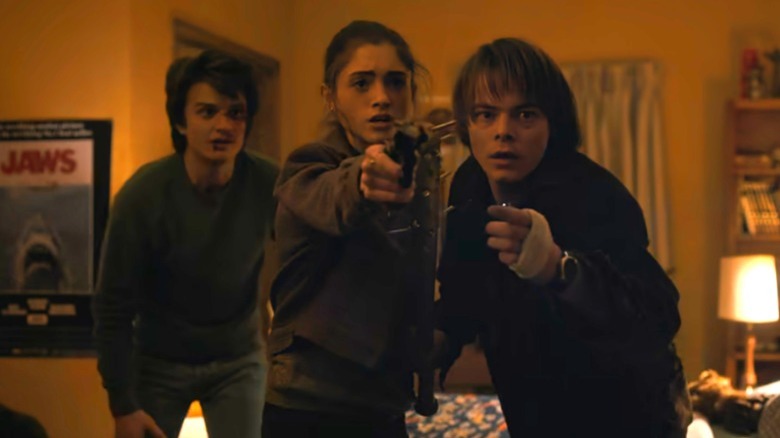 Netflix
While speaking at an event celebrating Netflix's Geeked Week, Matt Duffer started to explain how "Stranger Things" is a living show that responds to feedback from fans, other writers, and directors that work on the popular series. He then brought up Steve Harrington (Joe Keery) as a perfect example of how "Stranger Things" changes on the fly. In fact, Steve was originally supposed to die in Season 1. 
According to the Duffers brothers, the initial plan was to kill Steve off in the Season 1 finale. Specifically, Ross Duffer claimed that an early draft of Episode 8 ("The Upside Down") saw Steve perish during the fight with the Demogorgon. The two brothers then joked that it has been quite some time, and the exact details are a little hazy. Interestingly, they both agreed that they never thought Steve was going to prove to be so popular and integral to the story.
"It evolves," Matt Duffer then added. "So, it's not like we're making it all up as we go along, but the characters and the actors and everybody who works on the show informs what we're doing." Considering these comments, it certainly seems like Keery's performance had an impact on his character's fate, helping to solidify Steve as an integral part of the "Stranger Things" universe. Still, given the great many threats faced in Hawkins, we can't help but worry about Steve's overall longevity.