The Best Family Dinner Scene In Blue Bloods Season 8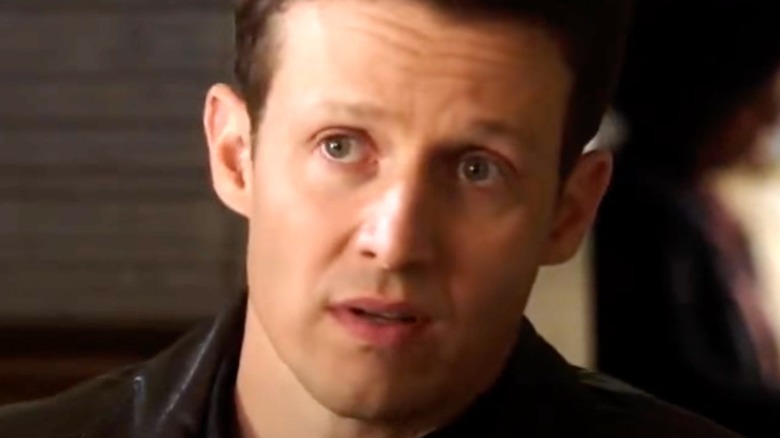 CBS/YouTube
One of the ways that CBS' long-running police procedural "Blue Bloods" has kept its devoted fanbase engaged is through the unique family dynamic of the Reagan clan, represented mainly by the weekly Sunday dinner. And while every season is marked by the Reagan's trials and tribulations, Season 8 was particularly tumultuous for the family.
The season starts with the bombshell that Danny Reagan's (Donnie Wahlberg) wife, Linda (Amy Carlson), has died in a helicopter crash off-screen between seasons. Danny blames himself for Linda's untimely death and considers retirement to be with his sons. Instead, he is pulled into an investigation into an attack on Erin Reagan's (Bridgette Moynahan) ex-husband. The season also sees Frank Reagan (Tom Selleck) go from political enemy to uneasy ally of the interim mayor of New York City (Lorraine Bracco), all while Erin takes on a vicious human trafficker (Tia Carrere). And Jamie Reagan (Will Estes) and Eddie Janko (Vanessa Ray) battle their feelings yet again while debating the sergeant's exam.
While the premiere of the season brought an emotional Sunday dinner with the Reagans setting Danny and his boys up in a new home, there is one other dinner scene that stands above even that emotional family moment. The result of which changes the course of the series for multiple characters.
The Season 8 finale saw Jamie and Eddie take a long awaited step forward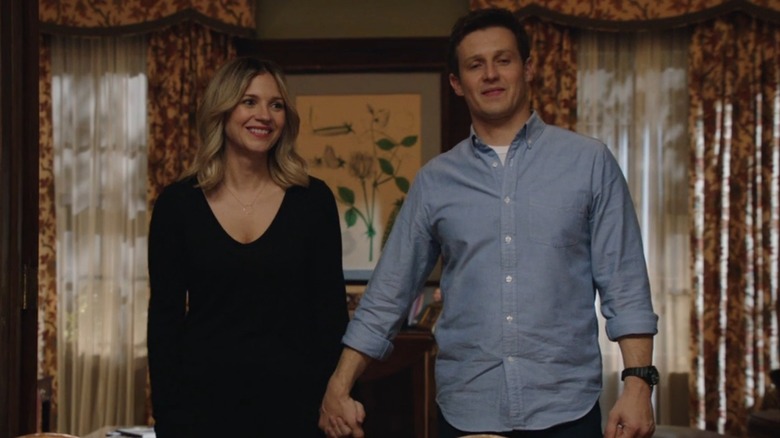 CBS
Just about every character in "Blue Bloods" has some kind of role to play in NYC's criminal justice system. For Jamie Reagan and Eddie Janko, it's the job of a beat cop, working on the ground level to protect everyday citizens and each other. Throughout four seasons, Eddie rode shotgun with Jamie, and there were many times when writers teased viewers that their relationship might blossom into something more. "Jamko" became the ship of the show. Alas, the uber professional Jamie and the headstrong and determined Eddie refused to let their feelings get in the way of their careers. In Season 8, Episode 22, "My Aim is True," all of that changed as Jamie found himself in the crosshairs of a shooter. Eddie saved him at the last moment, and the two of them had an emotional scene on the street.
That week's dinner scene saw Jamie finally introduce Eddie as more than his work partner. To the stunned faces of the rest of the family, Jamie introduced her as his fiancé. After four years of waiting, Jamie and Eddie went from a strictly platonic and professional relationship to a full-fledged engagement in a matter of seconds.
Jamie and Eddie's relationship was a watershed moment for Blue Bloods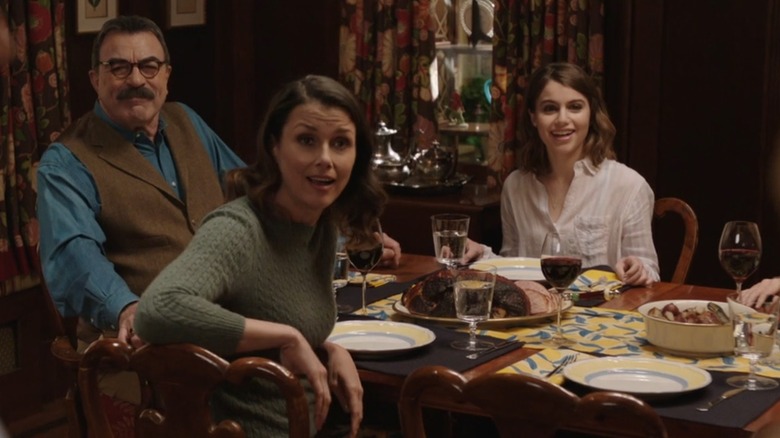 Courtesy of CBS Entertainment
This particular family dinner moment is a big one for one obvious reason: after years of suppressing what felt like a natural connection, Jamie and Eddie now no longer need to pretend that they don't have feelings for each other. But there are also a few more aspects to this particular announcement that make it a monumental occasion not just for the Reagans, but the show itself. 
The announcement meant that audiences could stop sitting on the edge of their seat, waiting for Jamie or Eddie to finally make a move. For the Reagan family, there is finally another family member taking the walk and gaining a spouse. With three widowers and a divorcée by this point in Season 8, the Reagans desperately needed new blood. In a review of the episode, Christine Orlando of TV Fanatic illustrates that perfectly, saying, "What struck me was how happy everyone at that dinner table looked. At the beginning of this season, a light was lost when Linda died, but Eddie's addition to the family brought back a light heartedness that's been missing."
All of this is just on the edge of getting more and more complicated, however, as Jamie looks the sergeant's exam straight in the face. Passing it would mean he would be married to an officer under his supervision. Either that or Jamie and Eddie would need to be separated. In any case, Season 8's best dinner scene brought a long-overdue development to a relationship full of differences that proved to be an important emotional core of the series moving forward.