Jurassic World Dominion Director Reveals How The OG Cast Cameos Became Possible - Interview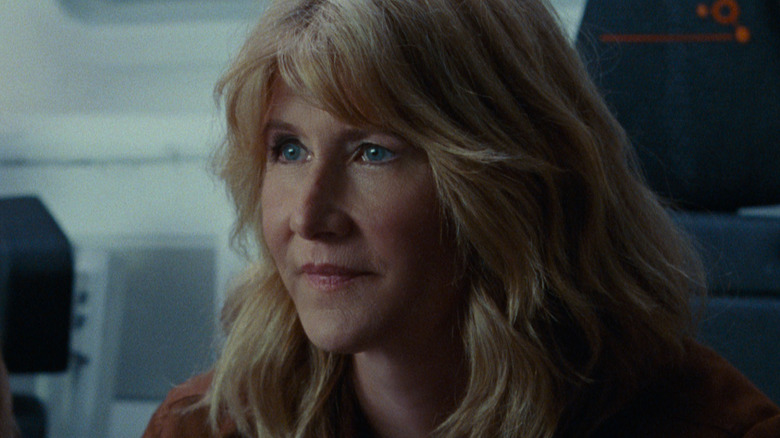 Universal Studios
"Jurassic World Dominion" is the final movie in the franchise's latest trilogy, so naturally, it had to go out with a bang. Of course, that meant getting some of the original cast, like Laura Dern (Ellie Sattler) and Sam Neill (Alan Grant), to sign onto the film. 
More original cast interactions happened to be just about the only thing missing from the "Jurassic World" films — up until now. Getting some of the OG film's major players on board was just as important to "Jurassic World Dominion" director Colin Trevorrow as it was to the fans, and really the movie wouldn't be the same without them. 
Looper's sister site Slashfilm spoke to Trevorrow where he revealed how the original "Jurassic Park" cast cameos came about in "Jurassic World Dominion." He also discussed what it was like filming the massive team-up scene between the OGs and the newer cast. The director even went down memory lane to the first time he read the "Jurassic Park" book.
Two trilogies collide in 'Jurassic World Dominion'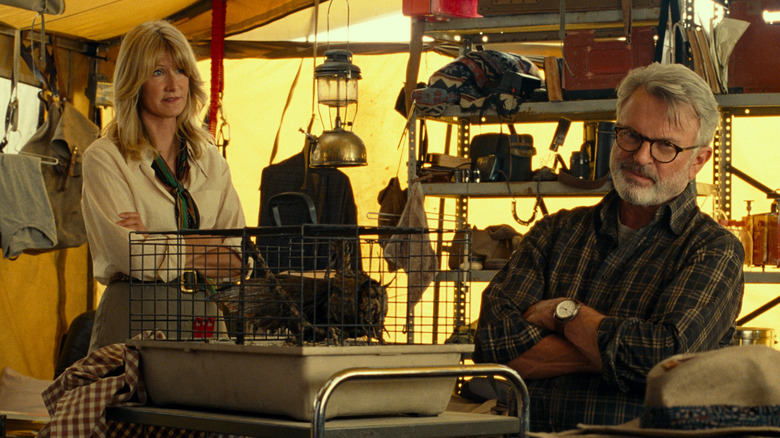 Universal Studios
Regarding how the original cast cameos came about, Trevorrow said, "You know, it came out of a real desire to show them the respect they deserve." Just about everyone can remember the first time they saw "Jurassic Park," and Trevorrow is no different. "I first saw 'Jurassic Park' when I was 16-years-old, and these three actors are not just icons themselves, but the characters have become iconic. And to have a whole generation that has lived a very long time with these scientists at the forefront of this franchise in their memory, honestly, it would feel wrong to not know how they react to this new equilibrium that's been created on the planet," he said. 
Trevorrow added, "And it felt like it was an opportunity for two generations of moviegoers to come together and enjoy something in the same way, even if it's for different reasons, you know?" The final product was certainly a mashup of honoring the past while looking to the future — all wrapped up in a delightfully nostalgic bow.
The past meets the present as the trilogy wraps up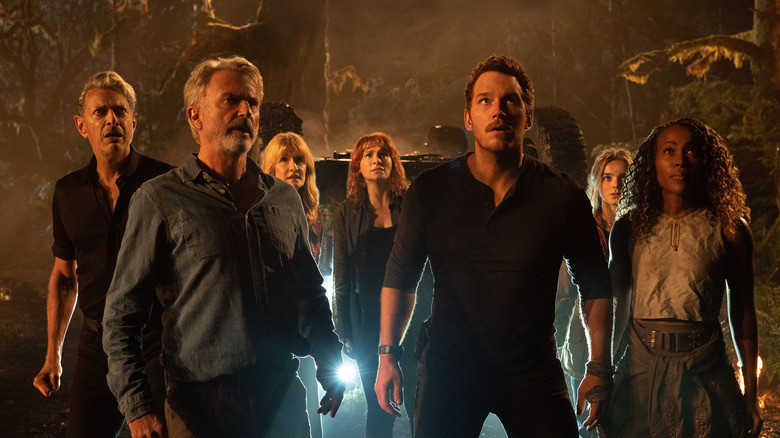 Universal Studios
The moment in "Jurassic World Dominion" when the original characters and the new cast come together is iconic, but it's also a pretty emotional scene. Trevorrow recalled how he felt bringing that moment to the screen. "I knew it was going to be emotional inherently, so I didn't want to play to that, because just seeing them together is going to give you a lot of memories," he said. "What I wanted to do is just press the 'danger' button right away, and put them into a situation where they all had to survive together, because I think that's really what we actually are coming here to see."
When it comes to doing a fresh take on a classic franchise, fans can tell whether or not the people behind the camera are as passionate as they are about the movie. Luckily for "Jurassic Park" fans, Trevorrow cares about the original book and series just as much as those watching.
On whether or not Trevorrow could have imagined helming a trilogy when he first read the book all those years ago, he said, "No one's asked me about the book before. I was in Mexico on an island called Isla de Mujeres, which was off the coast of Cancun, with my family. I was probably 12-, 13-years-old." He added, "I could never have imagined that I would have the responsibility to make not one, but three sequels to one of the most thrilling movies ever made by our greatest filmmaker now."
"Jurassic World Dominion" releases in theaters on June 10.