Amazon's Paper Girls Looks Like The Comic Book Adaptation You Didn't Know You Needed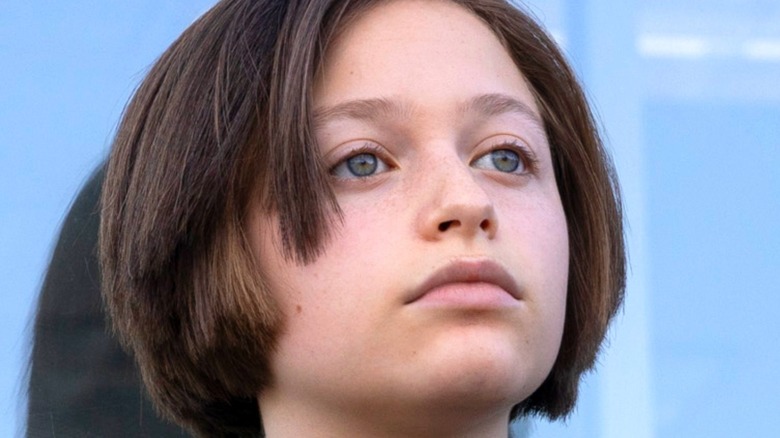 Anjali Pinto/ Amazon Studios
In the last few years, Amazon Prime Video has proved that it's the place to go for live-action comic book adaptations that are a little different from the usual capes and tights projects audiences are used to. The service has delivered a steady stream of unique shows based on classic comics like "The Tick," "The Boys," and "Invincible." However, there's another acclaimed Image Comics title that's getting the TV treatment: "Paper Girls." Yes, the time-traveling story from "Saga" creator Brian K. Vaughan and artist Cliff Chiang is coming to Amazon Prime.
The comic follows a group of girls in the fictional town of Stony Stream who are out delivering papers in the early hours after Halloween in 1988 when a futuristic war crashes into their lives. The gang is thrown headfirst into a time-traveling adventure and they must grapple with the idea of knowing what their futures look like. Much like "Stranger Things," the series is a love letter to 1980s pop culture that puts a diverse cast of characters under the microscope, making now the perfect time for "Paper Girls" to get its own live-action series.
Since the comics are so visually iconic — thanks to Chiang's art style, colorist Matt Wilson, and designer Jared K. Fletcher — it's easy to see why comic readers might be hesitant about the idea of a TV series. Thankfully, Amazon has released a first look at the "Paper Girls" show, and the series shows plenty of potential.
The first look at Paper Girls is faithfully vibrant
Entertainment Weekly revealed the first look at Amazon's Paper Girls in interviews with creator Brian K. Vaughan and Cliff Chiang, and it looks vibrantly faithful to the original comics. The first images reveal the titular girls themselves, with Sofia Rosinsky as Mac Coyle, Fina Strazza as K.J. Brandman, Riley Lai Nelet as Erin Tieng, and Camryn Jones as Tiffany Quilkin. Comedian Ali Wong also stars as the older version of Erin, a dynamic that will be interesting to see play out on-screen.
Chiang opened up about the time travel element of the story, saying, "I don't know if anybody's turned out the way they thought they would 10 years ago. So for these girls who are just on the cusp of becoming teenagers and then adults, to see where your life ends up is a really cool thing." Meanwhile, Vaughn explained how accessible the series is for audiences who haven't read the original comics. "This show really takes such advantage of the medium. If you've never heard of 'Paper Girls,' if you're not familiar with this comic, then the show is still 100 percent accessible and I think you will love it."
However, it sounds like comic readers are also in for a surprise because Vaughn notes that the show goes in some different directions from the source material. "With our blessing, they go to some places that we never could as a comic and there are new characters, there are new threats."
Thankfully, there isn't long to wait, as "Paper Girls" starts streaming on July 29, 2022.