Whatever Happened To Thompson Tee After Shark Tank?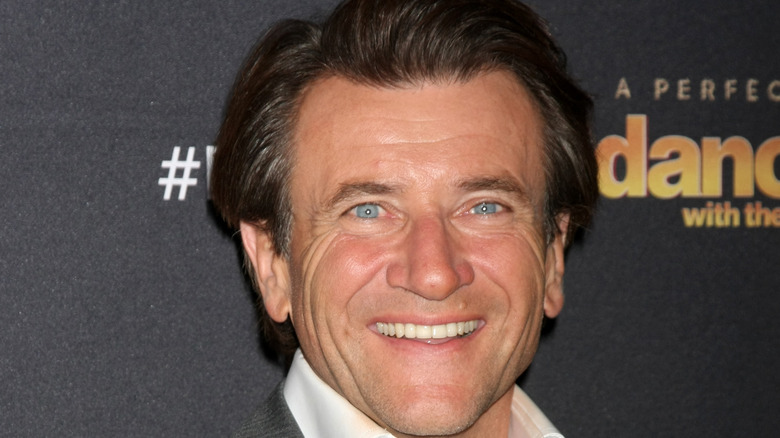 Kathy Hutchins/Shutterstock
In "Shark Tank" Season 8, Episode 23, Billy Thompson and Randy Choi appeared on the show with an innovative new product: sweat-proof tee-shirts. The idea for the shirt had come from Thompson, who suffered from hyperhidrosis, or excessive underarm sweating. He decided to get in touch with his friend Randy, who he knew was a clothing designer. "I reached out to him and amazingly found out he dealt with hyperhidrosis so he knew exactly what I was trying to do," Thompson told Heavy in a 2017 interview.
The duo went into "Shark Tank" feeling pretty positive, given — according to Choi — they'd had $4 million in sales the year before they appeared on the show. They were asking the sharks for $700,000 for 7% of their business, and they felt strongly that their amazing growth would help the sharks see they were worth the investment. But the sharks' response surprised them, with Kevin O'Leary immediately questioning the amount they claimed their business was worth. One by one, the sharks drop out, until Robert Herjavec and Lori Greiner are left. Robert will give them $700,000, but only for a 25% share of the company. Lori drops out, and Kevin tries to come back with another offer, but Thompson and Choi decide to go with Robert's offer. So how has business been since Thompson Tees teamed up with Robert five years ago?
Thompson Tees has continued to thrive since their appearance on Shark Tank
Thompson Tee Inc. announced in 2015 that they had patented their "Hydro-Shield Sweatproof Technology," the secret weapon for their tee-shirts that specialized in blocking underarm sweat. Through they started with $20,000, Randy Choi had expected their sales to reach at least $6 million in 2017 (via Heavy), before their "Shark Tank" episode even aired. Since they made their deal with Robert Herjavec, their business has taken off — and they didn't even use his money to achieve it, given that they parted ways with him after the episode. Thompson told The Las Vegas Sun that this was due to "creative differences and vision of the brand."
Thompson Tees definitely had an advantage when they began creating anti-sweat apparel, as there were not many options on the market. This definitely helps with fostering loyalty in customers, who — after having a positive experience with Thompson Tees — keep coming back and ordering more. Through their website, there are discounts on packs of shirts, two different slim fit options for women, and three different original fit. Men have four different original fit options, and two different long-sleeve styles. Thompson Tees also started manufacturing anti-odor T-shirts, marketed as "the perfect option for days where you're not sweating a ton."
Thompson Tees are active on Twitter and Instagram in promoting their business. They also offer "Sweat 101" tips on their website, with advice on everything from removing mattress and sheet sweat stains to the best deodorants. Since their "Shark Tank" episode, they have continued to do well and stay profitable.