Why Bruno Carrelli From Disney+'s Ms. Marvel Looks So Familiar
There are a lot of reasons why it's exciting that Disney+ is finally bringing "Ms. Marvel" to screen. Long considered by fans of Marvel Comics to be one of the most exciting and interesting figures to emerge from the most recent generation of heroes, Kamala Khan, a Pakistani-American teen girl from Jersey City struggling to balance the proverbial Great Responsibility with her everyday woes as a high schooler in a multicultural family, is a character who has richly deserved the screen treatment for years now. The fact that the series is being spearheaded by talented British-Pakistani comedian and writer Bisha K. Ali, who previously penned one of the most fun episodes of "Loki," is all the more reason why its arrival feels like a momentous occurrence.
And then, as with any superhero-related property, there's the casting. As has been clear since her auditioning process (via Empire), first-timer Iman Vellani couldn't be a more perfect fit for the role of Kamala, and "Ms. Marvel" would be worth watching for the chance to see her embody the character alone. Plus, Vellani is surrounded by other fresh and up-and-coming actors tasked with embodying fellow important characters in Kamala's life, one of which is Bruno Carrelli, her high school best friend and go-to confidante. 
Bruno is being played by an actor who has a little more experience under his belt, having spent several years as a rather prolific child and teen actor. Here are a few projects where you might have seen him before.
Matt Lintz got his breakthrough in A Cinderella Story: Once Upon a Song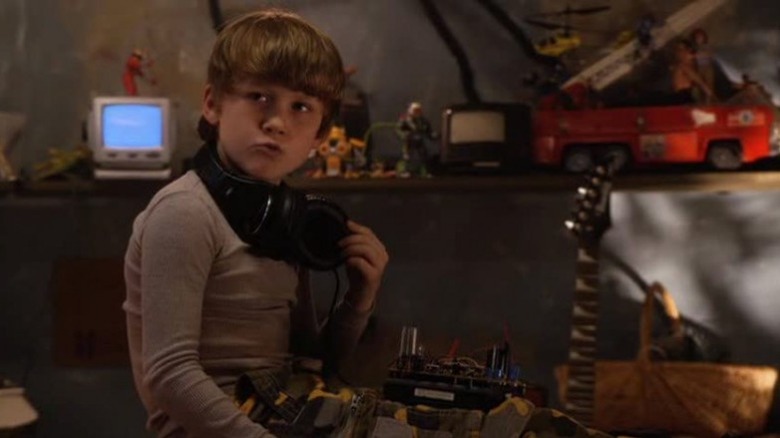 Warner Premiere
The tradition of cinematic reimaginings of "Cinderella" is nearly as old as cinema itself — literally, as film pioneer Georges Méliès was already offering his take on the classic European folktale as early as 1899. Then, within that tradition, you have another, equally storied one: "Cinderella" films that reimagine the original story for a contemporary setting and modern sensibilities. And then, in that rather specific sub-sub-category of movies, there is one franchise that stands tall above everything else: Warner Bros.' "A Cinderella Story" series.
Beginning with the seminal 2004 Hilary Duff-starring romcom, every few years brings us a new, dutifully corny and winky version of the Cinderella archetype as a modern girl with typical 21st-century problems, with a different up-and-coming teen star taking up the baton. One of those stars was Lucy Hale in the 2011 threequel "A Cinderella Story: Once Upon a Song," in which protagonist Katie Gibbs dreams of musical stardom. As usual, her surroundings are filled with nods to the original "Cinderella" mythos, one of which is the fact that she is an overworked, exploited orphan living in the household of an abusive step-family. For the first time in the "Cinderella Story" series, however, here the evil stepmother doesn't have two daughters. Instead, Gail (Missi Pyle) has a daughter and a younger son. That son, the impish but ultimately redeemed Victor, is played by future MCU actor Matt Lintz — for whom the film served as a child star breakthrough.
Matt Lintz was the protagonist of one of the weirdest moments in Piranha 3DD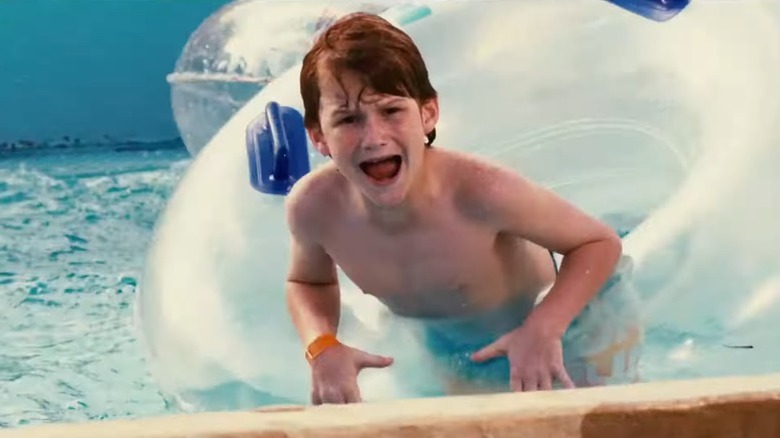 Dimension Films
Although "Ms. Marvel" fans are sure to get used to the now 21-year-old Matt Lintz as a fresh-faced young man, a large part of the American actor's previous career was defined by his child actor roles. After his breakthrough in "A Cinderella Story: Once Upon a Song" — which was itself preceded by small parts in "Halloween II," "The Crazies," and an episode of Lifetime's "Army Wives" — he continued to pop up in movies and TV shows, in roles ranging from unnamed kids in "What to Expect When You're Expecting" and Cartoon Network's film-length "Level Up" pilot, to a bigger, named part in the "Children's Crusade" episode of NBC's "Revolution."
His most memorable "nondescript kid" role, however, was the one he played in "Piranha 3DD," the 2012 sequel to the wildly successful 2010 trash horror romp "Piranha 3D." As a follow-up to a film that was in itself over-the-top, "Piranha 3DD" went overboard with the goofiness and cartoonish violence in an effort to top it, transferring the action from a lakeside resort to a seemingly idyllic water park that — due to a series of convoluted circumstances — ends up filled with mutant killer piranhas. Although panned by critics and commercially unsuccessful, "Piranha 3DD" did manage to get in its share of disturbing kills and WTF moments. And Lintz, playing an innocent little boy who gets rescued by David Hasselhoff, was at the center of the biggest one, which we won't spoil.
He starred opposite Adam Sandler in Pixels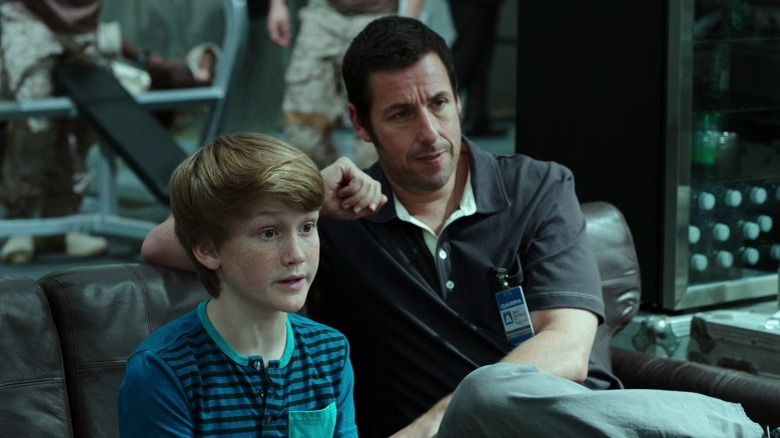 Sony Pictures Releasing
Following his run of kid roles in the early 2010s, Matt Lintz graduated, naturally, to tween roles. He made one-off appearances on the TV series "Banshee" and "Sleepy Hollow," and got the opportunity to be part of a screen family made up of dad Jeremy Renner, mom Rosemarie DeWitt, and older brother Lucas Hedges in the 2014 crime thriller "Kill the Messenger." Speaking of son roles, he also played Matty, the son of Lieutenant Colonel Violet van Patten (Michelle Monaghan), in 2015's "Pixels" — and this, of all movies, actually gave him a little more to do.
Directed by Chris Columbus and starring Adam Sandler and Kevin James as longtime arcade enthusiasts who must fight off an alien species invading Earth in the form of video games, "Pixels" was, to put it mildly, not warmly received. A large amount of the plot hinges on Sam Brenner's (Sandler) feelings of insecurity over his lifelong rivalry with Eddie "The Fireblaster" Plant (Peter Dinklage), a fellow arcade champion based on real-life player Billy Mitchell. Lintz's Matty, who gets involved in the plot when his mother joins the Sam-led response team known as the Arcaders, ultimately plays a pivotal part in helping Sam get his groove back, as he is the one who finds out that Eddie may not be all he's cracked up to be. It wasn't exactly an acclaimed role, but hey, at least Lintz got to tell his friends he shared a big scene with Adam Sandler.
He played Stevie Taggert on The Alienist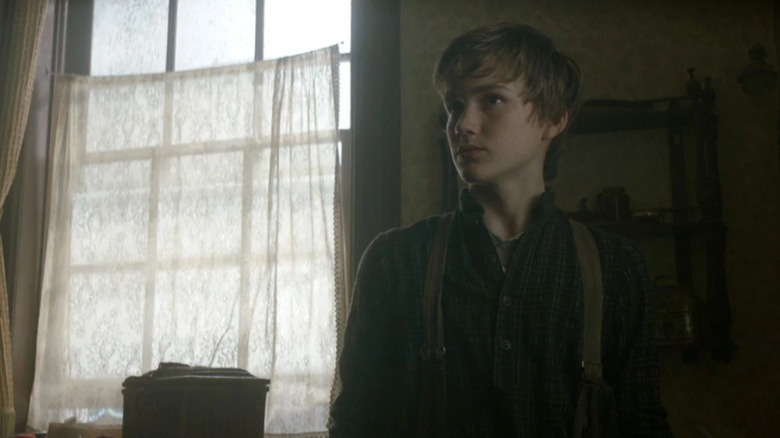 TNT
It wasn't until the year 2018 that Matt Lintz got to really sink his teeth into more rewarding material as an actor, starting with his casting on the beloved TNT period drama miniseries-turned-series "The Alienist," based on the eponymous novel by Caleb Carr. Starring the hefty trio of Daniel Brühl, Dakota Fanning and Luke Evans as a team of investigators in late-19th-century New York trying to catch a serial killer, the series was noted for burrowing deep into criminal psychology via the work of Brühl's character, the titular "alienist" (psychiatrist) Laszlo Kreizler.
On the show, Kreizler himself is a layered, complicated character, starting with the fact that he lives his life as an inveterate loner, plunging himself into his work and otherwise engaging in little social contact aside from his house staff, consisting of maid Mary Palmer (Q'orianka Kilcher), valet Cyrus Montrose (Robert Ray Wisdom), and driver Stevie Taggert. Stevie, a former street boy rescued by Kreizler and taken in as his ward, is one of his most loyal and dependable associates, and, much like his guardian, he is defined by his tough, reserved, no-nonsense demeanor — which begins to be tested when he is begrudgingly pulled into the investigation.
Matt Lintz played Stevie on eight out of the 10 episodes of the original run of "The Alienist," before the series was brought back for a second season titled "The Alienist: Angel of Darkness," on which the character was recast with Dominic Herman-Day.
He followed in the footsteps of his siblings and played a recurring part on The Walking Dead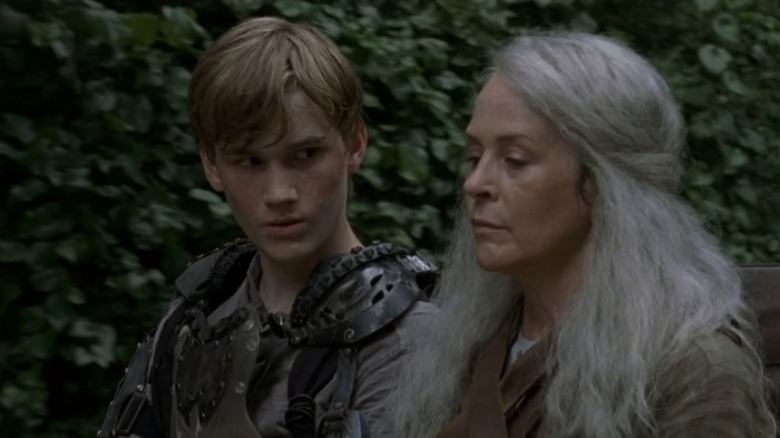 AMC
In the eleven years AMC's "The Walking Dead" spent on air, the series saw a lot of actors rotate in and out of its sprawling ensemble of apocalypse survivors. On IMDb, you can find the names of over 200 actors who have appeared on multiple episodes (and left the show in oft-gory ways), with Norman Reedus as Daryl and Melissa McBride as Carol having stayed with the show for the largest total amount of installments. Even original ostensible protagonist Rick Grimes, played by Andrew Lincoln, eventually left the cast on Season 9.
At one point, Matt Lintz was one of the actors to enter through the revolving doors. Starring on "The Walking Dead" was a family trade, so to speak, as his sister Madison Lintz had previously played Sophia Peletier on Seasons 1 and 2, and his younger brother Macsen Lintz was later cast as Henry, the Kingdom resident who is adopted by Carol and community leader Ezekiel Sutton (Khary Payton) and becomes "Prince" Henry (via Entertainment Weekly). In fact, Matt Lintz was cast precisely as the older version of his younger brother's character, who is introduced following a time jump midway through Season 9, on the episode "Who Are You Now?"
Lintz played Henry on a total of 11 episodes, across a typically tragic arc as a young man trying to find his footing in a hopeless world, in what amounted to his most substantial and visible screen role yet prior to "Ms. Marvel."