Chicago P.D.'s LaRoyce Hawkins Weighs In On A Possible Celeste Return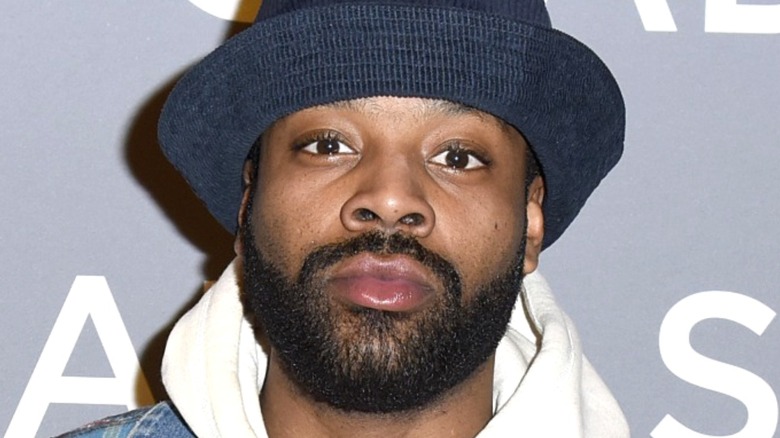 Vivien Killilea/Getty
Since he was introduced in the pilot episode of "Chicago P.D." back in 2014, LaRoyce Hawkins' Kevin Atwater has been put through the wringer, both personally and professionally. However, in the first eight seasons of the show, he had just one romantic storyline — with Laila Davis (Milauna Jemai Jackson) in the show's sixth season episode, "Black and Blue." Unfortunately, she gets sent to prison for murder, robbing the couple of a happy ending. In Season 9 of "Chicago P.D.," Atwater gets another chance at love, but it's also short-lived. 
In September 2021, showrunner Rich Eid teased that Atwater would be getting a girlfriend. "He meets a dynamic young woman, and their bond is fun and really unique. For Atwater, it's a welcome, needed respite. It also becomes this safe space for the pair to be their true selves," Eid told TVLine. Sadly, it doesn't last long, as Celeste (Amanda Payton) is around for just a couple of episodes — the fifth and the twelve of the season. Despite the lack of longevity, fans seem to like the pairing, as an unscientific poll by TVLine shows that about 62 percent of viewers would like to see the two reconcile.
Is that a possibility? Hawkins has already weighed in on that question, but it's hard to say what might happen given that Season 9 has already ended – with no Celeste in sight.
Their relationship, built on a lie, has a sad ending
Sadly, this relationship gets complicated fast. The two meet in a bar. After their first night together, Atwater learns Celeste is an outspoken art teacher who focuses on political activism. From the start, the relationship goes awry when Atwater chooses not to tell his new girlfriend about his profession. Things get more complicated when she gets involved with the police in an investigation into one of her students, who ends up dying in police custody.
Pretending to Celeste that he keeps getting called out on repair jobs, Atwater continues the relationship. However, in the episode "Lies," he participates in a particularly intense undercover drug operation that shows his personal life is starting to interfere with his professional activities, given that Celeste doesn't know what he actually does. At the end of the episode, Atwater confesses. In an emotional scene, he explains that he thought if he told her, all she would see was a cop, and he wouldn't have gotten to know her. She replies, "No, Kev, I would have seen you, because I care so much about you. I would have been with you. But you gotta go now, Kev." 
Later episodes indicate that Atwater continues to reach out to her, to no avail. In the April 22 episode "Fool's Gold," he calls, apologizes, and says he won't bother her again.
Hawkins is hoping for a reconciliation, but may have to settle for character development
Although it seems like the relationship is truly over, Hawkins appears to hold out hope that Celeste will return to Atwater's life. "I think if they give each other enough time and then they process the situation, they should be able to find themselves or at least cross paths," Atwater told TVLine. He's not sure it will happen, though. "I can't say whether we'll see her again. I would love to see her again, but I'm not sure. I'm looking forward to whatever happens."
TVLine notes that the show plans to use Atwater's romantic experience to cement the bond between Atwater and Kim Burgess (Marina Squerciati), a more platonic pairing. What went wrong between Kevin and Celeste could become part of the former patrol officers' ongoing conversations about life, making their relationship stronger in future episodes as the two share confidences and challenge one another. "We're definitely going to see moments where Atwater and Burgess are there for each other," Hawkins explained to TVLine.  
Celeste will also make her presence felt in the decisions that Atwater makes going forward, whether or not she appears in future episodes. "She's going to have a hold on him a little bit," Hawkins said. Fans will get to see what that looks like starting in Season 10.