Jared Leto Never Watched Suicide Squad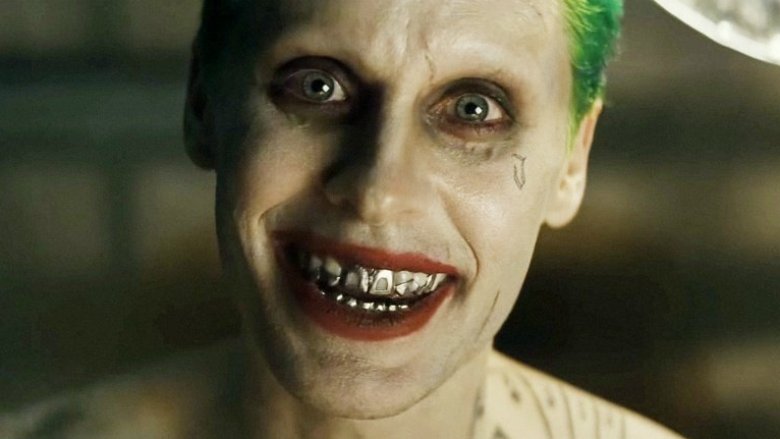 Warner Bros.
Oscar-winning actor Jared Leto has racked up an impressive filmography and has become something of a modern face for method acting, and yet he still doesn't particularly enjoy watching himself on screen. Leto hasn't been shy about admitting he's not one to view his own movies, and now it appears that Suicide Squad is no exception.
Speaking in a recent interview with SYFY Wire in New York, where he was promoting his upcoming movie Blade Runner 2049, Leto discussed his hesitation (or, perhaps more appropriately, outright refusal) to watch his own films to see the result of his role preparations and performances. 
"As soon as you watch it, that's when it becomes subjective," Leto explained. 
It was there that the 45-year-old actor, who garnered widespread media coverage for his work as The Joker, stated that he had never seen Suicide Squad. Despite diving deep into the character, truly becoming a maniacal villain by sending his castmates dead animals and only ever answering when he was called "Joker," Leto declined to watch the David Ayer-directed movie. He also admitted that he had never seen his Academy Award-winning turn in Dallas Buyers Club, in which he starred alongside Matthew McConaughey. 
"No, I never did [see it]," he revealed. "I just think with watching your own films, it can be too self-conscious of a process. You either like what you did and you're prone to repeat it, or you didn't like it, and it can make you self-conscious. I'm not sure how much win there is for me. But I read the scripts, so I know what's going to happen."
Even with his personal blackout rule, Leto stated that he plans to see Blade Runner 2049 "at some point," which makes for a pretty fantastic endorsement for the Ryan Gosling-led flick given the context. Leto stars as a Niander Wallace, a genius with a clear-cut (and perhaps controversial) vision for the future of society, in director Denis Villeneuve's film, a role for which he simulated blindness while performing. The actor commented that the film's central conflict and the questions it raises were what drew him to Blade Runner 2049. 
"The dialogue was incredible, and I thought he was a fascinating person," said Leto. "Someone who saves civilization from starvation and then goes on to acquire the technology to the Tyrell Corporation, and introduce a next-gen iteration of replicants. And he clearly has an opinion, an idea of what needs to be done in order to save humanity. He's not afraid to take the steps that are necessary in order to make his vision come to life."
Leto may not have been interested in heading out to the theater (or hitting up the red carpet premiere) to see Suicide Squad, but countless DC fans did. And though the movie panned with critics, it still pulled in plenty of cash to become a commercial success, giving studio Warner Bros. enough backing to commit to a follow-up film—plus a few more. Leto will reprise his role in future flicks including the Harley Quinn and Joker spinoff, serving as another opportunity to win critics over and perhaps even warm to the idea of watching himself in his green-haired, silver-toothed glory. 
Until then, fans have Blade Runner 2049 to look forward to. That film arrives in theaters on October 6.