The Jurassic World Dominion Scene That Was Born From Bryce Dallas Howard's Google Doc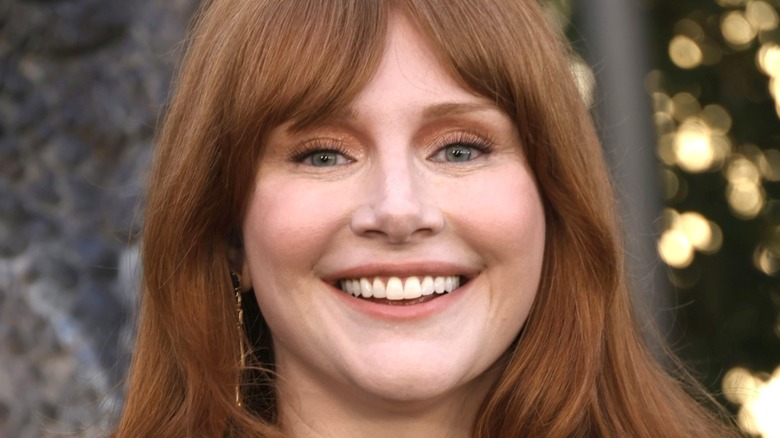 Frazer Harrison/Getty
"Jurassic World Dominion" hits theaters on June 10, and when it does, it won't just be Colin Trevorrow's ideas on the big screen. According to Bryce Dallas Howard, a major moment in the film was inspired by a Google Doc she created, which is filled with ideas she gathered from the cast and crew during the making of the first two "Jurassic World" movies. 
"A Google Doc is my love language," explained Howard in an interview with Collider last month. "I like to kind of keep notes when I'm doing a movie ... so that you remember certain things. And pretty early on Chris [Pratt] would say stuff that I would just be like, 'Oh my God, if there's a chance to do another one of these movies that's like such a good idea, that's so fun.' So I just kind of like kept that running document and Colin asked me for it as he was writing the script with Emily [Carmichael]." 
According to Howard, at least two scenes in "Jurassic World Dominion" feature ideas from her Google Doc — with one of them contributing a massive piece to the movie's storyline.
Blue showing up with a baby
According to Bryce Dallas Howard, the big scene from "Jurassic World Dominion" that got plucked from her handy-dandy Google Doc was the debut of Blue's new baby velociraptor, Beta.
"Something that was definitely on that document was Blue having a baby," Howard told Collider. "That was something that was very important." In the second "Jurassic Park Dominion" trailer, Blue and Beta are shown emerging from the woods for the first time in front of Owen (Chris Pratt) and his adoptive daughter Maisie Lockwood (Isabella Sermon). "Blue had a baby – that's impossible," Maisie says. In a separate scene that follows, we see Beta being kidnapped by a group of men. "I promise you, I am going to get her back," Owen says to Blue. By the looks of it, Beta will be playing a very important role in the "Jurassic Park Dominion" storyline. 
In addition to introducing a baby raptor, Howard told Collider her Google Doc was also responsible for producing a critical sequence that takes place on the Mediterranean island country of Malta, where there's a dinosaur black market in the film (via Times of Malta). "That was something we talked about really wanting to see," Howard said. Describing her Google Doc one last time, Howard told Collider, "There were a few really fun things in there."