The Staggering Amount Of Time Netflix Viewers Spent Watching Interceptor's Debut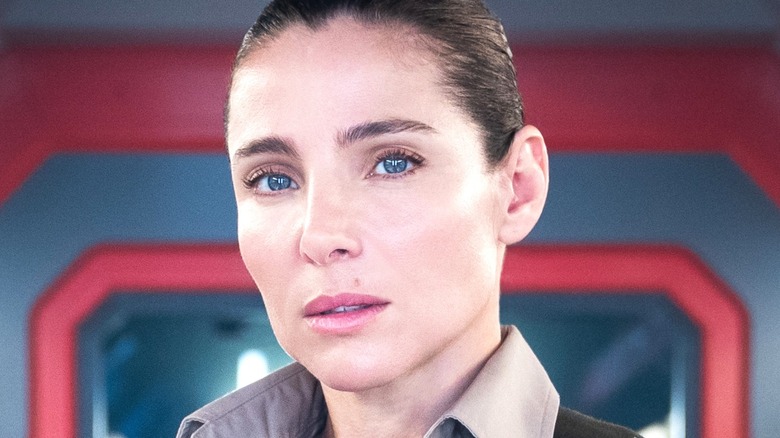 Brook Rushton/Netflix
Netflix has gone all-in on its original film productions. A new Netflix original film comes out on the streaming platform at least once a week. That's a rapid rate of release most other streamers can only hope to achieve, so when it comes to cranking out original content, Netflix is still at the top of the heap.
The latest flick to make the rounds of the streamer is "Interceptor." From executive producer Chris Hemsworth comes a gripping tale with action and intrigue to spare. The movie follows Collins (Elsa Pataky), who has years of military expertise and tactical training, which she must put to good use when former United States military intelligence officer Alexander Kessel (Luke Bracey) sets forth to carry out a dastardly plan.
Hemsworth's involvement, as well as an action-packed trailer, no doubt enticed plenty of viewers to check out the film. In fact, the movie managed to climb to the very top of Netflix's movie ratings for the week ending on June 5, blowing away the rest of the competition.
Viewers watched Interceptor for over 35 million hours this week
"Interceptor" came out for the entire world to enjoy on June 3. As such, it only had a couple of days to make an impact until Netflix's most recent rankings were compiled, and as it turns out, that was more than enough time for it to make a splash landing. According to Netflix, the title was the number one flick in dozens of countries, clocking in a total of 35.6 million hours viewed since its release. 
It's a sizable step up from the film in the number two spot — "A Perfect Pairing." That title received a still-impressive 14.4 million hours of viewing time from May 30 to June 5. But it's clear the last week belonged to "Interceptor." The rest of the Top 10 Movies list is rounded out primarily by pre-existing movies, including "The Amazing Spider-Man," "Jack Reacher," and "Memoirs of a Geisha."
So what does this mean for the prospects of an "Interceptor 2?" Netflix would certainly do well to build on this hype, but it remains to be seen if the film can carry on this momentum in the weeks to come. Perhaps the tease of a special cameo will get even more people to check it out.