The Untold Truth Of The Amazing Spider-Man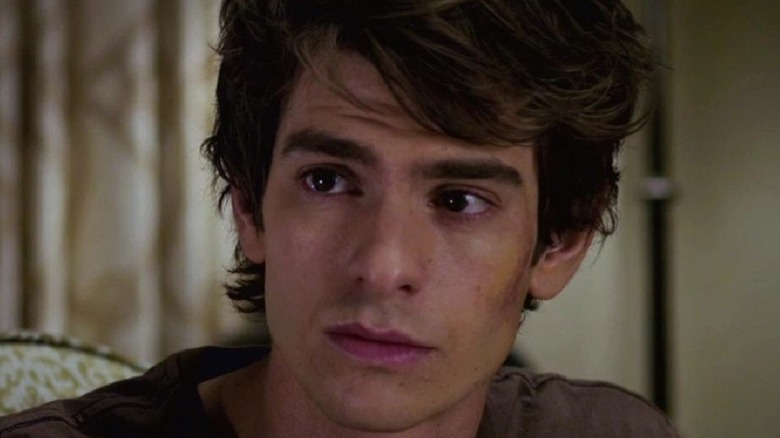 Columbia Pictures/Sony Pictures Releasing
On the soundtrack to the original "Spider-Man" movie, Chad Kroeger and Josey Scott sang about how only a hero could save us, but they weren't gonna stand there and wait. While the song was written for the 2002 Spidey, it feels apt for "The Amazing Spider-Man" films too. Just as fans were growing attached to Andrew Garfield's webslinger, he disappeared into the Marvel ether alongside other retired comic book movie heroes like Nicolas Cage's Ghost Rider and Wesley Snipes' Blade.
Yet, as another pair of singers once told us: "There can be miracles when you believe." That miracle happened in 2021, as Garfield's web-head returned in "Spider-Man: No Way Home." It was a welcome reminder that he was better than some fans may remember, and that maybe Marvel loyalists had been too harsh on the films in hindsight. Looking back, the production of these movies is a fascinating story unto themselves, one filled with fights, heartache, and even a near suffocation on set. Let's swing right into the untold story of "The Amazing Spider-Man."
Josh Hutcherson's "amazing" short film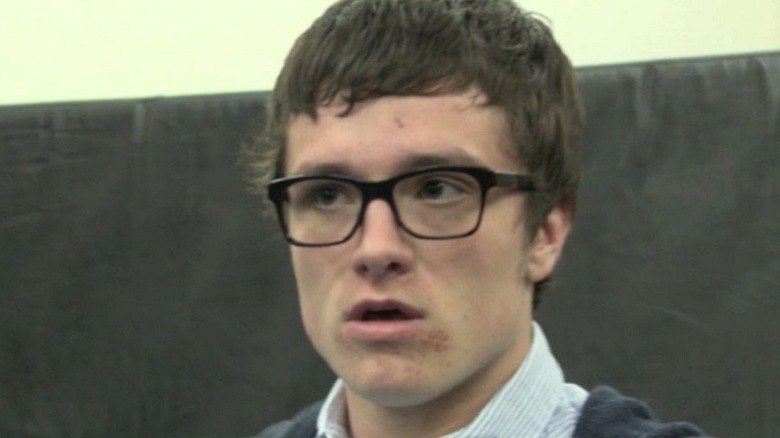 YouTube
When the world heard that Tobey Maguire wouldn't be playing Spidey again, it was open season in Hollywood. At the time, many fans' dream casting was Dylan O'Brien for the part; however, that didn't stop other actors from putting themselves forward in an attempt to win over casting directors.
In fact, "The Hunger Games" star Josh Hutcherson produced a three-minute audition tape that felt more like a short film. This sizzle reel showed off both Hutcherson's ability to play Peter Parker as well as his fighting skills. While he didn't wear the famous blue and red costume in the video, he did put on quite a show — one that changed the minds of doubters and got the internet talking. 
At the time, Hutcherson told Entertainment Weekly he was excited to be in the running. "The fact that I'm on the list with some of the people that are on the list," he said, "I'm amazed that they're putting me on that 'short list.'" Ultimately, he didn't get to play Spidey, but maybe there's still a superhero role in Hutcherson's future.
Sally Field hated the films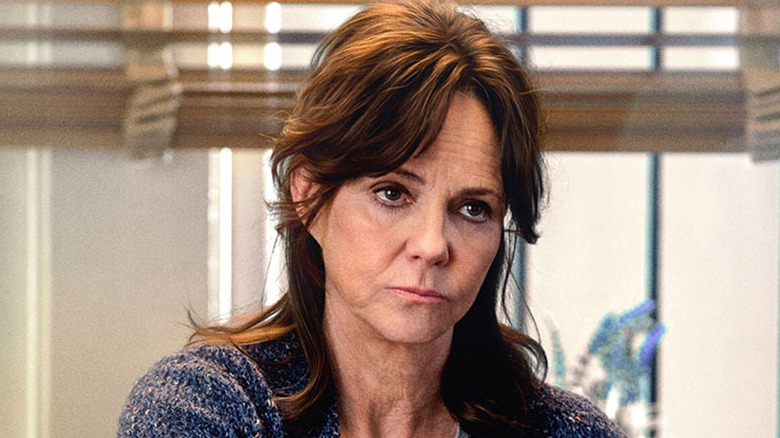 Columbia Pictures/Sony Pictures Releasing
The role of Aunt May is a complex one. Not only is she the main mother figure for Peter Parker, but she's also responsible for ensuring he upholds the strong values that she and Uncle Ben taught him. Marisa Tomei's version in "Spider-Man: No Way Home," for instance, became a key cog in making the film work — the moral compass of the mantra with great power comes great responsibility.
Well, Sally Field seemingly didn't see get the memo. In a 2016 chat with Howard Stern, she said she took the part as a favor to her friend and producing partner Laura Ziskin. When asked how much thought she put into the character of Aunt May, Field replied with a frank "not a great deal."  
"It's really hard to find a three-dimensional character in it," she added. "You work it as much as you can, but you can't put ten pounds of s–t in a five-pound bag."
Andrew Garfield and Amy Pascal clashed over The Amazing Spider-Man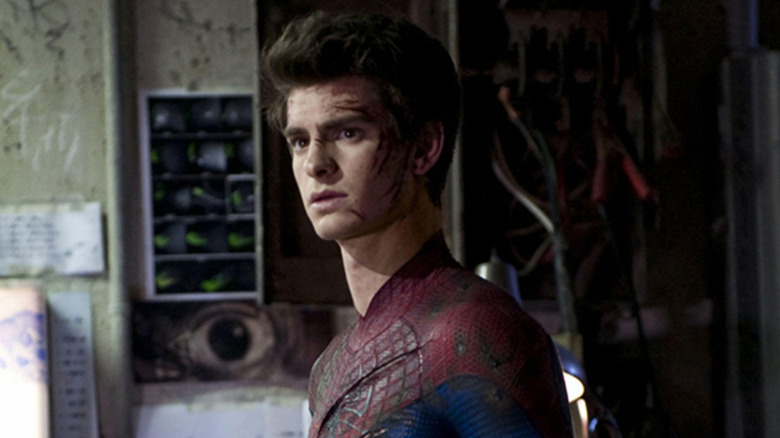 Columbia Pictures/Sony Pictures Releasing
It's no secret that the abrupt ending of his "Amazing Spider-Man" experience blindsided Andrew Garfield. As he said in 2017: "I got my heart broken a little bit." The ordeal left him disappointed in the big studio machine, ; in the years since, however, he has softened his stance about his time as the webslinger and the studio's decisions.
Speaking to Variety in 2021, Garfield admitted what many had long suspected: He clashed with the head honcho of Sony Pictures at the time, Amy Pascal. Looking back now, Garfield sees both sides of the coin. 
"I had karma with Amy Pascal, who was a mother figure, and we would fight, but ultimately, we loved each other on a deep level," he explained. "We tried to meet as much in the middle as we could in terms of why I wanted to do this role, and what her needs were as the head of the studio."
Brian Michael Bendis decided something major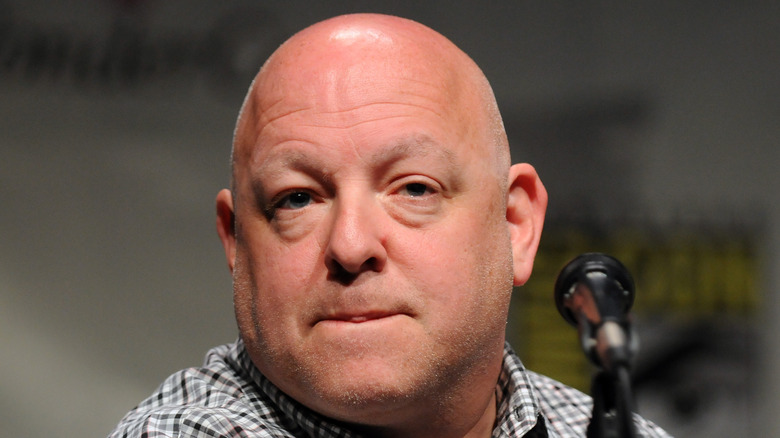 Albert L. Ortega/Getty Images
One of the biggest points of contention in the lead up to Sam Raimi's "Spider-Man" was Peter Parker's organic webshooters, a drastic departure from the source material. However, this wasn't Raimi's idea to begin with. 
The idea of having Peter Parker grow (rather than build) the ability to shoot webs originated from James Cameron's "Spider-Man" concept/treatment. Even though Cameron had long departed the project, his idea trickled along in every version of the script afterwards, and Raimi thought that it would make sense in the context of the story. After all, Peter Parker was a high school student, so what are the odds that he would not only be bitten by a radioactive spider but also be able to construct mechanical webshooters all of a sudden?
For "The Amazing Spider-Man," Columbia Pictures brought in acclaimed comic book writer Brian Michael Bendis to settle a debate about the webshooters.
"They sat me down in Amy Pascal's office with this big room full of producers and writers and directors, and she looked at me and said 'Organic webshooters or mechanical webshooters?'" Bendis recalled in 2015. "I said 'mechanical,' and half the table said, 'Goddamn it!' They were mad because I was clearly the deciding vote." Bendis added that he felt proud of his achievement, like he "did something good in the world."
Why The Amazing Spider-Man 3's announcement didn't happen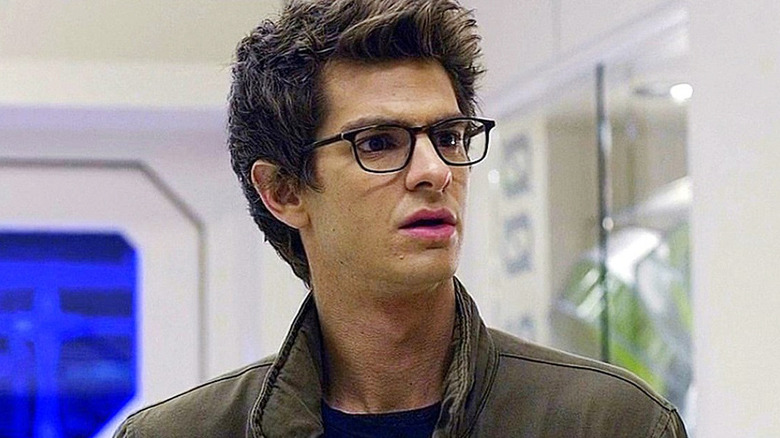 Columbia Pictures/Sony Pictures Releasing
Before "The Amazing Spider-Man 2" was released, the studio was already making plans to release a third and fourth film in 2016 and 2018. A press release announcing the news was standard Hollywood fare, of course, avoiding mention of a caveat that "as long as the latest film does huge business at the box office." Although "The Amazing Spider-Man 2" did well, bringing in $709 million worldwide, it was viewed widely as a disappointment because that sun was less than the first film had made. The film received lukewarm reviews (it currently hovers at about 50% on RottenTomatoes) and the franchise, it seemed, was trending in the wrong direction.
In the aftermath of the release, plans were being made to "officially" announce "The Amazing Spider-Man 3" at a Sony event in Rio de Janeiro, Brazil. Former Sony Chairman Kaz Hirai was due to give a speech in which he'd introduce Garfield to the guests and confirm the film was to enter production for a 2016 release date. However, things didn't go according to plan, as per the infamous Sony email leak. 
In the late 2014 hacking scandal, Sony's secrets were laid bare. Some of these emails mentioned the "Spider-Man" franchise and the direction where to take it next, many penned by Pascal herself. Speculation mounted that Garfield was fired from the role (he later denied that) after supposedly causing difficulty with the Hirai announcement.
The curious case of J. Jonah Jameson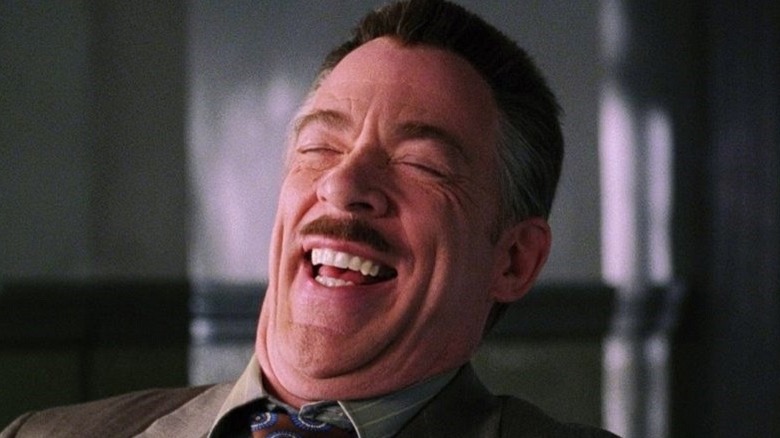 Columbia Pictures/Sony Pictures Releasing
Forget the likes of Peter Parker, Mary Jane, Aunt May, and Gwen Stacy for one second here. There's one true MVP in the Spider-Man Universe and that's J. Jonah Jameson. (Who else is able to tell the audience how much of a menace the web-head is except for Triple J?!) Surprisingly, the Daily Bugle's editor-in-chief was nowhere to be found in "The Amazing Spider-Man" movies, bar a few fictional articles written for the second film's marketing material.
According to an early draft of "The Amazing Spider-Man 2," that wasn't always the plan (via ComicBook.com). Jameson was meant to be included in the film, along with Mary Jane, but the idea was nixed in subsequent drafts. In hindsight, though, maybe it was a good idea that Jameson was excluded here. After all, there's only room for one loudmouth reporter in the Multiverse and that part is exclusively reserved for J. K. Simmonds.
David Fincher's Spider-Man?!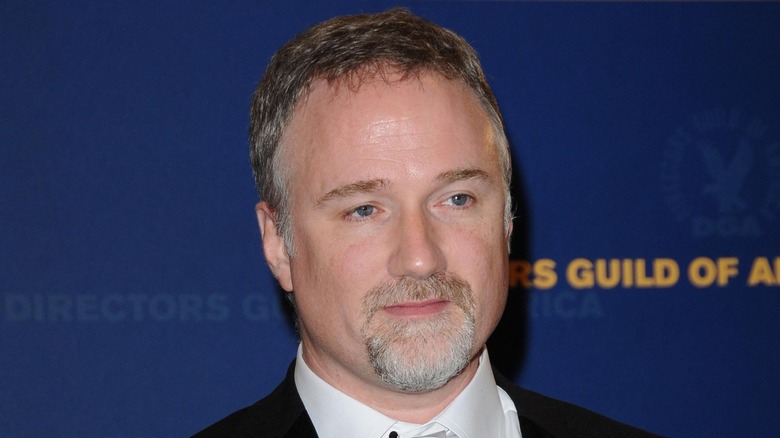 s_bukley/Shutterstock
When a new comic book film is announced, everyone and their grandmother end up being linked to the director's chair at some point. Naturally, the rumor mill turned into more of a windmill with a plethora of names flying around over who would direct "The Amazing Spider-Man." One of the more left-field names mentioned was David Fincher, who was reportedly on Sony's three-person shortlist to direct the film (via MTV News).
Fincher lost out to Marc Webb here; however, he praised the premise for being "risky" and "rolling the dice." This wasn't the first time that Fincher had been linked with the web-head, though. In 2009, he revealed that he turned down the opportunity to work on 2002's "Spider-Man" because he lacked interest in superhero movies and "just could not imagine someone getting bit by a radioactive spider." One would think that the name Spider-Man would be a dead giveaway about the character's nature here, but apparently not.
Emma Stone auditioned for a different role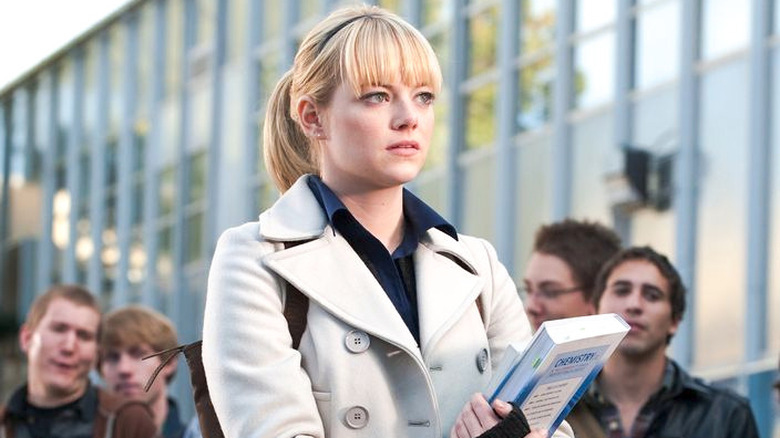 Columbia Pictures/Sony Pictures Releasing
Emma Stone set a high bar for future on-screen adaptations of Gwen Stacy. Any version of the character that comes in the future will always be compared to Stone's performances in "The Amazing Spider-Man" series. Yet, here's an interesting fact: She didn't originally audition for the part of Gwen.
Stone said in a 2012 audition that she auditioned for the role of Mary Jane Watson at first. "I had always wanted to play Mary Jane," she said, "but then a couple of months after the audition, they called me and said, 'We liked your audition but the part has changed to Gwen Stacy." Stone admitted that she wasn't familiar with who Gwen was in the "Spider-Man" lore, but she "just fell in love with her story" and her importance in Peter Parker's journey. She decided to proceed and audition for the part of Gwen, and got it.
Andrew Garfield nearly suffocated on set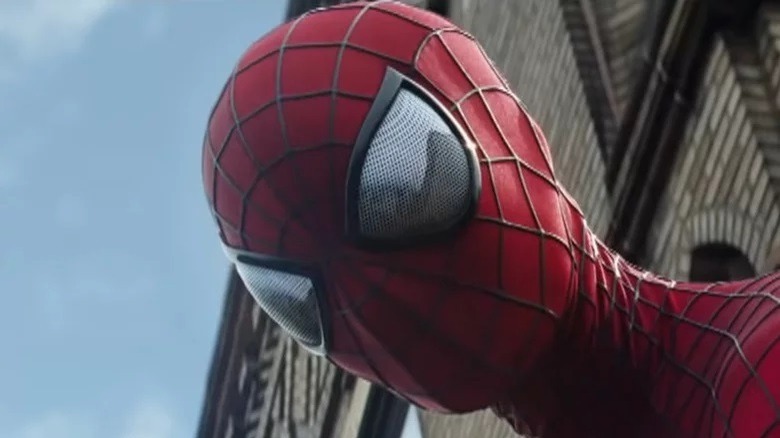 Columbia Pictures/Sony Pictures Releasing
One would expect an actor playing Spider-Man to suffer a few cuts and bruises in the process. It's a physical and demanding role, and accidents do happen. But suffocation? That sounds more like the set of a Namor or Aquaman production. But it actually did almost happen to Andrew Garfield — and if it weren't for fight coordinator Andy Armstrong's quick intervention, the itsy-bitsy spider might've been washed out for good.
Discussing the scary incident with the New York Daily News, Garfield revealed how he found out that his mask wasn't equipped for water in the worst possible way. "I had to get wet, and I just kind of dove in and didn't realize that water on the mask made it impossible to breathe," he said. "So I was kind of, like, suffocating. I couldn't get any oxygen! I water-boarded myself." Fortunately, Armstrong saw Garfield struggling, jumped into the water and helped remove the mask off the actor's face to avoid a potential tragedy.
Michael Fassbender was in the running for a villainous role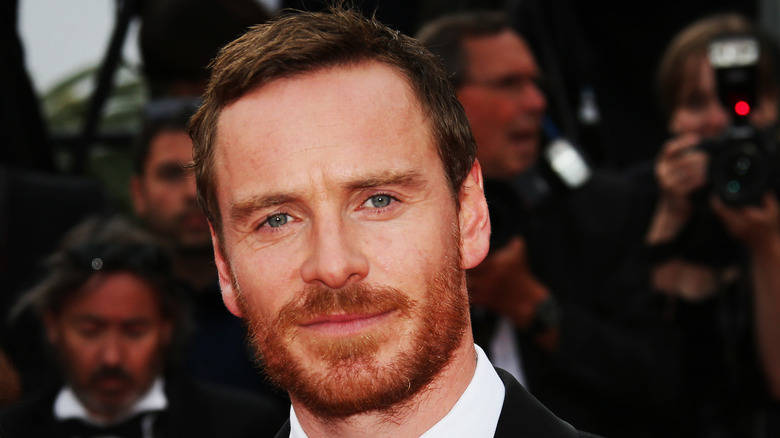 Denis Makarenko/Shutterstock
Sometimes, the concept art of a movie can be an illuminating peak into the creative process. This is usually where fans will discover the original designs and looks for characters, as well as some of the actors that the studio may have earmarked for certain roles. In the case of "The Amazing Spider-Man," there was another actor eyed for the part of Dr. Curt Connors/Lizard before Rhys Ifans got the job.
Posting on his Instagram account, concept artist Jerad S. Marantz revealed the initial look for the Lizard, which was partially inspired by Michael Fassbender. Marantz added in his post that the actor was being considered for the role at one point. What's interesting about this is that Fassbender would've been involved with "X-Men: First Class" around this time. So, it's unclear if that was the reason for him losing out on the Lizard part, or if perhaps he turned it down to play Magneto instead.
Paul Giamatti's Rhino campaign worked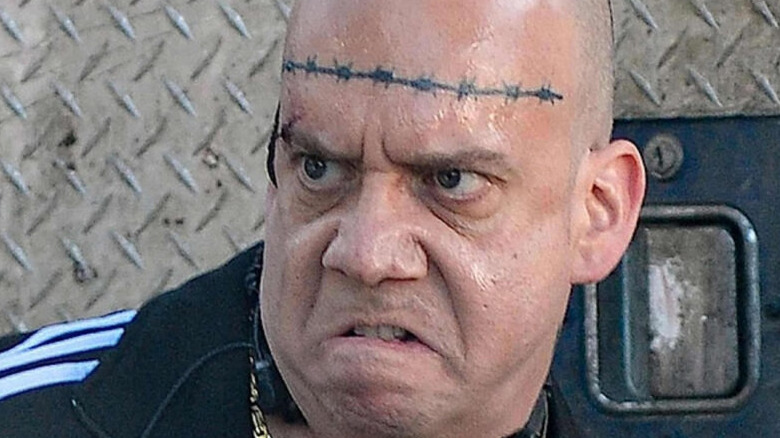 Columbia Pictures/Sony Pictures Releasing
Most kids dream of being Batman or Spider-Man. Not Paul Giamatti. Instead, he harbored the aspiration of playing the supervillain Rhino on screen. 
He made that dream a reality — with a little bit of good luck. In 2011 interview, Giamatti had expressed how much he'd enjoyed the character of Rhino as a child and would love to play him in a movie. Later on, he was asked about this by Conan O'Brien, and Giamatti once again lobbied to portray the infamous Spidey villain. 
"The real truth is, I saw Paul Giamatti on Conan O'Brien, talking about The Rhino and how much he loved it," series director Marc Webb later said of the casting. "I was like, I love Paul Giamatti and I think he's such a brilliant actor, so, I wanted to incorporate that enthusiasm that he had in the movie." All things considered, it would've been a blast in "No Way Home" if fans had been allowed to see Giamatti dressed up as the Rhino from Earth-616.
Andrew and Emma pranked each other on set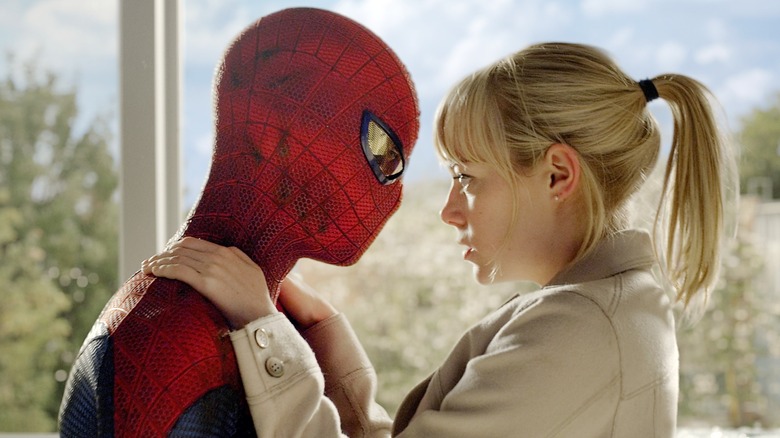 Columbia Pictures/Sony Pictures Releasing
You may know that Andrew Garfield and Emma Stone began dating during the production of "The Amazing Spider-Man." They not only looked happy as a couple in real life, but it was clear that their chemistry had found its way onto the set and even into the movies. As Stone later said in an interview, the pair became so playful that they'd prank each other on the set of the films.
Inspired by what they'd heard about the antics on "Moneyball," Stone said that they decided to prank each other. "I think Andrew and I pulled a couple of pranks on each other, like parking my car in front of his trailer so he couldn't get in," she explained, "and then he put my car on one of the soundstages with a note on it that said 'Move your car, a***!' In the middle of the stage!" Though, Stone did mention that she did add that their pranks "were so lame" in comparison to what she heard about Brad Pitt and Jonah Hill's stunts on "Moneyball."