The Only SNL Cast Members Who Didn't Break Character During The Cowbell Sketch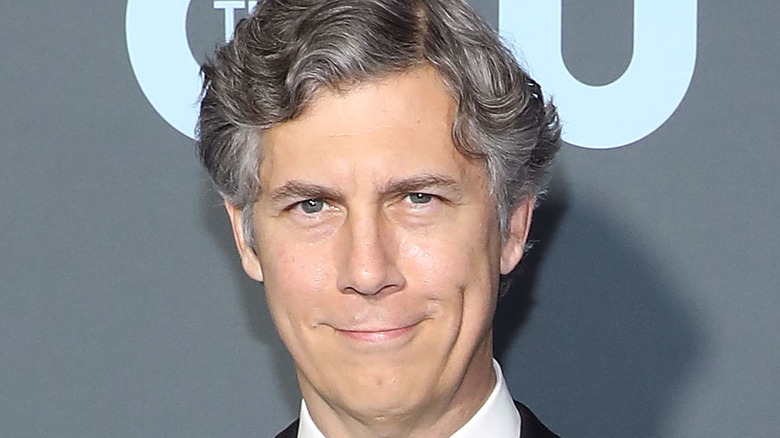 Taylor Hill/Getty Images
It was April 8, 2000. "Saturday Night Live" had a killer cast. But no one could predict that one sketch in particular that evening was about to become a pop culture classic. Christopher Walken was the host that night, and he was cast in the sketch, which also featured Will Ferrell, Chris Kattan, Chris Parnell, Horatio Sanz, and Jimmy Fallon. With Walken playing producer Bruce Dickinson, the rest of the gang portrayed the band Blue Öyster Cult, in the studio recording their hit song "(Don't Fear) The Reaper," featuring the instrument that inspired the name of the sketch: "More Cowbell."
According to Ferrell (via Rolling Stone), it wasn't all that funny when he first presented the idea at a table read. Or at least it wasn't funny enough to get the green light, so he took it back and rewrote it, trying harder to get the humor across.
"At dress (rehearsal) the sketch was kind of put at the back of the show," he said. "I thought it probably wouldn't make it. And then, lo and behold, the audience just keyed into how bizarre it was." People showed their approval by laughing, of course — exactly the reaction great comedy is meant to inspire. The only problem is that most of the cast playing in the sketch found it hilarious, too. All except two of them couldn't help breaking character.
Who knew Parnell and Sanz had such restraint?
As Blue Öyster Cult frontman Eric Bloom, Parnell literally stands in front of the band throughout the sketch. Perhaps this explains how he manages to keep it together. Their first take is a fairly straightforward rendition of the song. But Parnell seems unhappy and calls in Walken to check on the sound. That's when Walken encourages Ferrell, playing fictional band member Gene Frenkle, to amp up the cowbell and really take advantage of the studio space.
Ferrell is all about that, banging hard on the cowbell as he undulates wildly in a shirt so tight it rides up above his belly. Parnell can't see him. Sanz, as Joe Bouchard, has a fine view but manages to keep focus on the music even as Ferrell invades his space. Ferrell is also in Fallon's sightline. And Fallon, playing drummer Bobby Rondinelli, is the first to break character when the band begins arguing about Gene's antics. "You're being so selfish, Gene," he admonishes Ferrell with an unintentional giggle.
As Ferrell rails at the band about the importance of giving Dickinson what he wants (more cowbell), a smile flashes beneath Kattan's false mustache. Standing behind Ferrell as he rants, Fallon and Kattan struggle to control their emotions. Mid-rant, even Ferrell himself breaks into a smile. Finally, Ferrell declares his intention to leave the studio and return later, but Parnell calls him back. "Gene, wait," he says, dramatically and fully in character. "Why don't you lay down that cowbell right now, with us?" As Sanz stands between Parnell and Ferrell, the moment heightens in tension and humor. His face twitches. He looks as if he might possibly lose it. But somehow Sanz makes it through the scene.
Maybe staying in character wasn't always the point
When Parnell later appeared on "Late Night with Seth Meyers," Meyers credited him as the only person appearing in "More Cowbell" to stay in character. And to be sure, Parnell was known for not breaking, his talent earning him the nickname "the Ice Man." But Parnell said keeping control wasn't easy for him in this particular sketch. "There was a moment that the camera was not on me, and I knew it wasn't on me, and I looked down at my guitar and I smiled," he admitted.
Parnell also spoke up for Walken, pointing out he didn't break character either. But neither seemed to notice that another "SNL" cast member kept a straight face throughout, too. And that was Sanz. Even the moment where he barely almost smiled felt like it was still in character. Why wouldn't a band member flash a small smile at Gene at that point? It seemed right.
On "The Tonight Show Starring Jimmy Fallon," Sanz reminisced with Fallon about the "More Cowbell" sketch and Sanz's strange-but-brilliant choice to stumble backwards every time the song was stopped. They also talked about all the times they broke character together on "SNL." "There's was thing, 'The Top 10 Funniest Breaking Sketches,' and I think you and I were in eight of them," Sanz said. Sanz may have earned a reputation for breaking character, but there's no denying he did better throughout the iconic sketch. He kept true to character even when his pals were cracking up. And for that, he deserves credit.