Who Plays George On Peaky Blinders?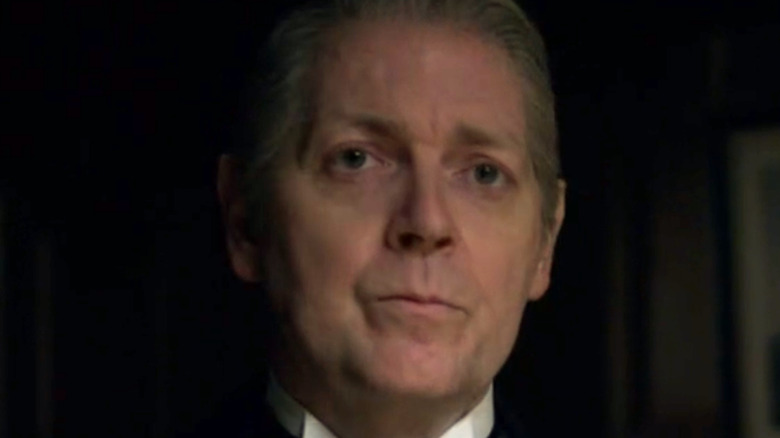 BBC
Ever since its premiere in 2013, "Peaky Blinders" has been quite a hit for the BBC. The British gangster period drama stars Cillian Murphy as Tommy Shelby, the crime boss of the titular street gang. In 2022, the series wrapped up its sixth and final season. In BBC's tpyical release fashion, the episodes were first made available to audiences in the UK, before entering the world of streaming on Netflix. Additionally, a "Peaky Blinders" movie set to follow the events of Season 6 is also reportedly in the works. 
Known for its insane list of major cast members, "Peaky Blinders" has featured a wide array of performers. Since the first season, this list has included Sam Neill, Tom Hardy, Paddy Considine, Anya Taylor-Joy, Helen McCrory, Adrien Brody, and Aidan Gillen, just to name a few. Even in the current golden age of streaming, not many shows can boast that kind of talent across the board.
Of course, with a cast this large spread throughout the entire "Peaky Blinders" timeline, it can be hard to keep track of all of the characters. Furthermore, fans might find themselves scratching their heads occasionally as to where they recognize a particular actor from. If you think you recognize the actor who plays Tommy's butler, George, in Season 6, we might know why.
Stephan Bessant plays George on Peaky Blinders
According to IMDb, the actor who plays George in Season 6 of "Peaky Blinders" is named Stephan Bessant. Viewers might recognize Bessant from some of his past work, including his role as Sergeant Walter Jones in "The Bagley Boys." The actor was featured in all six episodes of the World War I drama, which follows the lives of ten men from the community of Bagley during The Great War.
Bessant is also known for playing a sassy drag queen on BBC's "Doctors," a role that the actor seems to have a particular fondness for. He even guest-hosted a virtual quiz for The Quiz Team in character, which is a level of dedication you really have to admire. "Peaky Blinders" fans might also know Bessant from his role as Hobbs in the suspense film "Dear Hangman." The film focuses on a police detective who must visit a vigilante serial killer in prison in order to find closure for the traumatic experiences she's faced from solving the case and bringing him to justice. 
Notably, Bessant is also quite active on Twitter, where he can commonly be found posting selfies and videos or engaging with fans. Finally, Bessant can also be found on the podcast "3 Men and a Microphone." Since starring in Season 6 of "Peaky Blinders," the actor has twice appeared on the podcast as a guest presenter. Where will Bessant pop up next? Only time will tell, but the actor is already building up an impressive resume, and appearing on an international hit like "Peaky Blinders" will only increase his cache as a performer.