The Major Way Spider-Man: Into The Spider-Verse Inspired Ms. Marvel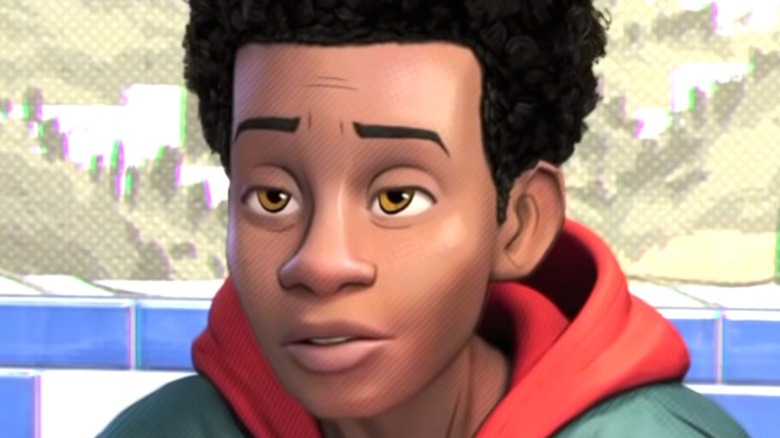 Sony Pictures Releasing/YouTube
"Ms. Marvel," as the latest installment in the ongoing epic known as the Marvel Cinematic Universe, will obviously have strong connections to the movies and TV shows that came before it. We already know that Kamala Khan (Iman Vellani) is a superhero fan in addition to being a superhero herself. Her love for Captain Marvel (Brie Larson) is well known, and she's just one of the legendary Avengers who Khan is seen looking up to on the show.
We also know that "Ms. Marvel" has a direct connection to "Spider-Man: No Way Home" thanks to a brief shot of Agent Cleary (Arian Moayed) in the trailer. But in a recent interview with "Ms. Marvel" directors Adil El Arbi and Bilall Fallah, the filmmakers revealed a surprising creative influence that another recent big-screen take on Spider-Man had on the show.
That would be "Spider-Man: Into the Spider-Verse," the animated Spider-Man feature film that had a big impact on the visual style of "Ms. Marvel."
The visuals of Into the Spider-Verse helped inspire the style of Ms. Marvel
In a video interview with Beyond the Trailer, "Ms. Marvel" directors Adil El Arbi and Bilall Fallah were asked about the show's animated doodles that appear over the live-action shots, reflecting the thoughts and feelings going on inside Kamala Khan's head. El Arbi revealed that the inspiration for these sequences came directly from comic books. "We just love the aesthetic of the comic books," said the filmmaker.
He then shared another noteworthy bit of inspiration: "We were, like, also enormously inspired by 'Into the Spider-Verse. We were thinking, 'Imagine if we can make a live-action version of that?'"
"It was important for us to get inside Kamala Khan's head and really portray her dream world and her fantasy," added El Arbi. It sounds like a no-brainer, but the pair revealed that they had concerns that Marvel Studio's Chief Creative Officer Kevin Feige might not sign off on the concept since it marks a stylistic difference from everything else that's been in the Marvel Cinematic Universe so far. "It wasn't in the script or anything," revealed Fallah. Apparently, the two had to do an elaborate presentation for the exec in order to sell the suits on their ambitious visual ideas.
Obviously, the presentation worked and the comic book (and "Spider-Verse")-style animations made it into the series. And thanks to Adil El Arbi and Bilall Fallah, the MCU is now just a little bit more animated.