New Ms. Marvel Trailer Confirms The Return Of This Pesky Spider-Man: No Way Home Character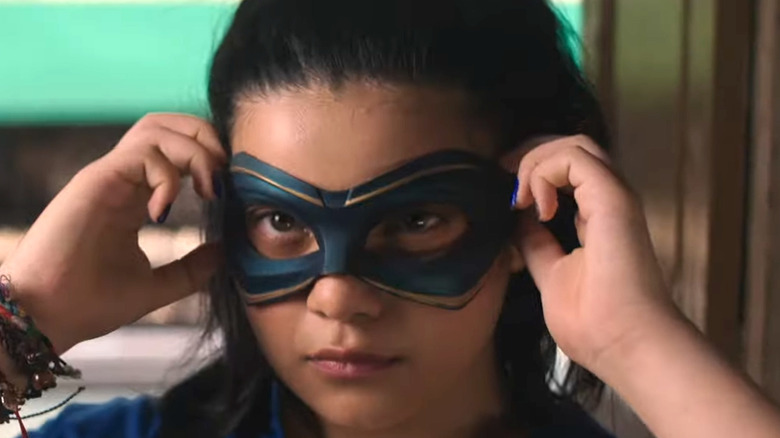 Marvel Studios/Disney+/YouTube
At this point, it shouldn't come as a surprise when characters from throughout the Marvel Cinematic Universe, whether adapted from the comics or invented purely for the movies and shows, show up in new projects — that's kind of the whole point of the exercise. But it's still fun to see it happen, and with so many projects circling the same general period in time, you never know who's going to show up. Even minor players like Darcy (Kat Dennings) from the first two "Thor" movies and FBI Agent Jimmy Woo (Randall Park) from "Ant-Man and the Wasp" unexpectedly found new life (and new fans) when they returned out of nowhere on "WandaVision," to the point where some viewers demanded a spin-off featuring just the two of them.
Now, fans are noticing a certain figure from the recent film "Spider-Man: No Way Home" in a new trailer for the upcoming Disney+ series "Ms. Marvel," starring Iman Vellani as the titular superhero, also known as Kamala Khan.
This minor character from "No Way Home" draws a connection not just between Spidey and Ms. Marvel, but also helps incorporate the new teen superhero deeper into the larger Marvel fold — as well as promising more action from a formerly obscure government agency from the comics, that seems to be making its way to greater prominence in the MCU. 
Fittingly enough, the new trailer is titled "Connected," a word which clearly describes the "Ms. Marvel" series itself.
Damage Control Agent Cleary is back from Spider-Man: No Way Home
About halfway through the new "Ms. Marvel" trailer above, you can see Agent Cleary (Arian Moayed) of the Department of Damage Control, who was last seen interrogating Peter Parker (Tom Holland), Ned Leeds (Jacob Batalon) and Peter's Aunt May (Marissa Tomei) in "Spider-Man: No Way Home."
In the brief glimpse of the character seen in the trailer, Cleary appears to still be on the job, joined by another Damage Control agent played by Alysa Reiner. Though the confirmation is exciting, this isn't the first sign we've gotten of Cleary's return in "Ms. Marvel," as ComicBook.com reported back in May that Moayed's name had turned up in the show's cast list. At this point, though, we're seeing our first look at the character in the show. How prominent his role will be, and exactly how much damage the Department of Damage Control will have to control in the wake of Ms. Marvel's adventures, remains to be seen.
While Agent Cleary is only loosely based on a comic book character of the same name, Damage Control is a concept with long roots in Marvel history, having first been introduced in the 1980s by the late writer Dwayne McDuffie and artist Ernie Colon. Damage Control even fronted their own comic book run in 1989 (per Marvel.com).