Colorful New Justice League Character Posters Revealed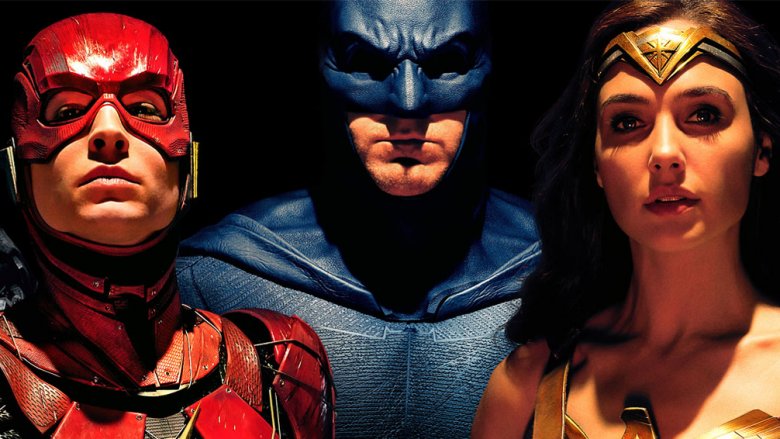 DC/Warner Bros.
The Justice League is here to save the day, and they'll do it in style. 
Warner Bros. has unveiled five new character posters the upcoming Justice League film, spotlighting each hero (save for Henry Cavill's Superman) in their own vivid hue. The characters all stand in profile, looking toward the viewers' left, with their corresponding insignias emblazoned over the Justice League one at the very bottom of the poster. 
We see Jason Momoa's Arthur Curry/Aquaman against a bright green background, Gal Gadot's Diana Prince/Wonder Woman in a punchy yellow-orange shade, Ben Affleck's Bruce Wayne/Batman likely showing off his smolder against royal blue (accented from behind by a golden yellow), Ray Fisher's Victor Stone/Cyborg looking fierce in a purple-gray color, and Ezra Miller's Barry Allen/The Flash displaying his fittingly flashy side in candy-apple red. 
These colors coordinate with the ones seen in batch of previously released character posters that show Aquaman in green, Wonder Woman in orange, Batman in dark blue, Cyborg in graphite gray, and the Flash in bright red. According to ComingSoon.net, more information on these prints will be available next month. 
While the DC Extended Universe (the cinematic world's official name is still pending) has gained a reputation for being dark, gritty, and brooding over the past few years, these Justice League promo images seem to prove that the forthcoming film will take an optimistic spin on the beloved heroes. The movie's trailer, which was released a few months ago, shows that Justice League will be tonally much lighter than Batman v Superman: Dawn of Justice, and these posters serve to bolster that claim. 
Joining the fab five (plus Superman) for Justice League Jesse Eisenberg as Lex Luthor, Willem Dafoe as Nuidis Vulko, Billy Crudup as Henry Allen, Jeremy Irons as Alfred Pennyworth, Diane Lane as Martha Kent, Connie Nielsen as Queen Hippolyta, Amber Heard as Mera, Kiersey Clemons as Iris West. J.K. Simmons' Commissioner Gordon and Amy Adams' Lois Lane round out the cast. 
Here's the official plot synopsis for Justice League: "Fueled by his restored faith in humanity and inspired by Superman's selfless act, Bruce Wayne enlists the help of his newfound ally, Diana Prince, to face an even greater enemy. Together, Batman and Wonder Woman work quickly to find and recruit a team of metahumans to stand against this newly awakened threat. But despite the formation of this unprecedented league of heroes—Batman, Wonder Woman, Aquaman, Cyborg and The Flash—it may already be too late to save the planet from an assault of catastrophic proportions."
Joss Whedon sits at the helm for Justice League, taking over for original director Zack Snyder after he and his wife departed from the film following the tragic death of their daughter. The movie is slated to release in theaters on November 17. But for now, lust over the new Justice League character posters below.