The Jackass 4.5 Scene That Made Everyone Sick To Their Stomachs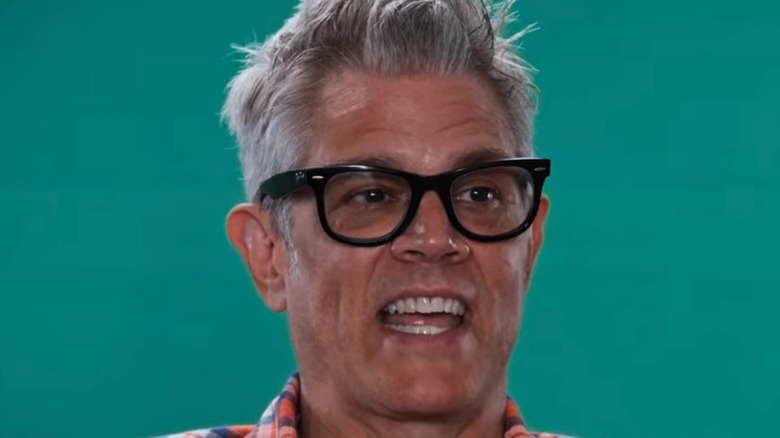 Netflix
In 2022, "Jackass" fans were thrilled to see Johnny Knoxville, Steve-O, Chris Pontius, Danger Ehren, Dave England, and Preston Lacey return to the big screen for "Jackass Forever" — which sees the gang pull off some of the most daring stunts of their careers. It's been over a decade since "Jackass 3" arrived in theaters, and fans have been desperate to see the team return with their signature flamboyant approach to fun stunts and pranks. Obviously there's a degree of sadness around the franchise following Ryan Dunn's tragic death in 2011 — but the 2022 movie is dedicated to the performer.
The "Jackass" crew have always been known for their hardcore party lifestyles, and it has taken its toll on some of them over the years. When speaking to GQ about the movie, Johnny Knoxville explained that it was sometimes difficult to see how some of his friends had become so wrapped up in their wild ways, saying, "It's difficult ... It was heartbreaking, losing Ryan. And it was tough when Steve-O was going off the rails. But he has completely, completely turned his life around and is doing just — I mean, he's doing terrific. He's a different, different man."
"Jackass Forever" recruits a number of new stars to bolster the ranks, including Rachel Wolfson, Sean "Poopies" McInerney, Jasper Dolphin, and Zach Holmes — who all dive headfirst in with the original gang in some of the most unhinged stunts in the franchise. In fact, they shot so much footage that Netflix recently released "Jackass 4.5" — but there's one scene that made everyone sick to their stomachs.
Zach Sashimi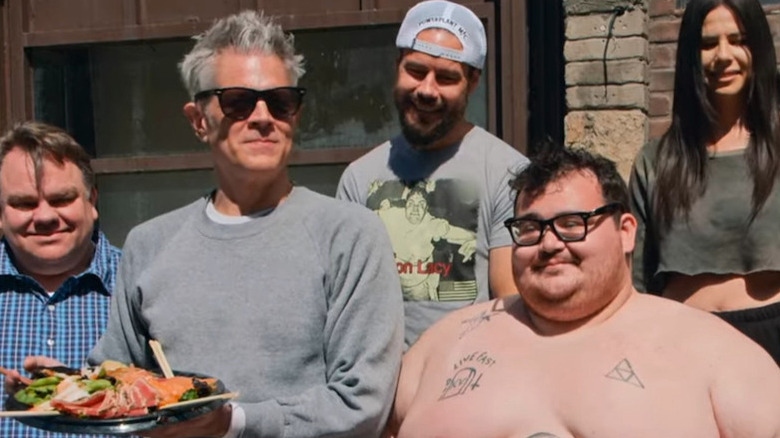 Netflix
"Jackass 4.5" is a making-of-documentary that's filled with also deleted scenes. Many cast members talk about what it was like filming a "Jackass" sequel in 2020 when the pandemic hit, as well as their experiences with some of the most unhinged sequences. But some of the deleted stunts are truly worth a watch, like "I'll Show Me" — where Poopies knocks a stepladder out from underneath himself with a sledgehammer.
But there's one stunt that really makes people feel sick: the "Zach Sashimi." The stunt sees the gang put pieces of sashimi in between Zach Holmes' skin, before wrapping him in cellophane and making him exercise so that he sweats profusely. Then, Rachel Wolfson, Chris Pontius, and Steve-O all take turns eating the various bits of sweaty sashimi. Yes, it's disgusting. It's so disgusting that even Holmes' himself throws up — as well as Poopies and Steve-O.
Fans online were shocked by the scene, with @renkouha tweeting "The zach sashimi bit in jackass 4.5 literally has me heaving. RETCHING. I have a decently strong stomach but this s*** is literally unwatchable." While @RhinoEnclosure added "Zach Sashimi might be the most disgusting thing I have ever seen good god," and @lolkristin declared "Zach Sashimi in Jackass 4.5 is the most disgusting thing I've ever seen them do."
If "Jackass 5" ever comes to fruition, let's hope they find a way of topping Zach Sashimi!