Locke & Key Season 3 Trailer Marks The Beginning Of The End For Keyhouse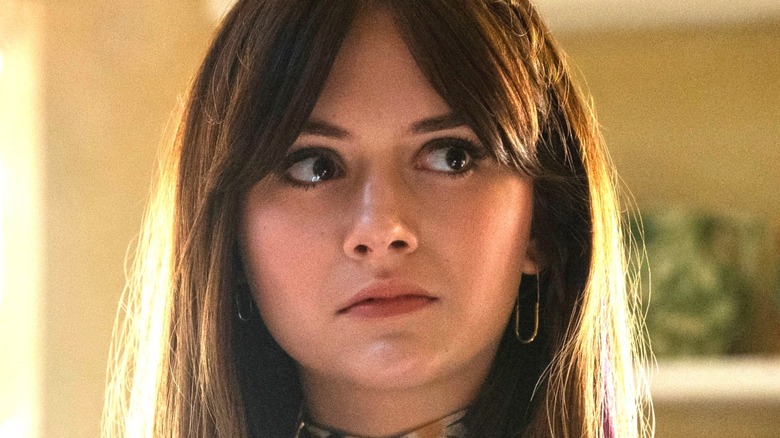 Amanda Matlovich/Netflix
Netflix's "Locke & Key" has wrapped its chilly arms around its audience and proceeded to keep them enraptured for two seasons straight with its scary, suspenseful ways. Viewers can't get enough of widowed mom Nina Locke (Darby Stanchfield), who finds herself caught up in a web of intrigue after the murder of her husband, Rendell (Bill Heck), by one of his students. To protect their brood, she moves her three children — Tyler (Connor Jessup), Kinsey (Emilia Jones), and Bode (Jackson Robert Scott) — from Washington State to Massachusetts. But Rendell's troubles haven't died along with him. 
Ensconced in his family estate, called Keyhouse, the Lockes discover a series of keys with various magical properties that allow them access to worlds beyond their imagination. The keys also affect the users physically and mentally. Nina works to figure out why Rendell was murdered, believing that the keys are connected to his death. When it turns out the magic involved might be sinister in nature — and that demonic entities have targeted the family — they must struggle to stay together and alive. 
During Season 2, the Lockes try to work out a balance between living normal lives and the awesome power of being keyholders. Death, demons, and even amnesia stalk the family, all thanks to Dodge (Laysla De Oliveira), who would do anything to possess the Locke's magic. Fans were left on the edges of their seats waiting for the show's third season to roll around, knowing that it will also be the last. And finally, Netflix has released a trailer for the final season of "Locke & Key."
The trailer for Locke & Key Season 3 is moody and mysterious
As you can see, the above trailer definitely doesn't stint on the show's characteristic sense of dank suspense and unpredictable mystery. Ticking clocks, the expansive grounds of Keyhouse, and the musty confines of the well house are all on display. Over the first few seconds of the trailer, a new character can be heard intoning, "The past is always with us. Well, you can try to run away but it's always there." 
"We've been tangled up in this for years," Nina observes over shots of mysterious new figures who bode ill for the Lockes. Those characters, per a TV Insider interview with series co-creator Carlton Cuse from October 2021, are Revolutionary War soldiers who figure into the Locke family's past. "This is our house, those keys belong to us!" Nina says later over shots of her and the family fighting off the soldiers, which proves the Lockes will not go down without a battle. Car crashes, plummeting characters, strange new worlds, and life-threatening incidents collide, and the trailer ends with Dodge, who appears in a frame upside down, eerily saying, "Boo." 
Fans of "Locke & Key" can expect past and present to collide soon. Per this new trailer, the show's third season debuts August 10 on Netflix.