The Major SNL Milestone Jon Hamm Was Supposed To Celebrate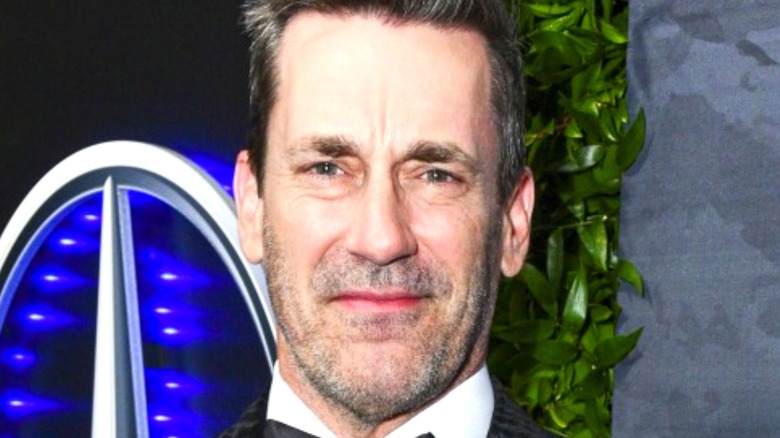 Vivien Killilea/Getty
In case you didn't know, actor Jon Hamm is no stranger to the comedy machine that is "Saturday Night Live." The man formerly known as Don Draper has hosted Lorne Michaels' iconic late night series three times and had multiple cameos over the years, with some of the show's most famous cast members — including Bill Hader — being real-life friends of his (via Channel 4/Entertainment Weekly).
"Hopefully, I'll get asked to do it again," Hamm told UPROXX while promoting his latest movie project, "Top Gun: Maverick," which lit up the Memorial Day box office to the tune of $156 million — a new holiday weekend record (via Variety). "It's one of those funny things," Hamm said. "It's like, if you're part of the cultural moment, then that happens. And sometimes you become less of the moment or something. It's a very weird calculation that I'm very glad I don't have to do, but the calculation exists in the mind of Mr. Michaels. And I've always been a friend of the show." 
In addition to being buddies with cast members, some of Hamm's other Hollywood pals have also been longtime guest stars of the show, including a certain acting A-lister who was supposed to be celebrated by Hamm for a major "SNL" milestone, but then Omicron hit.
Jon Hamm was supposed to have a cameo during Paul Rudd's Five-Timers club induction
Back in December 2021, Jon Hamm's longtime buddy Paul Rudd was supposed to have a big "SNL" celebration skit and cameo-filled episode for his Five-Timers club status, which would have included the "Mad Men" and "Baby Driver" actor. But then the Omicron variant of COVID hit and started ramping up throughout New York City and the United States, forcing the show to cancel its inclusion of a live audience and ultimately have a limited cast and crew (via Today).
"I was actually meant to have a little cameo," Hamm told UPROXX. "It was a COVID casualty. So it goes."
It's ultimately unclear what "SNL" had planned for Rudd's Five-Timers episode and induction, only that Hamm and countless other celebrities were supposed to be there. "There was a whole show planned," Rudd said during the show's cold open. While the Omicron setback may have dampened things a little bit for the "Ant-Man" star, he was still able to receive his famous Five-Timers smoking jacket from legendary Five-Timers Tom Hanks, Tina Fey, and Steve Martin via a video message. Perhaps one day in the not-so-distant future Hamm and the others can come back to give Rudd a proper "SNL" episode. "I'm looking forward to [going back]," Hamm told UPROXX.