Did Stranger Things Season 4 Sneak In A Rick And Morty Easter Egg?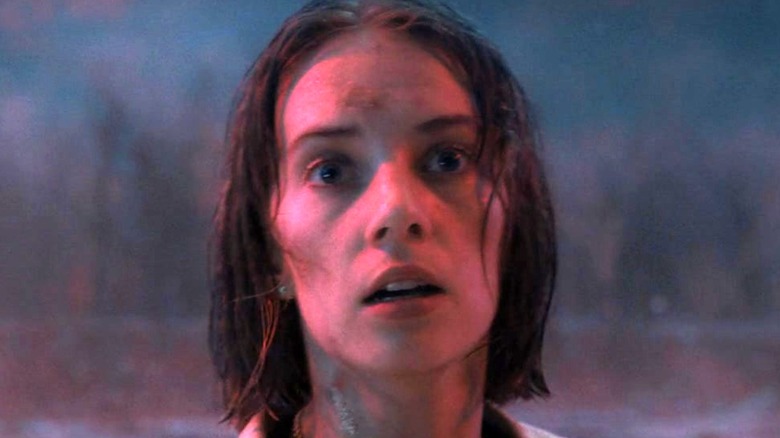 Netflix
"Stranger Things" became a cultural phenomenon when it first debuted in 2016. The binge-watch of the summer, it told a story of paranormal phenomena, friendship ... and of course, Dungeons & Dragons, set in the sleepy suburban town of Hawkins. Now in its fourth season – with a fifth and final one on the way — the show continues to dazzle audiences and break streaming records for a currently-embattled Netflix.
Beyond the show's stellar cast, which launched the careers of (then) child stars Millie Bobby Brown, Finn Wolfhard, and more, the show got a great deal of milage by repackaging the ideas of popular media from the 1970s and 1980s but with a new spin. From "The Goonies" to "Alien" and even "Akira," the Duffer Brothers painstakingly copied their iconography with incredible attention to detail and countless Easter eggs. On one hand, this led to some criticism, with naysayers claiming "Stranger Things" had no new ideas of its own (Paste Magazine even asked the question, "Does it matter that 'Stranger Things' lacks original ideas?"). But the nostalgia factor undoubtedly helped to propel the show to mainstream success, and many fans loved seeing the things they had enjoyed in their youths recreated for a new generation.
However, "Stranger Things" doesn't always have to reach forty years into the past to pay homage to other shows. In fact, there's one possible reference to "Rick and Morty," a very current show indeed, which you may have missed.
A list of Ricks reveals the Rickest Rick of all Ricks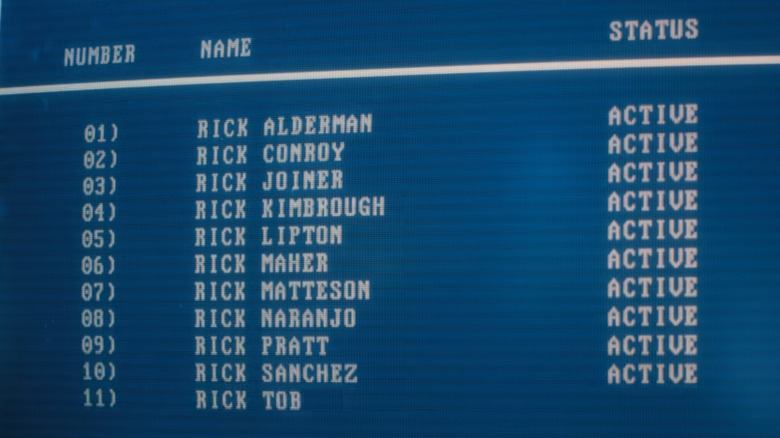 Netflix
In one scene from "Stranger Things" Season 4 Part 1, some of the gang need to find a drug supplier nicknamed Reefer Rick. The problem? They don't know Rick's last name. However, Robin (Maya Hawke) has the brilliant idea that (in this era of no Netflix and no streaming, given the 1980s setting) there are pretty high odds that he frequents the video store where she and Steve (Joe Keery) work, so they use the store's digitized customer database to search for all the Ricks who shop there. 
The computer screen is briefly shown, and if you have quick eyes, you'll notice that the tenth name on the list is one Rick Sanchez. As fans well know, that's Rick's full name in "Rick and Morty."
For a show like "Stranger Things" which draws so much of its imagery and stories from other fan-favorite pop culture, it makes sense to throw in a nod to Dan Harmon and Justin Roiland's hit Adult Swim show and its titular mad scientist. Moreover, this isn't the first time the two shows have interacted. "Rick and Morty" once announced the titles for its latest season with a video in the style of the "Stranger Things" intro credits (via Rick and Morty on Twitter). With that in mind — and given how carefully "Stranger Things" peppers its references into the narrative — this seems like a very intentional Easter egg. Maybe a live-action version of the character in "Rick and Morty" frequents the "Stranger Things" universe? One could say that, ahem, stranger things have happened.