Kevin Costner On How Yellowstone Depicts The Real Wild West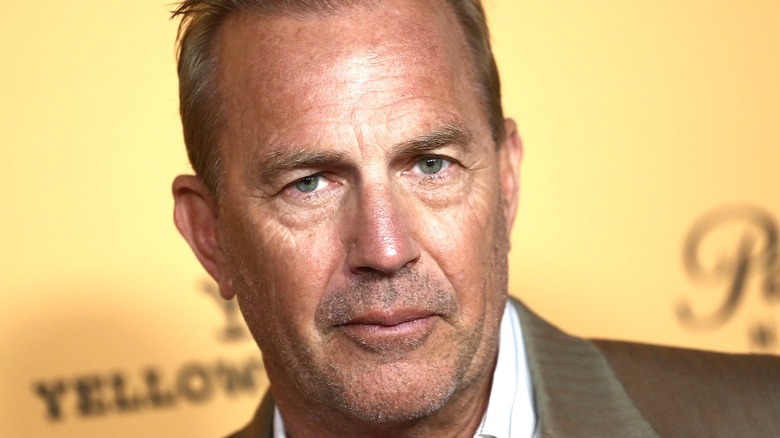 Tommaso Boddi/Getty
Paramount Network's "Yellowstone," the hit series co-created by Taylor Sheridan, has always done a great job of not over-glamorizing the modern West. Instead, the modern Western showcases its dramatic, everyday realities in ways that greatly affect the show's American audience. And if there's anyone who has recognized this in the years since "Yellowstone" first debuted, it's the show's biggest star: Kevin Costner.
"Obviously, when you create a melodrama, you have to have things that are very heightened," explained the Hollywood vet in a 2020 interview with Gold Derby. "But when you do that well, and I think Taylor [Sheridan] does that really well in his writing, he really heightens situations, and the dialogue is sharp and clever, and you put that against the imagery that we somehow lost contact with, that these places still exist...That's playing into a certain psyche for sure."
Since day one, Costner has portrayed widowed ranch owner and patriarch John Dutton. The eldest Dutton has gotten entangled in various land disputes and other local issues related to his cattle business. There's violence, lawlessness, corruption, and a multitude of other problems plaguing the region — all while John and his family try to make an honest living as ranchers. Quarrels with members of the nearby Broken Rock Indian Reservation and land developers have led to grim and realistic depictions of life in America's modern West, along with the extremely accurate portrayal of cowboy life.
Costner also explained to Gold Derby what he believed it is about this lack of glamorization that ultimately makes "Yellowstone" so impactful to viewers.
Yellowstone shows viewers the harsh realities of cowboy life
According to Kevin Costner, what "Yellowstone" ultimately does best is showcase the modern West and the day-to-day activities that people often take part in throughout the region, which in many ways, have been forgotten about or ignored altogether by many of the show's viewers. 
"The realities are this kind of work is being done every day, people on horseback, harvesting, watching cattle, moving things around," Costner explained to Gold Derby in 2020. "That's really part of the American psyche is the cowboy, and that hasn't really left so many areas in the United States. It's still done every day." For the John Dutton actor and others on the show, what makes things even easier for them when it comes to showcasing all the intricacies and ways of living on "Yellowstone" is the show's use of the actual Western landscape and cowboy training.
"These mountains are not going anywhere, and they're so beautiful, and this land is worth fighting for," Costner said. "It plays with people, running rivers, running horses, freedom, defend what's yours. That's playing into a certain psyche for sure." With production officially starting on Season 5 of "Yellowstone" in May 2022 (via Deadline), fans will hopefully see Costner and the rest of the cast back on their television screens by the end of the year.