The Hilarious Behind The Scenes Footage That Makes The Witcher Fans Love Ciri And Yennefer More
The world of "The Witcher" doesn't usually lend itself too well to comedy. Considering that Cintra and the surrounding kingdoms are beset by war, scheming politics, powerful mages, monsters, and extra-planar entities, there aren't many opportunities for levity. However, when the cameras aren't rolling, the interactions of the actors can take on an entirely different tone, and there's probably much more laughter than one might expect. After two seasons on Netflix, fans have gotten quite fond of Geralt (Henry Cavill), Ciri (Freya Allan), and Yennefer (Anya Chalotra), whose paths all finally converged in the final episodes of Season 2.
In a double interview with Chalotra and Allan in Glamour Magazine before the release of the second season, the pair were asked what they learned from filming. "I remember the first day of filming we were both on," Allan said to Chalotra. "I think they shot your scene and then my scene. I remember us going back to the hotel and I spent a lot of time going through my worries with you."
Chalotra then added, "We went through the same experience at different points in our lives. No one else will go through what we go through so it's really important that we grow through this process together because no one else will have that." It seems that the two actors are not just co-workers, but friends, and it's probably safe to assume that they enjoy each other's company when not on the proverbial clock. With that in mind, it makes perfect sense that fans on Reddit have taken a shine to a particular clip of the two goofing around.
A behind-the-scenes moment shows Allan and Chalotra doing Geralt impressions
Reddit user Villenthessis posted a short clip on the subreddit r/witcher in which the pair of fictional magic wielders appear to be in a coffee shop or waiting room in a high rise building, and the two are taking turns making fun of their co-star Cavill by doing Geralt impressions. Geralt's speech pattern is gruff and to the point, and it looks like Allan is having an absolute blast with her impression, while Chalotra struggles to get her voice low enough in order to emulate Geralt's.
Several fans loved this behind-the-scenes moment. u/PsychoZealot commented, "Lol, it's funny seeing actors who play very serious characters in such a candid and fun moment. Fraya has a very fun laugh, she really was cracking up." u/billiarddaddy added, "It's easy to forget how adorable people can be off screen." Meanwhile, u/SuperTrout95 stated, "This is so wholesome I love it."
Fans love the interaction between Allan and Chalotra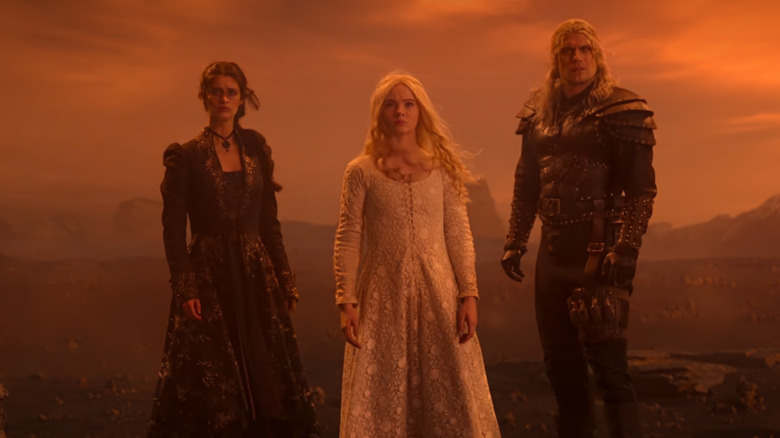 Netflix
The love for this gentle riffing on the Butcher of Blaviken just keeps rolling in. u/Krunchy1736 said that the relationship between Chalotra and Allan remind them of the behind-the-scene footage of Maisie Williams and Sophie Turner from "Game of Thrones." u/breathingnicotine stated that both actors are too adorable for this world, while u/koella, u/geralt-bot, and u/zebulon99 made monosyllabic responses in the style of Geralt to add the collective impressions of the titular character of "The Witcher."
With these comments in mind, it seems as if fans are really picking up on the friendly demeanor between the two actors. In an interview with Decider, Allan spoke about the working relationship between cast members on "The Witcher," saying, "We've built up such a strong relationship outside of the characters, it's exciting to think of what's going to happen between our characters." Ultimately, the interactions between both Chalotra and Allan on-screen and off surely aid in the popularity of "The Witcher," and hopefully their friendly relationship continues to build momentum before, during, and after Season 3.