Why Dwayne Johnson's Lowest Rated Rotten Tomatoes Movies Are Worth Watching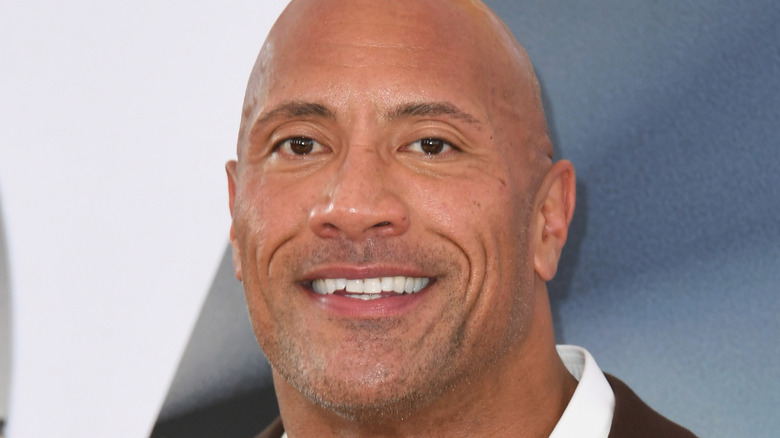 Jon Kopaloff/Getty Images
Dwayne Johnson is easily one of the biggest A-list movie stars today, both physically and in terms of his box office success. A laundry list of successful franchises and fun action films have turned the former sports entertainer into a household name who can seemingly do no wrong. 
Of course, no one can keep making hit movie after hit movie forever. No matter how great a movie star is, they're bound to have at least one absolute stinker in their résumé. Usually, this movie can be easily located by taking a look at the actor's Rotten Tomatoes scores. However, perhaps fittingly for his larger than life nature, Johnson's movie career has not just one, but two lowest-rated movies on the review aggregator site. 
2010's family comedy "Tooth Fairy" (via Rotten Tomatoes) and 2017's "Baywatch" both have a decidedly disappointing 17 percent Tomatometer rating on Rotten Tomatoes, which puts them firmly on the one-star movie territory. However, the fact that critics have utterly keelhauled both movies doesn't mean that you shouldn't watch them. In fact, there are some very good reasons to give them both a chance. 
Tooth Fairy is Johnson's obligatory Weird Action Star Comedy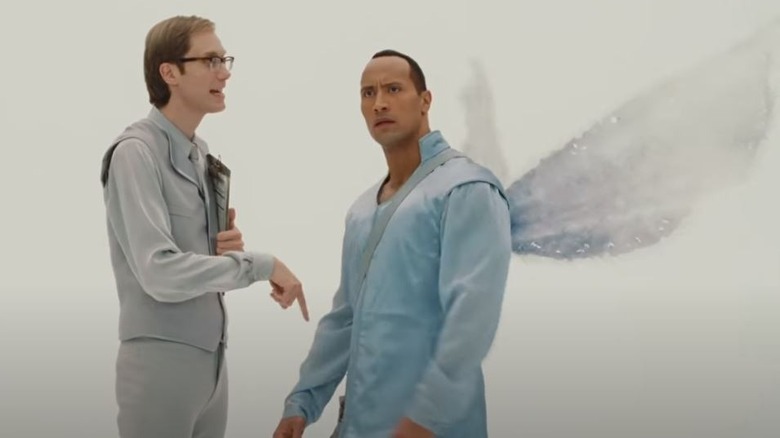 20th Century Studios
Every major action hero is required to make one terrible comedy with such an absurd premise that you know what you're in for before the movie even begins. Arnold Schwarzenegger has "Jingle All the Way," Sylvester Stallone has "Stop! Or My Mom Will Shoot," Vin Diesel has "The Pacifier" ... and Dwayne Johnson has "Tooth Fairy," where he plays a hockey goon who becomes an actual tooth fairy.  
Films like these have their own, skewed sort of worth. They can be watched as a guilty pleasure, with a childlike sense of wonder(ing why these major stars agreed to do this). For this reason alone, "Tooth Fairy" is a must-watch for fans of campy cinema and Dwayne Johnson completionists. However, unlike most of his action hero colleagues, Johnson isn't a bad comedian, and he's aided by a wild supporting cast that includes names like Julie Andrews and Billy Crystal.
The Rock is a nice and affable sort of dude on social media, and while he can be funny in a charming, one-liner spewing kind of way, his public image and movie roles tend to skew heavily toward the musclebound action hero type. Perhaps this is why it's so easy to forget that the man has an overwhelming surplus of comedic talent. Fans who followed his pro wrestling career may remember his tendency to oversell Stone Cold Steve Austin's Stunner finisher by going full slapstick (via Bleacher Report). Of course, he's also displayed his funny side in various movie projects, going all the way back to 2005's "Be Cool." 
Add all this together, and "Tooth Fairy" is basically Johnson's obligatory "so bad it's good" film ... only, he actually delivers a decent performance, so you can watch the movie without cringing for 80 percent of its runtime.
If you're not a critic, give Baywatch a chance
"Baywatch" was a box office bomb when it premiered during the Memorial Day weekend of 2017, and just like "Tooth Fairy," critics didn't exactly adore it. Then again, when have critics ever been over the moon about a deliberately over-the-top, R-rated comedy? Because that's exactly what "Baywatch" is, and the people who actually watch it might be surprised to find out that it's actually pretty good for what it intends to be. 
The movie goes all out with everything you'd expect and more, though it often takes things in a decidedly different Rated R direction than the notoriously bouncy TV show it's based on might lead you to assume. As has already been established, Johnson has plenty of comedic chops, and here, he's surrounded by talent like Priyanka Chopra, Zac Efron, Yahya Abdul-Mateen II and Hannibal Buress, not to mention some choice cameos by the stars of the original show. What's not to like?
What's more, there's plenty of evidence that "Baywatch" is objectively very watchable, provided you're not a film critic. Per Deadline, test audiences loved it, and its failure can likely be attributed to a combination of franchise fatigue and bad reviews. Johnson himself addressed the issue in an uncharacteristically acerbic way on Twitter.  "Oh boy, critics had their venom & knives ready," the star wrote and added a cry-laughing emoji. "Fans LOVE the movie. Huge positive scores. Big disconnect w/ critics & people."
This reported disparity between critics and regular audiences alone makes "Baywatch" worth watching, if only to find which team you stand with. And hey, if you end up enjoying the film, you have a brand new cool R-rated comedy you can recommend to people, which can be a very, very precious commodity between friends.