Snoop Dogg's Legendary The Price Is Right Appearance Is One We'll Never Forget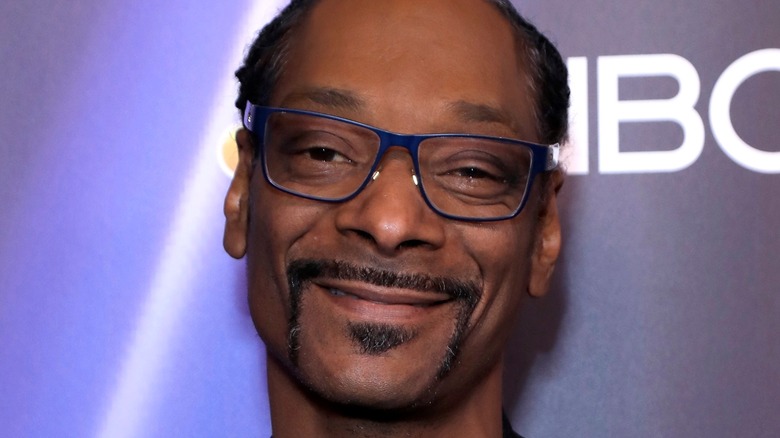 Kathy Hutchins/Shutterstock
It's been more than a decade since Snoop Dogg's unexpected appearance on "The Price is Right" for the game show's very first celebrity charity week (via IMDb). The west-coast rap legend behind massive hip-hop hits like "Drop it Like it's Hot," "Lay Low," and "Gin and Juice," Snoop Dogg is a household name, making his appearance all the more sensational.
Celebrity Week on "The Price is Right" allows big stars to play the many established games the show is known for alongside regular contestants. Naturally, the celebs aren't taking home their winnings but instead raising money for a charity of their choice. During his time on the long-running game show, Snoop Dogg chose to raise money and awareness for his sports charity for inner-city youth. 
According to Snoop Youth Football League's website, the charity, which was created in 2005, is dedicated to giving underprivileged children the opportunity to play sports and develop important value systems they might otherwise miss out on. So, what made Snoop Dogg's appearance on the series so special?
Snoop has been a fan of the show since childhood
Snoop Dogg begins his appearance by helping a nervous contestant guess the prices of everyday grocery store items in Check Out. His streetwise advice and some help from enthusiastic audience members help guide her to joyful success in the game's early rounds. Unfortunately, she loses out on the grand prize during the Showcase Showdown, which includes a chance to see Snoop perform live at the Voodoo Music Festival in New Orleans. However, the other contestant who wins the honor appears overjoyed, leaping forward to give Snoop Dogg a big hug. 
By the end of the show, the rapper raises over $72,000 for his charity, fulfilling a childhood dream in the process. After the game, Snoop recalled watching the show while skipping school as a kid. "That feeling was still there," he said (via Syracuse.com). "It's like it never left." 
Snoop Dogg was also apparently thrilled to bring home such money for his charity and took the opportunity of his win to boast about the organization's success. "We wanted to put something in the community that would be positive they could do that could be here 20 years from now," Snoop Dogg said. "A football league is very productive, and it's positive, and it keeps a lot of kids out of trouble, and it shows them how to organize and work together."
Other highlights in the episode include Snoop helping a contestant master the famous Plinko, which sees players trying to predict where a falling plastic chip will land. Unsurprisingly, The Doggfather also makes good on those childhood memories of his by spinning the iconic Big Wheel, a move that makes the crowd go wild.