How To Unlock Snoop Dogg In Call Of Duty: Warzone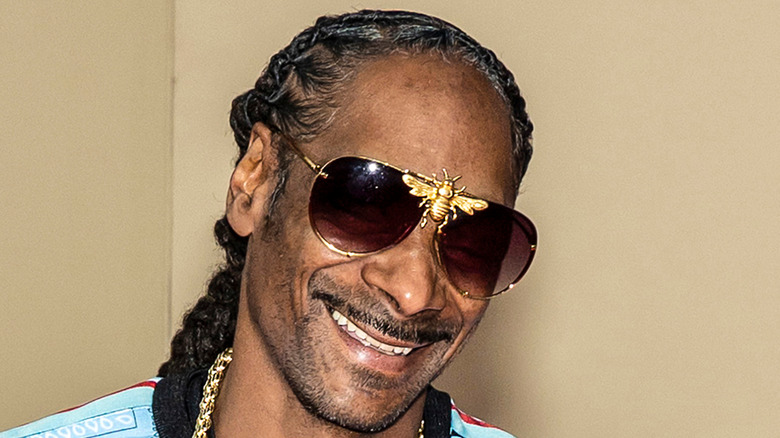 Ovidiu Hrubaru/Shutterstock
As a pioneer of early '90s West Coast hip-hop, Snoop Dogg is one of music's most endearing and influential figures. Outside of that arena, the rapper is also notorious for being a serious gamer, even joining FaZe Clan in 2022. An avid "Madden" player, Snoop featured in a "Madden NFL 21" event. He's also a huge fan of Xbox, even appearing as a talking head in the company's "Power On" documentary last year. Alongside longtime collaborator Dr. Dre, Snoop has also contributed many of his songs to video game soundtracks over the years.
Having appeared in many games over the years — including "True Crime: Streets of LA", "UFC 3", and Def Jam: Fight for NY" — Snoop Dogg also has made an impact on Activision's mega-popular "Call of Duty" series in the past. The iconic rapper previously lent his voice to "Call of Duty: Ghosts" as part of a Voice Pack add-on back in 2014. And now, it's been revealed that Snoop will once again be a part of the "Call of Duty" universe, this time as part of the latest Operator bundle released for "Call of Duty: Warzone" and its companion games. And here's how you can unlock him!
How to unlock Snoop Dogg in Call of Duty: Warzone
Activision
Snoop Dogg will become available for purchase to "Call of Duty: Warzone" players on April 19 at 10 AM PST as part of the Snoop Dogg Operator Bundle. Purchasing this bundle allows for his use as a playable character across "Warzone" and "Vanguard." 
Voiced by Snoop D-O-Double-G himself, the bundle includes 10 Snoop Dogg-specific items and costs 2,400 COD points. For anyone who hasn't saved up the typically hard-to-get COD points needed to purchase Snoop's bundle, it'll cost them an equivalent $20 to unlock. The character's progression track will also unlock further upgrades and goodies for players who stick with the rap icon.
Though a beloved figure in entertainment, Snoop Dogg's insertion into the "Call of Duty" franchise has been met with some resistance. Well, at the very least, some fans have noted an obvious missed opportunity of not releasing the renowned marijuana enthusiast's Operator on April 20 (a.k.a. 4/20) in the United States.