The Blue Bloods Star Only Hardcore Fans Know Won Celebrity Jeopardy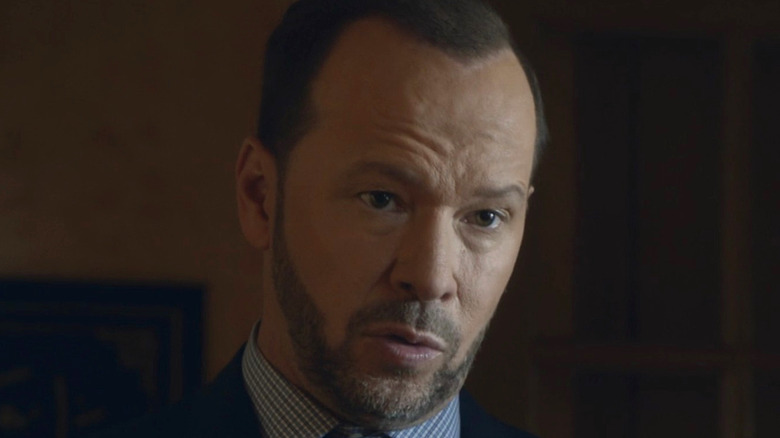 CBS
"Blue Bloods" debuted all the way back in 2010, and while other shows come and go, this one has kept on trucking. In fact, it's even already been greenlit by CBS for a thirteenth season (via Deadline). 
Following the lives of the New York City cops and civil servants who make up the Reagan family, "Blue Bloods" has always stood out thanks to its unique cast. You've got Tom Selleck as New York Police Commissioner Frank Reagan, moving that famous mustache from the beaches of Hawaii in "Magnum P.I." to the streets of New York, and you've even got a boy band member. Donnie Wahlberg, who plays Detective Danny Reagan, is an accomplished actor, but he's also well known for his years as a member of New Kids on the Block (via NKOTB.com). 
The expansive cast of the series all have extensive and unique histories, but hardcore fans of the CBS drama are likely the only ones to know that a "Celebrity Jeopardy!" winner is among them. Many minds will likely jump to the Will Ferrell-starring "Saturday Night Live" sketches when they hear "Celebrity Jeopardy!," but this format is actually a real thing. Indeed, airings of the real-world celebrity edition of the beloved series are somewhat rare nowadays but were more common back in the early '00s, including one episode that featured a notable future "Blue Bloods" star.
Will Estes is a Celebrity Jeopardy winner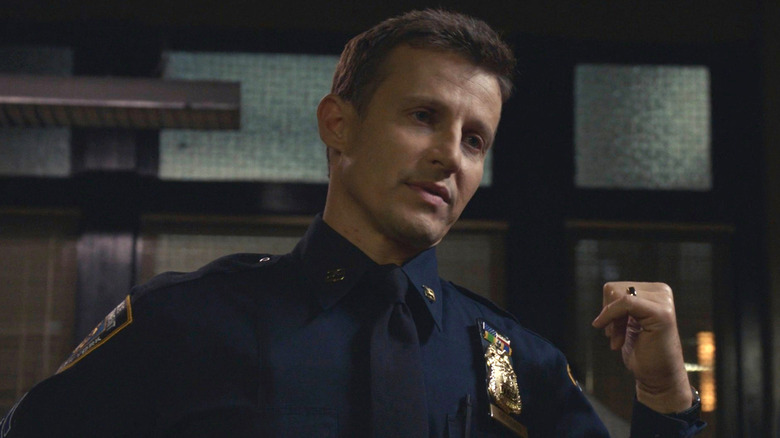 CBS
"Blue Bloods" cast member Will Estes, who plays cop Jamie Reagan, can jot "'Celebrity Jeopardy!' champion" down on his resume anytime he wants because the multi-talented thespian actually won a single episode of the popular game show. Estes appeared before host Alex Trebek in 2003, along with other celebrities like country music singer Brad Paisley and future "Bosch" actress Linda Park (via IMDb).
Though it was long before his "Blue Bloods" fame, Estes was an actor working steadily then. At the time, Estes was appearing on the series "American Dreams," a '60s drama show that ran for three seasons on NBC, ultimately ending in 2005. In the series, Estes portrayed J.J. Pryor Jr., the oldest child in the Pryor family who fights in the Vietnam War after joining the U.S. Marine Corps. Like "Blue Bloods," "American Dreams" follows the various members of one single family.
Estes spoke briefly about his "Celebrity Jeopardy!" experience in 2015, saying it was a moment that certainly made his father proud, but he can't explain how he came out on top as the brainiest contestant. "It was the moment of a lifetime for my dad. He's a big 'Jeopardy!' fan. I don't know how on this green earth I won. My dad was pretty ecstatic," Estes said (via Channel Guide Magazine).
Will Estes won more than $16,000 on Jeopardy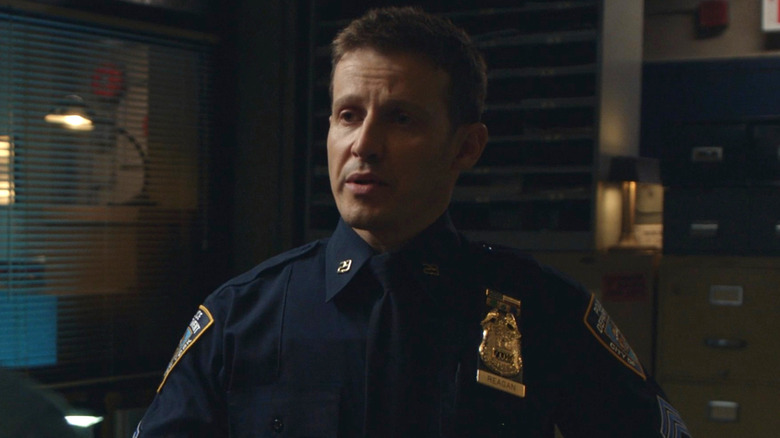 CBS
Will Estes earned more than $16,000 while playing "Celebrity Jeopardy!," which put him ahead of the competition by quite a bit. Country star Brad Paisley earned $12,600 and then-"Star Trek: Enterprise" star Linda Park brought in $3,000 (via J! Archive). Estes' victory allowed the actor to earn $50,000 for the charities New Leash on Life and CARE. Paisley and Park still earned for their charities as well, each bringing in $20,000 in prize money. Paisley's prize money went to the Michael J. Fox Foundation, and Park's went to Elizabeth Glaser Pediatric AIDS Foundation and UNICEF.
According to the same archive material, Estes was at a total of $8,200 at the end of the Double Jeopardy round, actually putting him slightly behind Paisley and Park. However, by the end of Final Jeopardy, Estes managed to come out on top with a sizable final wager and a correct answer.
Despite a lack of video clips floating around the Internet, Estes' detour into game show land is still brought up by curious fans. The official "Blue Bloods" Twitter even used the appearance as a bit of trivia to share with fans in 2015.