The Animated Series You Didn't Know Johnny Depp Was Currently Starring In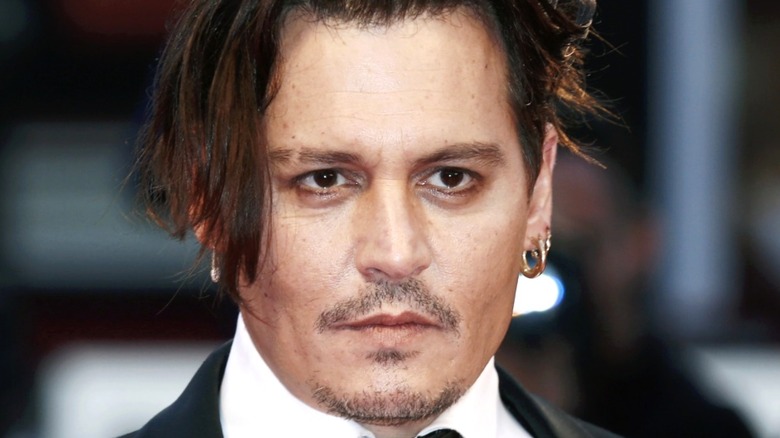 Andrea Raffin/Shutterstock
It feels almost like an alternate timeline today, but Johnny Depp was once making headlines for his acting. The actor was the face of one of Disney's biggest franchises, and he's been nominated for three Oscars (per IMDb). Today, however, he gets more attention for bizarre interviews and bitter legal battles with ex-wife Amber Heard, the latest being a defamation suit against the actress that ended with Depp being awarded $15 million from a jury (via NBC News). 
Depp suit stems from a 2018 Washington Post op-ed penned by Heard in which she referred to alleged physical abuse by the actor's hand. Depp has denied the allegations for years, and he claimed the fallout has affected his career, with bigger roles drying up rather quickly. Depp even resigned from the "Fantastic Beasts" franchise in 2020 at the request of Warner Bros. in light of the controversy surrounding him (per Variety). 
Depp is still acting, though. He has no "Pirates of the Caribbean" movies on the horizon these days and mostly appears in more independent fare, but he's still plugging away with what he can get. He's even been putting his voice talents to work in an animated series that has a number of episodes completed, though it's unlikely fans have ever heard of it. It's another major change for the actor's career, considering Depp's past voice work was in major releases such as 2011's "Rango" and the 2005 Tim Burton-directed "Corpse Bride." 
Johnny Depp is starring in Puffins Impossible
Johnny Depp is currently starring in the animated series "Puffins Impossible" as Johnny Puff. Depp's character leads a group of superhero puffins in the cartoon, which is a spinoff from a series of short films centering around Depp's puffin character. Those shorts were themselves spinoffs from the 2019 film "Arctic Dogs." The show revolves around five Arctic birds named Johnny Puff, Didi, Pie, Tic, and Tac. If you haven't heard of the show, don't fret. The series was internationally produced and it can be difficult to find. In March of 2022, it was announced that the show would be released through Apple TV and Amazon apps (via Variety). 
On Amazon, the show is sold in two sets, each amounting to only 14 minutes. Iervolino & Lady Bacardi Entertainment is behind the series, and they have produced quite a bit of Depp content in recent years. The company is also behind 2019's "Waiting for the Barbarians" and 2020's "Minamata," which stand as some of Depp's only work since Heard's accusations dropped. "Minamata" is actually the last feature film involving Depp, which means if fans are desperate for more content from the artists then they'll have to settle for him voicing a puffin who becomes a superhero. 
Depp himself has described the series as educational. "'Puffins Impossible' is a great story for all ages, witty and educational," he said in a statement promoting its release this year.
It's the first animated series produced in the Republic of Serbia
"Puffins" is more of an international franchise, and one unique detail about its making is that it is the first animated series produced in the Republic of Serbia (per Variety). Depp is a bit of a pioneer in this respect, and he was even awarded a medal of honor by Serbian President Aleksandar Vučić in February 2022 for his "outstanding merits in public and cultural activities, especially in the field of film art and the promotion of the Republic of Serbia in the world" (via Rolling Stone). 
At the time of receiving his award, Depp referred to his work with the country and presumably "Puffins Impossible" as part of a new "beginning" in his life and career. "I'm right now on the verge of a new life and I like it, I like a re-beginning, and I would love for that for that beginning to start here," he said at the award ceremony (per Newsweek). 
Depp may not be appearing in the kind of material that sparked his jump to the A-list today — like "Pirates of the Caribbean" — but he is clearly an essential piece to this "Puffins" franchise and while many in the U.S. have likely not heard of it, the cartoon did get him a medal of honor, so somebody is watching it.