Joe Biden's Law & Order: SVU Cameo Hits Different Now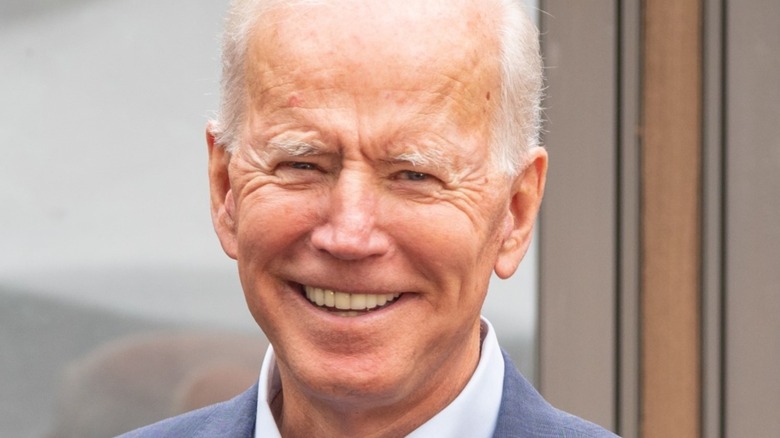 John M Poltrack/Shutterstock
"Law & Order: Special Victims Unit" is a famously sizable series, totalling more than 500 episodes across 23 seasons and counting (via IMDb). Understandably, then, a considerable number of actors have come and gone over the course of this run. Some of the well-known performers that have appeared on "Law & Order: SVU" include Patricia Arquette, Adam Driver, Mahershala Ali, and Zoe Saldana, among others. As the series continues, this list will likely keep growing.
The large pool of past "SVU" actors also includes a number of celebrity guest stars. Season 10, for example, features an appearance by singer and actor Hilary Duff as a negligent mother in an episode that originally aired in 2009. Similarly, a Season 17 episode from 2015 includes a cameo by TV personality and actor Whoopi Goldberg, who previously appeared on "Law & Order: Criminal Intent" in 2005 (via The Hollywood Reporter).
Both Duff and Goldberg were arguably at or past the height of their fame at the time of their respective "SVU" cameos. Actors like Driver and Ali, meanwhile, still had some of their biggest roles ahead of them when they first appeared on "SVU." The cameo that has perhaps benefitted the most from hindsight in the series' history, however, is one by U.S. President Joe Biden.
Joe Biden appeared on Law & Order: SVU before becoming a US president
U.S. President, former Vice President, and onetime Delaware Senator Joe Biden appeared on "Law & Order: Special Victims Unit" as himself in an episode that premiered on September 28, 2016 during the show's 18th season (via IMDb). Upon its opening, he congratulates Olivia Benson (Mariska Hargitay) on working to close sexual assault cases, which tied into a real-life campaign Biden led and promoted on his Twitter account on the day of the episode's premiere.
At that point in time, Biden was on the brink of concluding his tenure as Vice President, making the future of his career somewhat uncertain. Furthermore, in the years immediately following his vice presidency, Biden was publicly unsure about whether or not he would join the presidential race in 2020 (via The Atlantic).
When his "SVU" episode's premiered, then, Biden was plenty famous, primarily due to his number two position in the Obama administration. Nevertheless, neither at that time nor during the immediate aftermath of the episode airing was there much indication that Biden would become the president of the United States in a matter of years. Now, "SVU" fans can officially look back on this episode as a time that the 46th president of the United States joined the series' sprawling cast.
Biden's co-stars have enjoyed working with him during his cameo appearances
Also on the day that Joe Biden's episode of "SVU" first aired, Olivia Benson actor Mariska Hargitay posted to her personal Twitter account that she was "#Honored #thrilled #moved that #Hero @VP will be on tonight's #SVU." During that time, of course, @VP linked to Biden's Twitter account. She likewise highlighted the sexual assault prevention campaign that Biden promoted in conjunction with his appearance.
This "SVU" cameo amounts to one of a select few TV performances from throughout Biden's political career. He has also appeared in "Where in the World Is Carmen Sandiego?" when he was a Delaware senator in 1992, and famously showed up as himself in two episodes of "Parks & Recreation" in the mid-2010s (via IMDb).
Like Hargitay, "Parks & Rec" star Amy Poehler had little else but good things to say about her time acting alongside the future president. Of course, neither Poehler nor Hargitay knew at that time that they were performing opposite someone who would end up holding the highest political office in the country, meaning that his former co-stars can now look back on these episodes as rare opportunities to collaborate creatively with a U.S. president.