Amy Poehler Confirms What We Suspected About Joe Biden's On-Set Behavior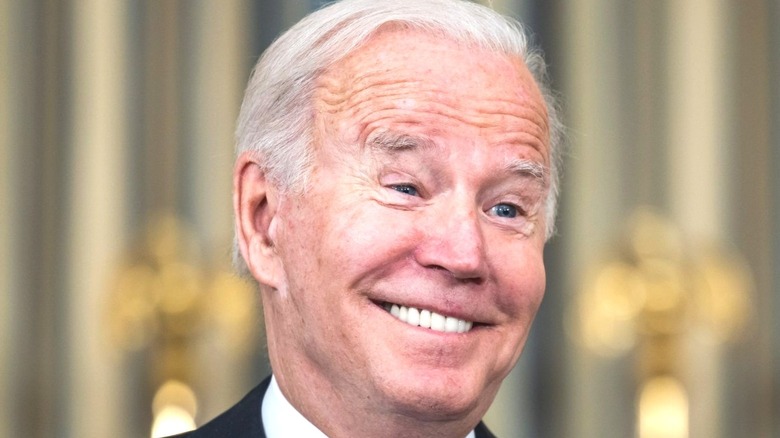 ApostolisBril/Shutterstock
Lifelong politician and current President Joe Biden made two cameo appearances on the Amy Poehler-led comedy series "Parks and Recreation." The political satire mockumentary, which aired for seven seasons on NBC (2009-2015), follows Poehler's perpetually perky and overeager Deputy Director of Pawnee, Indiana's Parks and Recreation Department. The impressive ensemble cast includes Nick Offerman, Aubrey Plaza, Rashida Jones, Chris Pratt, and Adam Scott.
Throughout the series, Leslie, whose idols include Condoleezza Rice, Janet Reno, Nancy Pelosi. and Hillary Clinton, pursues her lofty political ambitions, winning a City Council seat in Season 4 and advancing as far as becoming Governor of Indiana by the series finale.
Several prominent political figures made cameo appearances on "Parks and Recreation," including the late U.S. Senator John McCain, former U.S. Senator Barbara Boxer, former first lady Michelle Obama, and former Secretary of State Madeleine Albright. However, Leslie is most starstruck when she meets her long-time crush, then Vice-President Joe Biden. After working together, Poehler spilled the tea about what the hamburger-loving, former right-hand man to President Barack Obama was like on set.
Amy Poehler said Joe Biden was 'great'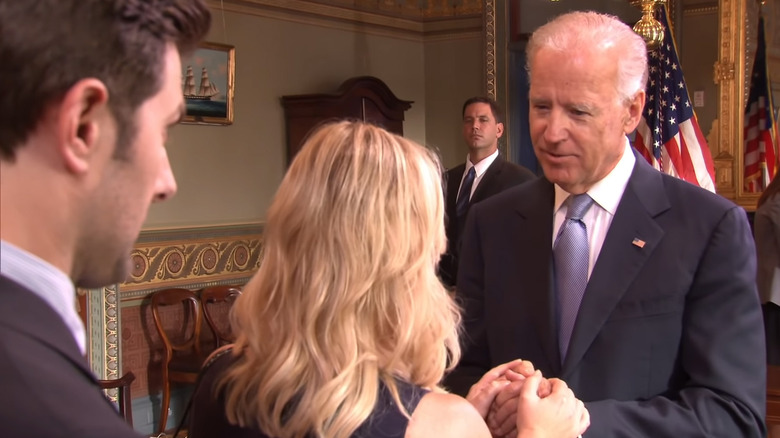 NBC
In Season 5, Episode 7, "Leslie vs. April," Leslie's fiancé Ben Wyatt (Scott) calls in some favors to arrange a meeting between Leslie and Biden. After telling him she can't possibly accept the job of Secretary of State, usurping Hillary Clinton (Biden doesn't offer her the job), Leslie gets a bit handsy, even trying to go in for a kiss. Biden's second cameo is in the show's series finale, "One Last Ride." In a flash-forward to 2025, Ben and Leslie attend a dinner party at the Bidens' home, and it appears the two couples have struck up a friendship that includes heated games of charades.
During a 2012 appearance on the "Late Show with David Letterman," Poehler dished about what Biden was like on set while filming his "Leslie vs. April" scene. Although nobody could be as giddy as Leslie when meeting a political idol, Poehler was genuinely "excited" to meet Biden. "And so we did a couple takes, and at the very end, just for the heck of it, I just went in for a kiss." Poehler had nothing but praise for how Biden handled her improvised move. "He was so great. I think he's used to a lot of crazy people. He just kind of handled it. ... You learn a lot about yourself and the other person when you go in for a kiss," she said (via Politico).