Fans Are Losing Their Minds Over James Earl Jones' Return As Darth Vader In Obi-Wan Kenobi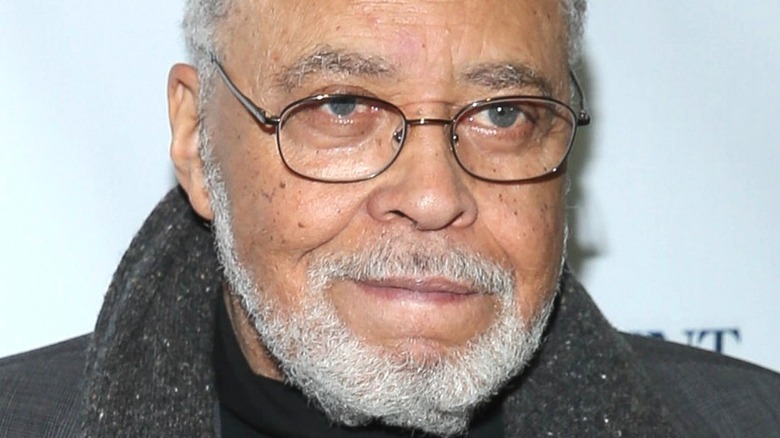 Rob Kim/Getty
"Obi-Wan Kenobi" spoilers ahead. "Obi-Wan Kenobi" continues to be one of the most impressive shows airing on Disney+. Audiences can't seem to ignore the "Star Wars" series, with Lucasfilm confirming in late May that Ewan McGregor's long-awaited return as the Jedi Master ranks as the most-watched show on Disney+. Critics can't seem to ignore the latest offering from the galaxy far, far away either, as it currently sports a Fresh rating of 87% on Rotten Tomatoes.
The limited series continues to expand the "Star Wars" universe by detailing Kenobi's happenings between the events of "Revenge of the Sith" and "A New Hope." Directed by Deborah Chow, the show starts off with the high-ranking Jedi watching over Luke Skywalker — the son of Anakin, Kenobi's former friend and apprentice who becomes the brutal Sith Lord Darth Vader — but evolves into a completely different (and surprising) adventure.
"Star Wars" fans have been gleaming with joy to see McGregor grace the screen again as Obi-Wan and even more ecstatic to have Hayden Christensen step into the suit of Darth Vader. Now, after the third episode, titled "Part III," audiences can't contain their excitement online after James Earl Jones was brought back to voice the best "Star Wars" villain of all time.
James Earl Jones' return is overwhelmingly positive
James Earl Jones has been voicing Darth Vader since the character first debuted in 1977 (via IMDb) and shows no signs of stopping. In the third episode of the "Star Wars" show, Vader was given significant screen time as he hunted down his former trainee, distilling chilling words straight from Jones' mouth. Naturally, fans lost their cool when Jones spewed sinister lines as Vader once again.
"HAYDEN CHRISTENSEN IS BACK BUT TO TOP IT OFF... JAMES EARL JONES IS BACK AS THE VOICE OF DARTH VADER," Twitter user @NatePMMA exclaimed an hour after the episode debuted. Others echoed similar sentiments, like @JessSkywlker, who was grateful to have the "Star Wars" veteran return, "We really got the legend James Earl Jones back too, I'm sobbing." Prior to the release of "Obi-Wan Kenobi," the Disney+ show's cast and crew kept mum about the iconic voice actor potentially returning (via EW).
Reddit user u/ProfessionalNight959 praised Jones' voicework, comparing it favorably to his appearances in the original "Star Wars" trilogy: "I was legit surprised how perfect he sounded... He sounded like Vader from the OT, he brought the emotion when needed..." Some users like u/LoD_Remi commended Jones' line read of "I am what you made me," which Vader mutters to Kenobi before throwing the Jedi into a fire.
With three more episodes left in the miniseries, we can only imagine what fans will say when Vader returns to battle Kenobi. And who knows, maybe Jones will return to voice the Sith Lord once again in a potential Darth Vader series?