Why Little Nina From The Boys Looks So Familiar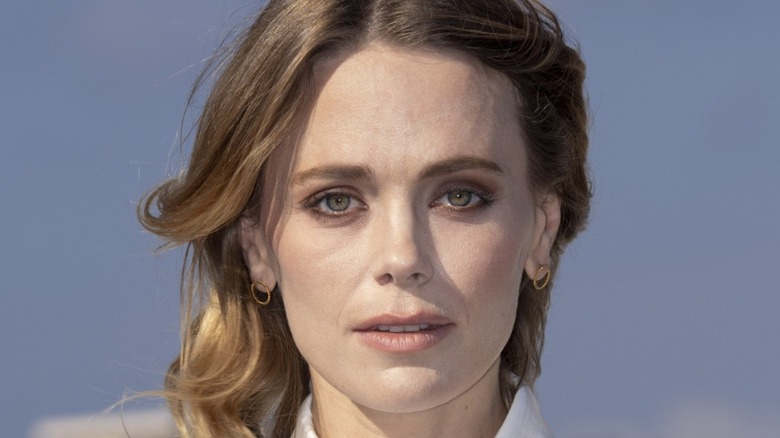 Arnold Jerocki/Getty
With each new season of "The Boys," the show's audiovisual exploration of new, untapped corners of Garth Ennis and Darick Robertson's subversive comic series grows deeper, and more rewarding for longtime fans to behold. Season 2 made waves with its introduction of Klara Risinger aka Stormfront (Aya Cash), a massively powerful Supe whose inspirational and charismatic exterior hid many terrifying secrets, as well as several other characters, groups and organizations from Ennis and Robertson's source material — such as the Church of the Collective, led by Alastair Adana (Goran Višnjić), as well as Kimiko's (Karen Fukuhara) also superpowered younger brother Kenji Miyashiro (Abraham Lin), and finally, the surprisingly superpowered congresswoman Victoria Neuman (Claudia Doumit), who, much like Stormfront, was flipped from male to female in the move from page to screen.
Now, Season 3 is keeping the momentum going by introducing yet another slew of new faces previously seen in the pages of "The Boys" issues. Much has already been made of Jensen Ackles' casting as Soldier Boy, the iconic all-American superhero who exists as a forebear to Homelander (Antony Starr) in the show's universe, and with Claudia Doumit getting an upgrade to series regular (via Deadline), Victoria Neuman also looks set to play an even bigger part in the new season. Similarly head-turning has been the casting of the actress who is playing Nina Kamenko, aka Little Nina, the eccentric fan-favorite Russian mob boss. 
You may remember this Swedish actress from several high-profile TV roles. Here are a few of them.
Katia Winter started out with a series of supporting film and TV roles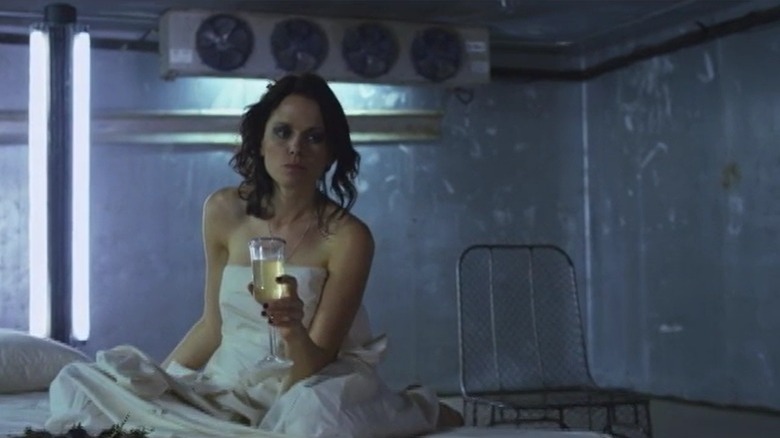 Stage 6 Films
Katia Winter kicked off her screen acting career with roles in several films and television series. The first of those roles was as Scarlett on Season 2 of the Channel 4 series "Dubplate Drama," which was set in the 2000s London grime scene, and broke new ground as what BBC News called "the world's first interactive drama series." After that, she made a guest appearance on an episode of the ITV detective drama "Lewis."
Those roles were followed up by several cinematic incursions of note. First, in 2009, she was part of the ensemble casts of the films "Unmade Beds," an indie Sundance dramedy directed by Alexis dos Santos (who later co-wrote the 2019 Colombian hit "Monos"), and "Malice in Wonderland," a straight-to-DVD "Alice in Wonderland" reimagining. The year after that, in 2010, she had her most central — and possibly headiest — role in a film yet, and that was in the little-seen experimental art film "Anaphylaxis," where she played a dead poet whose body writings were studied by a doctor (Guy Defferary) with an allergy to human skin. In 2011, Winter could again be seen as part of a drama ensemble, in the coming-of-age film "Everywhere and Nowhere." Around that time, she moved to the U.S., and nabbed her most visible role yet as Milla, the female lead of the stylish Kellan Lutz and Samuel L. Jackson B-movie "Arena."
Katia Winter was a recurring actress on Season 7 of Dexter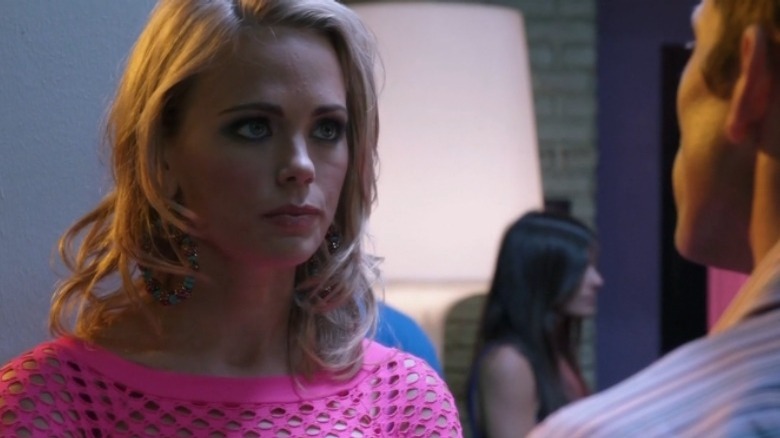 Showtime
After Katia Winter moved to the United States, her profile as an actress began to rise dramatically. And the catalyst for that was arguably her casting as Nadia on "Dexter."
A Ukranian working at The Fox Hole under George Novikov (Jason Gedrick), "Nadia" (real name Nadezhda) enters the show rather unassumingly, on the Season 7 episode "Sunshine and Frosty Swirl," as one of the persons of interest being interviewed about the murder of Det. Mike Anderson (Billy Brown). She immediately hits it off with Det. Joey Quinn (Desmond Harrington), and although she is instructed by George and his higher-up Isaak Sirko (Ray Stevenson) to use Quinn to find out more about the investigation, the two end up forming a real connection, and she becomes Joey's primary love interest throughout the season.
As both Quinn and Nadia get roped into the criminal goings-on at The Fox Hole, George is quick to take advantage of the situation. He threatens to get Nadia deported unless Quinn collaborates with his schemes, and he then proceeds to abuse her systematically when Quinn stops complying. The question of what will become of Nadia hangs over the entire back half of the season, with Quinn launching himself into a desperate effort to save her and ensure both her protection from the Brotherhood and her guaranteed permanence in the United States. 
Winter appeared on a total nine episodes of the 12-episode season.
Katia Winter played Sleepy Hollow's Katrina Crane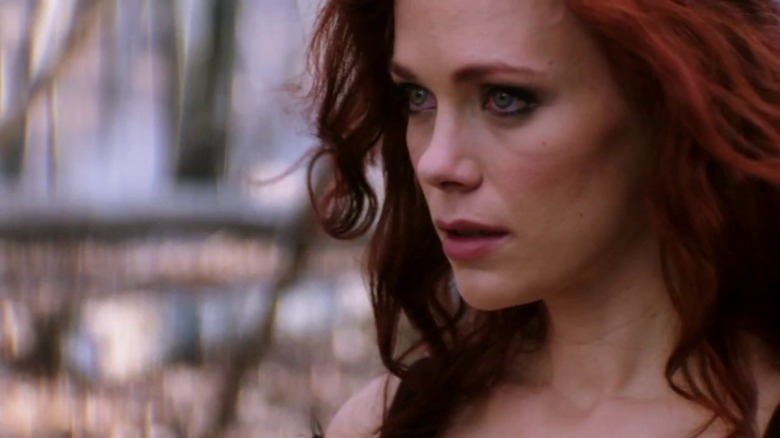 Fox
If Nadia's arc — coming during the later, substandard years of "Dexter" — ultimately came down to little more than a protracted damsel-in-distress narrative, the next big role Katia Winter booked gave her considerably more to do. Starting in 2013, she starred as Katrina Crane on Fox's cult supernatural drama "Sleepy Hollow."
On the first season, Katrina is initially referred to as the old wife of protagonist Ichabod Crane (Tom Mison), whom he left behind in 1781 after being transported to the present day. Eventually, Crane learns that his wife was actually a witch and leader of the Sisterhood of the Radiant Heart coven, who got executed for saving his life with a suspended animation spell and placed in Purgatory, from where she can now only communicate with him through dreams. Her appearances throughout the first season make her a kind of guide to Crane as he understands the threat of the impending biblical Apocalypse and his crucial role in stopping it.
Some time after, Katrina is rescued from Purgatory and takes on an even bigger role, the twists and turns of which we shall not spoil. It was this role that really allowed Katia Winter to flex her muscles as an actress, as Katrina was both continually pushed to extremes by the narrative and allowed to play a very influential role in it. Even though she left at the end of Season 2, her actions continued to reverberate until the end of the show.
Katia Winter guest starred as Freydís Eriksdottir on Legends of Tomorrow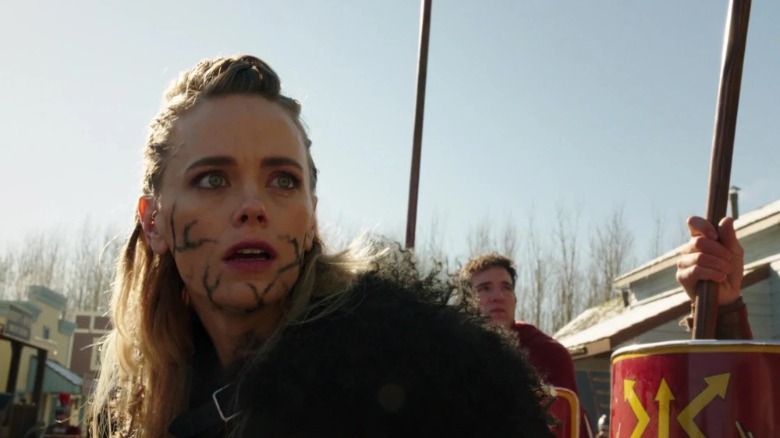 The CW
Even by the standards of the Arrowverse — or, heck, by the standards of any superhero-related TV series of the past few years — "Legends of Tomorrow" has always stood out as a particularly loopy and out-there concoction. Throughout the show's seven seasons, the show's time travel concept allowed it to place its ensemble of unlikely teammates into a wide array of improbable and highly entertaining situations across human history. An example of that comes on Season 3, when the Legends come across two 11th-century Greenland Vikings inspired by major real-life figures from Norse history.
The figures in question are siblings Freydís Eriksdottir, played by Katia Winter, and Leif Eriksson, played by Thor Knai. In real life, both explorers are associated with the Vikings' famed early colonization of North America, via Leif's Vinland settlement. That's also part of their storylines on "Legends of Tomorrow," but, of course, there's more to those storylines than just historical fact: Freydís and Leif become involved in a temporal aberration caused by a misplaced Beebo toy, which generates a whole timeline in which the Vikings have colonized all of North America, calling it New Valhalla, and now worship Beebo as a god. That's "Legends of Tomorrow" for you.
Winter only appeared on two episodes as Freydís, but she made a huge impression thanks to her indomitable warrior spirit, legendary combat and swordsmanship skills, and endless thirst for conquest and power.
Katia Winter is currently a regular cast member on Blood & Treasure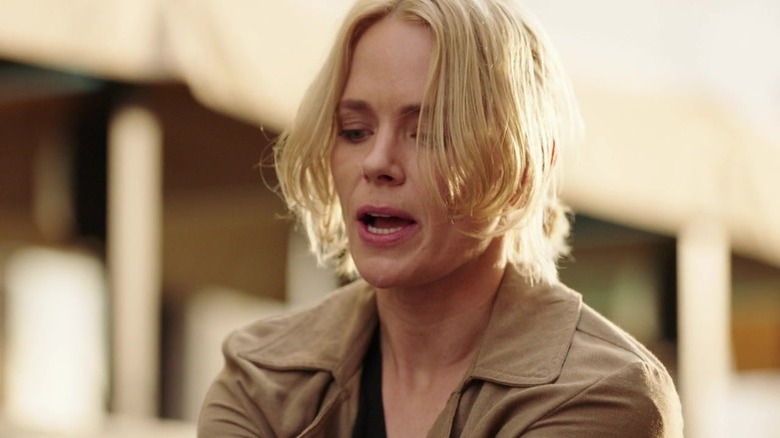 CBS
Since 2019, Katia Winter has been starring on another successful TV series that should already have given her a little more to do, if only it hadn't been for a certain pandemic.
"Blood & Treasure," which premiered in May 2019 on CBS and was renewed for a second season just a month afterwards (via The Hollywood Reporter), is a high-octane action-adventure extravaganza, centered on a team of experts brought together to stop a terrorist who steals ancient treasures to fund his attacks. Katia Winter plays an Interpol agent by the name of Gwen Karlsson, and, in a decidedly not-shocking revelation, she once told Hidden Remote that she was particularly drawn to the role's physical aspects.
"I've been wanting to do something a little more physical for [a long] time — I've been training martial arts [for] seven years — and I've always wanted to play a detective," the actress said. Later on, she added, "I'm hugely into training and stuff. I got into martial arts seven years ago, and I've been wanting to become something like Tom Cruise. I'd love to do more action. I love doing my own stunts. I went skydiving and I've taken my motorcycle license."
The momentum of "Blood & Treasure" Season 1 was halted by a 2020 pandemic hiatus, which forced the show to relocate to Paramount+ (via TV Series Finale). But Season 2 is finally coming out in July of this year — so, fingers crossed that Winter gets to do plenty of butt-kicking in it.