The Real Reason Sleepy Hollow Was Canceled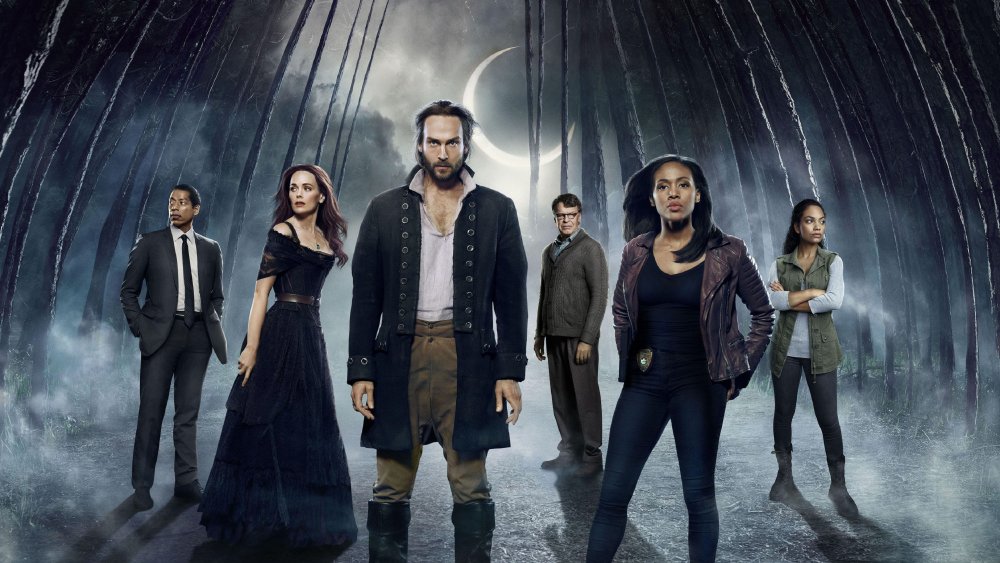 FOX
Before Fox's supernatural procedural Sleepy Hollow rode into the 2013-2014 season, the show had been mainly deemed a kooky, and somewhat ridiculous, spin on a tired Washington Irving tale. By the time its first 13-episode season debuted, however, the heads of its doubters were surely rolling. 
A significant deviation from Tim Burton's take on Irving's enduring gothic horror The Legend of Sleepy Hollow, the FOX show mixed in elements of Irving's short fiction Rip Van Winkle to deliver a historical fiction, time-traveling, head-spinning horror-adventure.
In 1781, the Revolutionary War is raging, but the victor will determine more than the fate of a country. Ichabod Crane (Tom Mison), working as a double-agent for George Washington, is tasked with helping the patriots stop the British and the Headless Horseman — one of the Four Horsemen and a bringer of the end of days. After a fight sees Crane and his nemesis exchange mutual blows, he wakes up in 2013 to a radically different world. There, he meets Lt. Abigail Mills (Nicole Beharie), and as the two soon discover, time connected them on purpose. They are the long-awaited biblical "Witnesses," charged with facing the Seven Tribulations. 
Sleepy Hollow's series premiere earned ten million viewers — double the viewership The Mob Doctor earned in the same Monday time slot during the previous TV season. It was also the network's highest-rated fall drama premiere since 2006. An instant hit among fans and critics, it was celebrated for its fun writing, clever mixture of genres, and strong production values, not to mention the commanding chemistry between co-stars Mison and Beharie. Yet, Sleepy Hollow would somehow wrap its story just four years later to a very different tune from the one to which it launched. 
Sleepy Hollow faced a number of production changes and fan backlash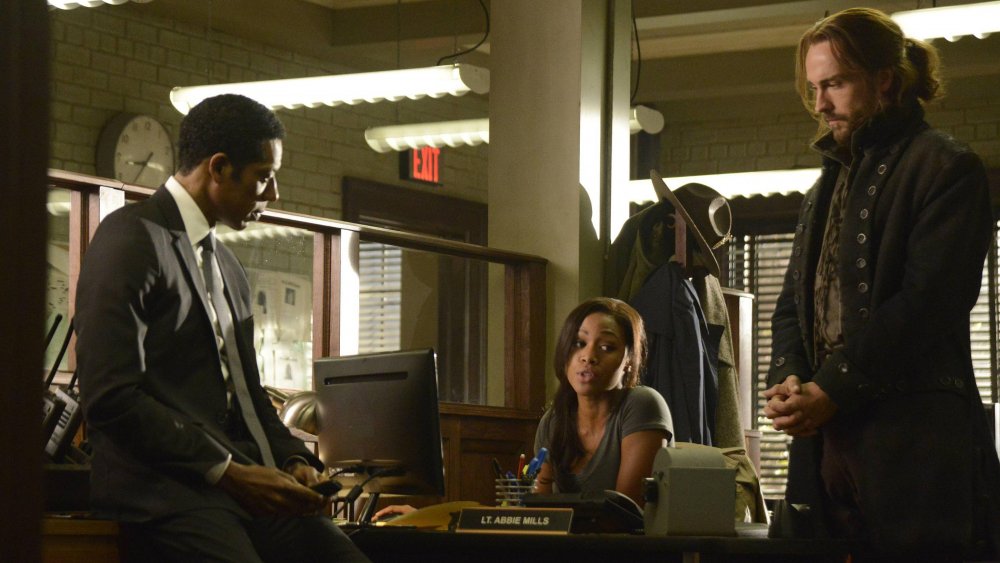 FOX
Sleepy Hollow was adored not just for its fun take on American history, its skewed version of biblical prophecy, and Mison's hilarious turn as the fish-out-of-water Crane. The show was noticeably inclusive, featuring the kind of racial and gender diversity that had yet to become en vogue on much of broadcast TV. As each new season progressed, however, its commitment to that diversity seemed to wane in its writing, and the series' ratings dwindled with it. 
That dissipating interest coincided with the departure of several creative team and cast members. By the end of season 2, Sleepy Hollow's then-showrunner Mark Goffman (Elementary, Bull) left the series following criticism over the show's inconsistent writing. Clifton Campbell's (21 Jump Street, White Collar) third season added new characters like Betsy Ross (Nikki Reed), then Sleepy Hollow writer and executive producer Albert Kim (Nikita, Leverage) stepped in as co-showrunner for season four. While changing leadership should have shifted the tide, the show only found itself increasingly criticized by TV writers and fans for sloppy writing, poor treatment of its characters of color, and at times, what seemed like poor treatment of its actors (via Vulture). 
While the series did get a fourth season, the show's audience had been whittled down from its 10 million-viwer debut to around 2 million per episode (via Variety). That final season renewal also came on the heels of a shocking season 3 finale in which the series killed off its leading lady, Abbie Mills, amid an incredibly "deadly" year for marginalized TV characters on shows like The 100, Empire, and The Walking Dead (via Vox). Beharie's Abbie Mills, once a beacon of TV's shifting cultural tide, became one of the most prominent examples of just how far Hollywood still had to go.
The departure of major characters spotlighted Sleepy Hollow's shortcomings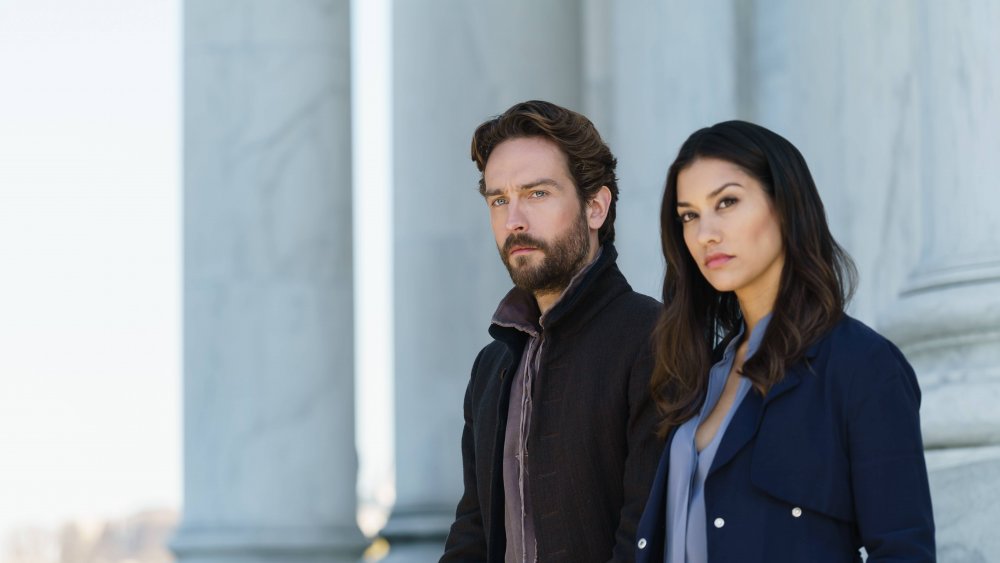 FOX
Beharie's exit and the resulting death of her character followed months of rumors that the actress was unhappy and eager to get out of her contract, according to The Hollywood Reporter. Beharie, however, later revealed her departure was due in part due to an autoimmune disease (via ET Canada). "It actually happened while I was on Sleepy Hollow," she said in an Instagram video. "For all those Sleepy Hollow fans out there, that's one of the reasons I had to [exit]." 
But Beharie wasn't the first cast member to leave, though many fans felt like her exit ultimately ruined the show. Supporting star and fan favorite Orlando Jones, who played Abbie Mills' supervisor Captain Frank Irving, said that with a shift in season 3's creative direction, there wasn't a place for Frank Irving anymore. "Chances are, I won't be back, because they kinda asked me to leave," Orlando Jones said in a Twitter Q&A. That retooling of the show was an effort to save its ratings that also moved the show to a Friday night death slot halfway through the third season. That seemed to spell the end, but according to FOX executives, a last-minute pitch and a couple of strong scripts helped renew it despite lagging ratings and the loss of two major, fan-favorite characters (via TVLine).
FOX granted the supernatural drama a 13-episode order, with a storyline that featured an almost entirely new cast and a location jump from Sleepy Hollow, New York, to Washington, D.C. Still, the hard reboot wasn't enough, and FOX finally canceled Sleepy Hollow. By the time all the drama had seemingly dissipated, the story about the Headless Horseman and two Witnesses destined to stop him had lost sight of what it once was — and its audience along with it.