Awesome Movies That Starred Breaking Bad Actors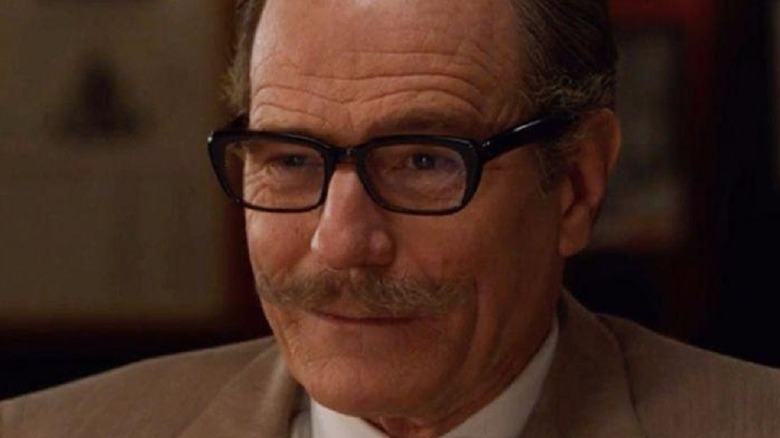 Bleecker Street
It's hard to overstate just how much of a pop culture phenomenon "Breaking Bad" has become since its 2008 premiere. With five seasons and as many years on the air, Bryan Cranston's depiction of Walter White descending from a mild-mannered schoolteacher into one of the most feared criminals in the country has become one of the most fascinating performances to ever air on television. The story wouldn't have been possible, however, without the work of not only his co-star Aaron Paul but every member of the top-notch cast involved.
While just about every member of the cast will likely have a hard time finding roles that will be as career-defining as their time spent on the series, they have still been in plenty of films that are just as worthy of your time. Below, we'll round up some of the best entries across the landscape of cinema to feature the incredibly talented cast of "Breaking Bad."
Aaron Paul - Eye in the Sky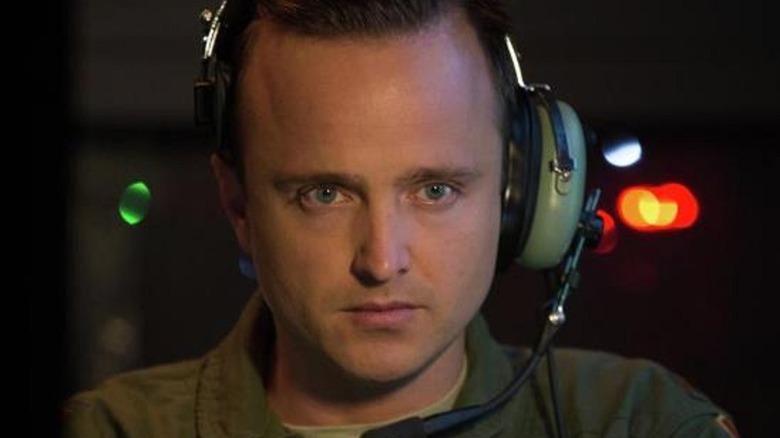 Entertainment One
Just about every one of Aaron Paul's best works over his acting career has been released either during or sometime after his time on "Breaking Bad," and the 2015 thriller "Eye in the Sky" is a great example of that. One of Paul's best works to date, the film puts his character of Steve Watts at the controls of a high-tech drone conducting surveillance over a highly valued target that's wanted for capture by a multi-national security team. The situation dramatically escalates, however, when it's discovered that the target is in the final steps of carrying out a deadly attack on civilians. With his drone's lethal payload as the only thing standing between the would-be attackers and a potential massacre, the situation becomes even more complicated after an innocent civilian will be endangered if the strike is carried out.
Posing difficult questions about the morality of weighing one life against others, "Eye in the Sky" really doesn't get the attention it deserves, especially when compared to some of Paul's other career highlights. Still, for fans of both "Breaking Bad" and compelling war movies that aren't afraid to ask tough questions relevant to the modern age of warfare, "Eye in the Sky" should be on everyone's list of films to check out next.
Bryan Cranston - Wakefield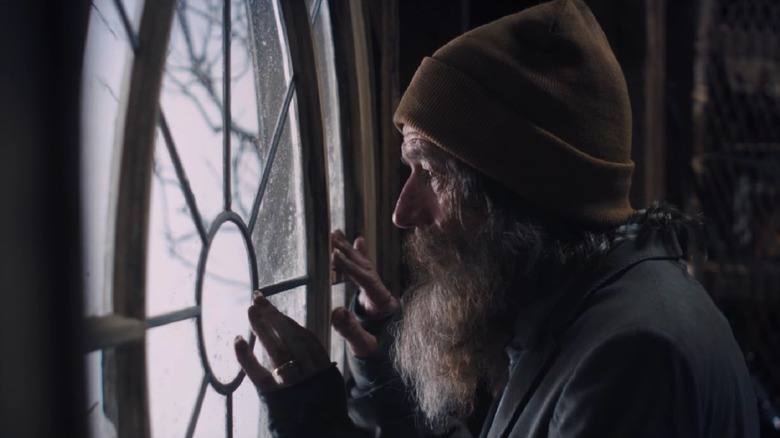 IFC Films
It's hard to pick out just one or two films from the now-legendary actor Bryan Cranston's incredible decades-long filmography. Primarily a television actor until his career highlight as Walter White, Cranston was also typically confined to comedy shows until his true range was established in the public eye. His 2016 drama "Wakefield" is a perfect example of just how daring a role he can tackle, with the film showing his character's gradual descent from normal life into a reclusive existence, as he tackles a conflict within his mind.
Although audiences previously watched Walter stow away into an isolated cabin in the final season of "Breaking Bad," his "Wakefield" character takes things even further: Howard Wakefield finds himself in the attic of his family's garage late one night while chasing away a raccoon, and he decides to stick around. Disappearing seemingly without a trace, Wakefield takes up permanent residence in the garage, surviving off of trash and scraps all whilst keeping a close eye on his old life and family members from right under their noses.
Bob Odenkirk - Nobody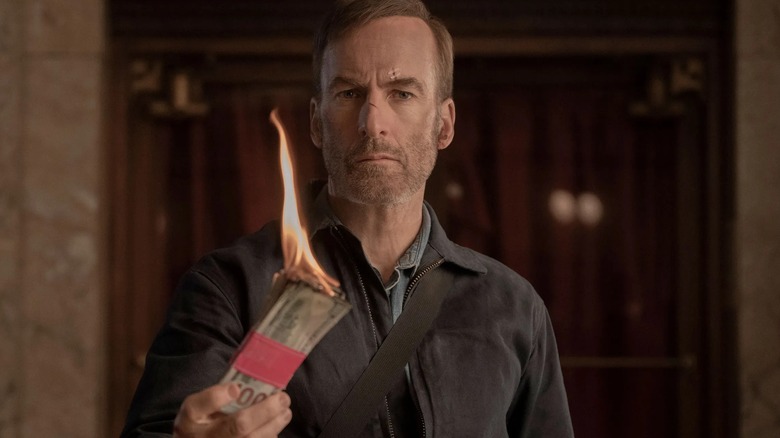 Universal Pictures
Taking a break from some of the more depressingly true-to-life or the deeply sobering and introspective titles on our list, the 2021 action thriller "Nobody" is pure unfiltered fun. That is, so long as you're into watching Bob Odenkirk doing his best "John Wick" impression. With a few moments of foul language and more than a few moments of brutal violence on par with that film series, it should be no surprise that both titles are brought to us by producer David Leitch.
Centered around a former government agent that has turned into a family man, everything changes for Odenkirk's Hutch Mansell after a group of petty thieves burglarizes his house one night. It isn't avenging his dog, or even the home invasion itself that sucks him back into his old life, however — instead, it's something even more serious. Mansell is only motivated to take action by one thing: getting back his daughter's kitty cat bracelet. That seemingly minor offense winds up blowing the lid off of a much deeper conspiracy throughout the events of this stylish flick. Fans of Odenkirk's work in "Breaking Bad" and "Better Call Saul" will especially enjoy his rowdy role in the pic.
Krysten Ritter - Nightbooks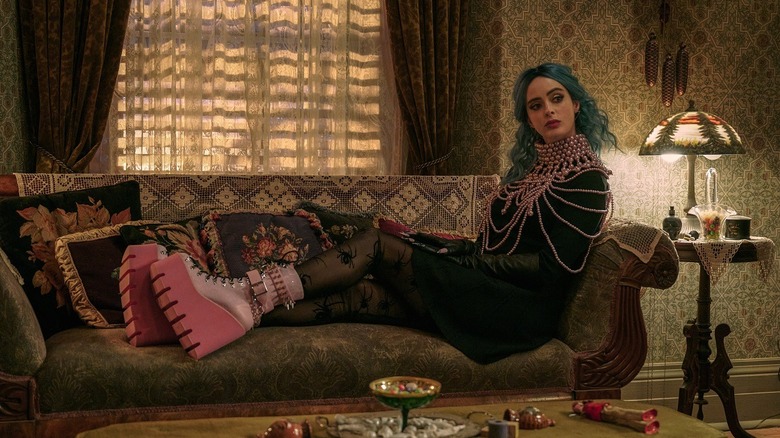 Christos Kaalohoridis/Netflix
Probably the only entry on our list fit for younger viewers, the 2021 dark fantasy film "Nightbooks" still manages to find appeal amongst audiences of all ages. Delving into the genre of fantasy horror, the film focuses on child author Alex, who specializes in writing horror stories. The only catch is that his parents are less than approving of his budding hobby, leading him to swear off his passion for good. While destroying his work, however, he gets turned around in the apartment complex he calls home and winds up in a unit that's currently occupied by an evil witch.  
Unlike Alex's parents, though, Krysten Ritter's character of Natacha is fully supportive of his writing and is even a fan herself — a bit too much so considering she threatens to have him killed if he ever stops writing for her. It turns out he's not the only one being held prisoner by her either, leaving him and his fellow captive Yazmin to try and devise a way to escape their inevitable fate. A great gateway into horror films for audiences falling somewhere between the younger and older crowds, "Nightbooks" is a fun and thoroughly spooky watch any time of the year. Plus, it gives Ritter fans a chance to see her embrace her talents for on-screen villainy.
Aaron Paul - Smashed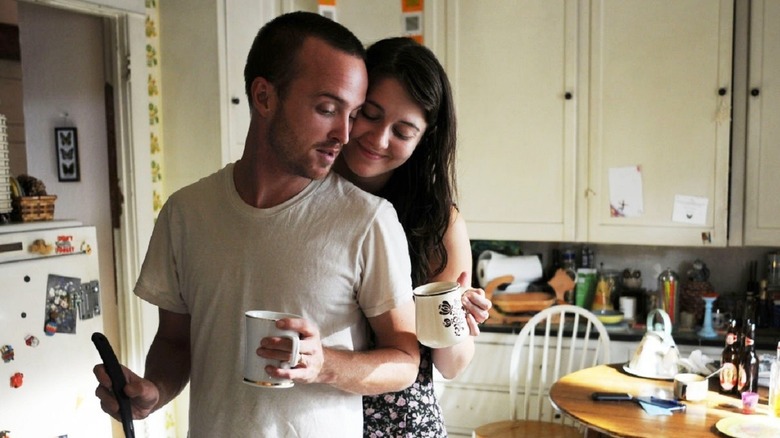 Sony Pictures Classics
A second entry for Paul is the 2012 drama "Smashed," which sees him co-starring alongside actress Mary Elizabeth as the two portray the young married couple Charlie and Kate Hannah. Their relationship together may seem relatively stable, except they both routinely misuse alcohol. While this seems to be a mutual pastime the two share, even potentially a fundamental aspect of their relationship, it soon proves to be an unsustainable lifestyle, and some very destructive choices affect her career as a schoolteacher.  
As Kate tries to reform her lifestyle, she discovers that it's much easier said than done, especially with Charlie. A tightly written relationship drama with a matter-of-fact look at the far-reaching effects alcoholism can have, "Smashed" is another solid entry in Paul's ongoing career.
If you or anyone you know is struggling with addiction issues, help is available. Visit the Substance Abuse and Mental Health Services Administration website or contact SAMHSA's National Helpline at 1-800-662-HELP (4357).
Bryan Cranston - Trumbo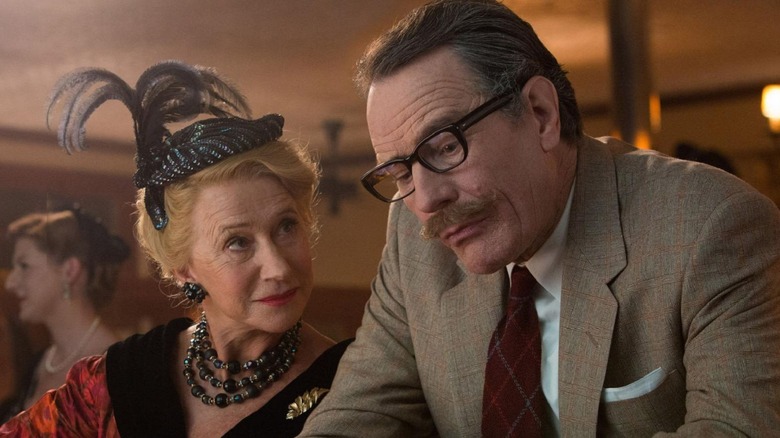 Bleecker Street
Another entry from Cranston, his 2015 film "Trumbo" incorporates some real-life history through his depiction of the famed figure Dalton Trumbo. Set during the height of public paranoia over communism infiltrating every aspect of the American way of life, Trumbo finds himself in the crossfire of the public's outrage. A talented Hollywood screenwriter who just so happens to be very public about his support for the Communist Party, Trumbo's career goes from just being on the rocks to straight-up dead in the water after he's sentenced to almost a year in prison for unpatriotic activities.
Following his stint in jail, Trumbo has a renewed determination to continue his prior work as a screenwriter. With a criminal record and a name as good as useless, though, that proves to be quite difficult. As a result, he's forced to produce all his future works completely without credit, either giving the rights to close friends or other writers who have suffered a similar fate as himself, all the while trying to evade the ever-expanding scope of the Hollywood Blacklist. Fans looking to see the sole Oscar-nominated performance by Cranston so far, or even just quality character dramas that incorporate a healthy dose of American history, should check this one out.
Anna Gunn - Equity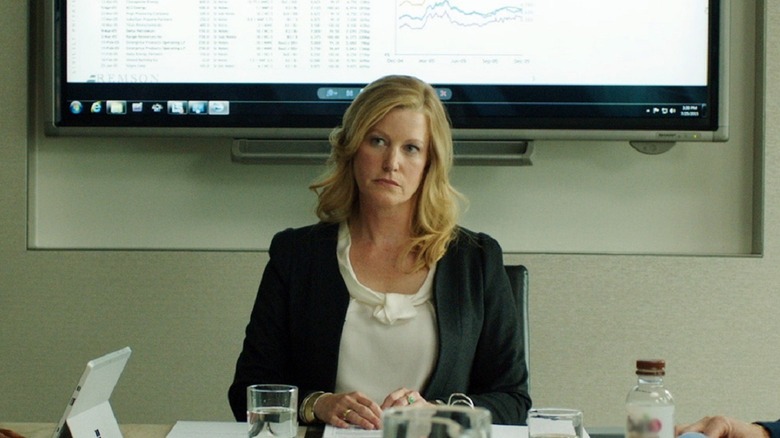 Sony Pictures Classics
While Skyler White ends up being an accomplice to her husband's unlawful activities in many ways throughout "Breaking Bad," her central role in the criminal enterprise is to help him to manage his newfound finances. Actress Anna Gunn has a similar role as the lead in the 2016 thriller "Equity" — though with far less overtly criminal dealings. Her character Naomi Bishop, a high-level investment banker in over her head at the Wall Street firm she's employed at, struggles against a declining company and internal corruption.
Though audience ratings aren't the best, "Equity" had a solid critical reception, in no small part thanks to Gunn's lead performance that helps to carry the film along. While it may not be the highest-rated entry on this list, it's still worth checking out, being an exciting take on a financial thriller and an especially unique one thanks to a female-dominated cast not often seen in the genre.
RJ Mitte - The Oak Room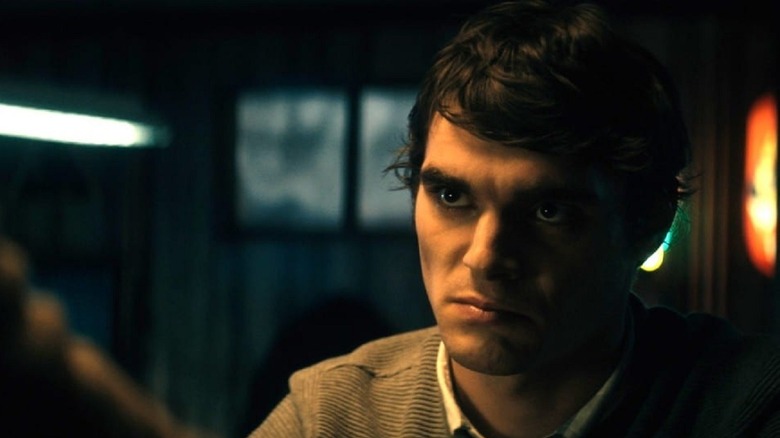 Black Fawn Distribution
Just about all of the members of the phenomenal cast on "Breaking Bad" had their careers completely transformed for the better after it proved to be a smash hit, and that was especially true for RJ Mitte. Apart from a few minor roles and a brief uncredited appearance on "Hannah Montana," Mitte was still an up-and-comer when he was cast as Walter White Jr., and now he has joined his former co-stars in successfully capitalizing upon his "Breaking Bad" fame to forge a thriving career. 
Critics particularly revered one of his more recent entries, "The Oak Room." The film sees Mitte cast as Steve, a young man returning to the small Canadian town he grew up in one cold and desolate night. From there, he spins a story with twists and turns that grows more and more complex the longer the film goes on, all while shedding light on his own troubled history in the town.
Jesse Plemons - I'm Thinking of Ending Things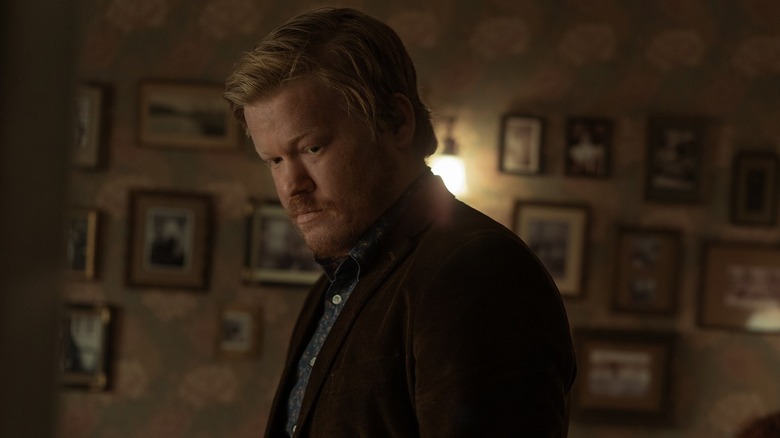 Mary Cybulski/Netflix
While Jesse Plemons' character Todd Alquist only makes his series debut in the final season of "Breaking Bad," he winds up becoming a major player in the final stretch of the show. Todd works for Walt and Jesse before their relationship goes completely sour, with Plemons proving to be a formidable on-screen force. He would later reprise this role with some chilling flashback sequences in the follow-up film "El Camino." 
Since then, the actor has had a handful of supporting roles in some truly great films like "The Irishman" and "Bridges of Spies." One of Plemons' standout film roles is in "I'm Thinking of Ending Things," a truly bizarre tale that follows his character of Jake, who is in a newly formed relationship with his girlfriend that's already on the rocks. Known for writing and directing works that are as surreal as they are heady, this one is director Charlie Kaufman's most recent film.
Following a grotesque story in which Jake recounts the death of his farm animals at his childhood home, the film periodically and seemingly at random shifts narratives between them and an unassuming janitor at a high school. And if that isn't weird enough, we never really get an idea of what Jake's girlfriend's name is, as it seems to change every few minutes depending on who she's speaking with. If you're a fan of films that break from the typical horror tropes and rely on building a tense atmosphere, "I'm Thinking of Ending Things" is a wholly unique spin on the genre. Just be prepared for an ending as abstract as much of Kaufman's other works, and one that merits re-watching.
Giancarlo Esposito - Do the Right Thing
One of the first films by renowned director Spike Lee, the 1989 title "Do the Right Thing" has also persisted as one of his highest-rated for more than three decades, receiving near-universal praise from critics and audiences alike. 
Set on the streets of Brooklyn during the '80s, the film takes a close look at the wide array of characters and demographics who call it their home, as well as the rocky relationships they maintain with one another. Among them is Esposito's character Buggin' Out, who really cannot be any more different than his iconic role as Gus Fring in "Breaking Bad." Despite providing some moments of comic relief, his character is integral to the story's themes of racial inequality and morality after their confrontation with the owner of their local pizzeria turns deadly. And despite his decades-long acting career with nearly 200 roles to his name, "Do the Right Thing" remains one of Esposito's best — and most important — roles to date.
Jonathan Banks - Mudbound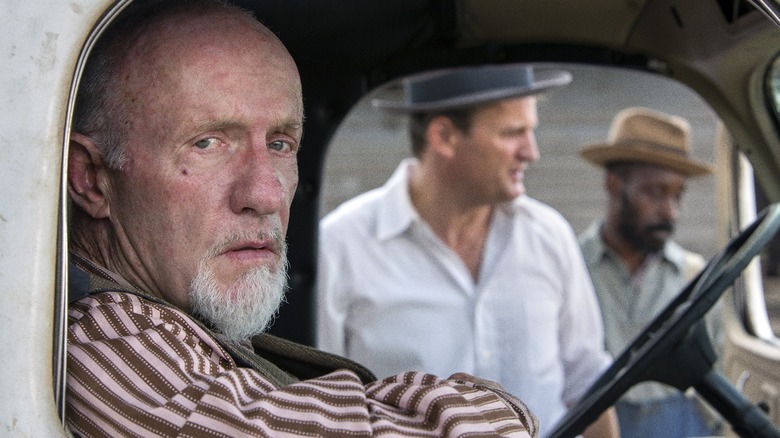 Steve Dietl/Netflix
Another film that takes an unflinching look at racial strife in America, the 2017 drama "Mudbound" takes us further back to the years following World War II and into a small Mississippi farming community. Through the eyes of two returning veterans, Jamie McAllan and Ronsel Jackson, the unease and animosity present at the time in their community are portrayed in a way that underscores its futility.
Both families that James and Ronsel are returning to live and work on the same area of farmland. James' family is stuck in the poorer area as a result of financial misadventure, whereas Ronsel's is forced into sharecropping to survive. And though neither of the two veterans harbors resentment for one another thanks to their respective struggles overseas, the same can't be said for the McAllan family, with the worst offender being Banks' character of Pappy McAllan. Blatantly intolerant and equally violent, his actions sow deep division in the struggling community with tragic consequences for all involved. While far from a heartwarming story, overwhelmingly positive critical and audience reception, along with all-around great acting, make "Mudbound" a must-watch.
Mark Margolis - Pi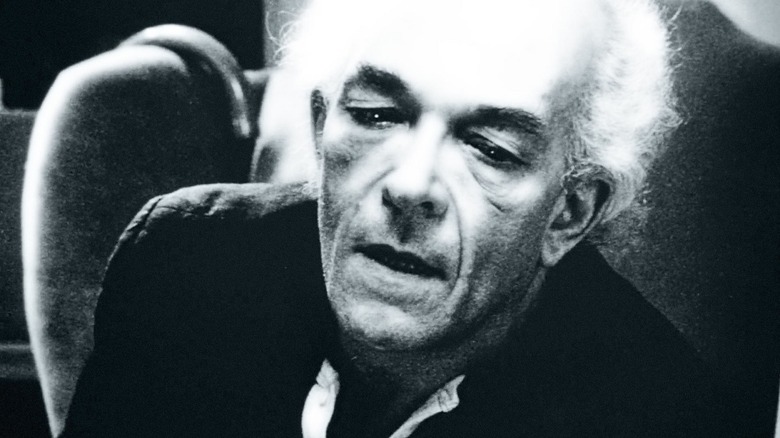 Summit Entertainment
Easily one of the more eccentric entries on this list, the 1998 film "Pi" was the first film directed by Darren Aronofsky, a filmmaker now known for his surrealist style and controversial subject matter. It also remains one of the best cinematic works in his small but quality filmography. Shot entirely in black and white, the film centers around Max Cohen, a brilliant but delusional mathematician who becomes consumed by his obsession with unlocking life's greatest secrets through mathematics. Paranoid and distrustful of everyone he interacts with, the only person he still trusts is his old friend and mentor, Mark Margolis's Sol Robenson.
The mathematics that are the object of Max's obsession are just half of the story being told here, and equally as important is his rapidly declining mental stability — as well as certain outside influences banking on him coming up with a visionary breakthrough. Visually distinct and endlessly complex, many of the hallmarks that would go on to define Aronofsky's directing style are present here, making "Pi" a great film that you'll admittedly have to pay close attention to if you want to keep up with. Also, if you were a fan of Margolis' searing performance as Hector Salamanca, you'll really enjoy his captivating turn in this film as well.