What Has Bryan Cranston Been Up To Since Breaking Bad?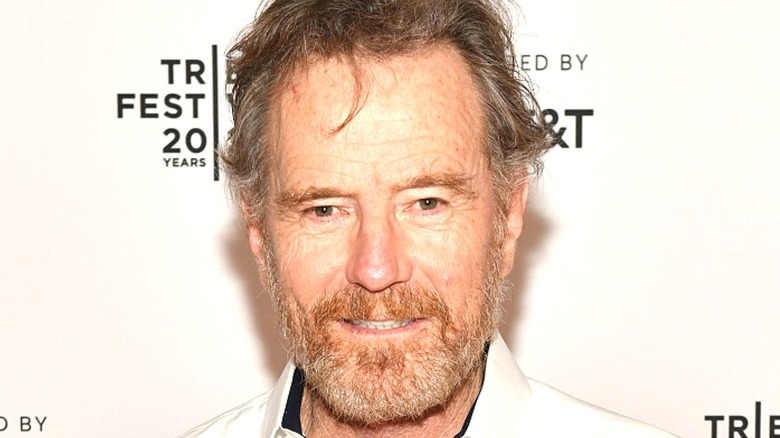 Craig Barritt/Getty Images
Bryan Cranston has been a successful working actor since the early 1980s, with appearances in "CHiPs" and the soap opera "Loving" among his earliest credits. He then went on to appear in numerous other daytime soaps, as well as iconic primetime television series such as "Baywatch," "Matlock," "Murder, She Wrote," and "Seinfeld," before landing his first starring role as beleaguered dad Hal Wilkerson in "Malcolm in the Middle" (via IMDb).
The series ran from 2000 until 2006 and earned Cranston the first three of his 15 career Emmy nominations. But it was his next major role, as chemistry teacher turned methamphetamine kingpin Walter White in AMC's hit "Breaking Bad" that made him a household name. The 2008 to 2013 Vince Gilligan brainchild is often regarded as one of the best shows in television history, and Cranston's performance is one of the primary reasons why.
Cranston's portrayal of White's evolution from a meek, cancer-stricken family man to feared murderous millionaire earned him six Emmy nominations for Outstanding Lead Actor in a Drama Series, with four wins (via IMDb). But when the series ended, Cranston actively pursued roles of a different sort, with the aim of "changing the direction and challenging" himself as an actor (via The Daily Texan). 
Since then, Cranston has certainly met that goal — starring in movies, television shows, and stage productions, with also adding to his sizable stash of awards and nominations.
Bryan Cranston has won awards for television, film, and stage roles
Cranston barely took a break once "Breaking Bad" was done filming, starring as scientist Joe Brody in the 2014 blockbuster "Godzilla," which brought in more than $500 million worldwide (via The Numbers). The following year, he earned an Oscar nomination for his portrayal of legendary screenwriter Dalton Trumbo in the acclaimed film "Trumbo" (via Mic), and he created the Amazon hit series "Sneaky Pete."
As "Breaking Bad" was airing its last episodes, Cranston took to Broadway and was met with more success. He won the 2014 Tony for Best Lead Actor as President Lyndon B. Johnson in Robert Schenkkan's biographical play "All the Way," and again five years later for his portrayal of Howard Beale in "Network" (via Broadway.com). He is currently on stage as a Harvard professor caught in a free speech debate in "Power of Sail" at the Geffen Playhouse in Los Angeles. Cranston returned to play Johnson in the 2016 HBO Films production of "All the Way" and earned an Emmy nomination for Outstanding Lead Actor in a Limited Series or Movie — one of eight for the film (via Emmys).
He has also lent his recognizable baritone to numerous animated projects, including early appearances in "The Simpsons" and "The Cleveland Show," and later ones in "Robot Chicken" and "Super Mansion." Cranston earned a 2018 Annie Award for voicing the stray dog Chief in the 2018 movie smash hit "Isle of Dogs," and he's played six different characters in "The Family Guy" — including himself and Hal from "Malcolm in the Middle" (via IMDb).
Cranston continues to seek out many different projects
Cranston continues to pursue projects that vary in tone and format. In the past three years, he has reprised his role as Walter White in the "Breaking Bad" canon movie "El Camino," joined dozens of other Hollywood superstars in a COVID-isolated performance reading of "The Princess Bride" (via Vanity Fair), and starred in the Disney adaptation of the book "The One and Only Ivan."
In 2016, he fought drug dealers and money launderers as a U.S. Customs official in "The Infiltrator" and played the title character in "Wakefield," a drama about an attorney's journey into madness based on the E. L. Doctorow short story (via The New Yorker). Cranston appeared in a staggering seven movies that year, including starring as a Vietnam veteran alongside Laurence Fishburne and Steve Carell in Richard Linklater's "Last Flag Flying" and in a voice-only performance in "Kung Fu Panda 3" (via IMDb).
He is currently playing New Orleans judge Michael Desiato in the Showtime drama "Your Honor," which will air its second season later this year (via Deadline). He also has three films in production: Wes Anderson's "Asteroid City," the spy thriller "Argylle," and David Frankel's true-life drama "Jerry and Marge Go Large." Often actors are limited by their greatest roles, but with Cranston's ongoing success in film, television, and theater, he has ensured that he will be working in all three realms for years to come.