Why John Stamos' Law & Order: SVU Role Absolutely Terrified Him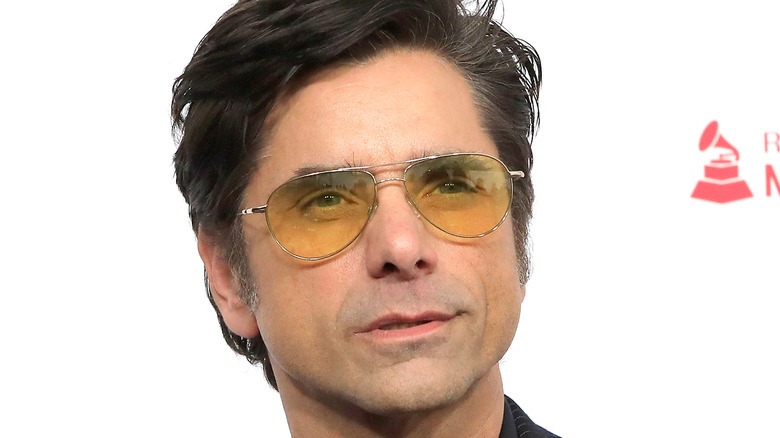 Kathy Hutchins/Shutterstock
In the grand scheme of things, actor, musician, and generational heartthrob John Stamos is arguably still best known for portraying the kind, but comically vain Uncle Jesse on the TGIF hit "Full House," and its recent Netflix revival, "Fuller House." The actor has, however, gone on to play dozens of other memorable characters in his now decades-long career. That list includes noteworthy stints on "ER," "Glee," "Scream Queens," and the recent Netflix hit "You."
While those gigs earned Stamos multiple-episode narrative arcs, the actor has made great sport of booking one-off gigs over the years as well. Of those single-episode appearances, few are more memorable than his guest spot on "Law & Order: Special Victims Unit." That appearance came in a Season 12 episode of the long-running procedural titled "Bang." And it found Stamos playing against type in ways his devoted fans had rarely seen before. So against type was Stamos' infamous "SVU" character, the actor actually admitted that he was beyond nervous to play the part. Here's why.     
Stamos went dark for his Law & Order: SVU character
John Stamos had good reason to worry about playing the role of smarmy New York attorney Ken Turner in "Law & Order: SVU" as "against type" doesn't quite cover just how off-brand the character was for the actor who is mostly known for playing lovable characters. Nonetheless, Stamos' "SVU" character joined the series' long list of loathsome offenders when he turned up in "Bang," and the emotional carnage Ken Turner wrought in the episode easily ranks him among the show's most despicable bad boys.
It's safe to assume Turner's unusual M.O. is what led Stamos to tell Digital Spy that he was terrified of the role prior to the episode's 2011 premiere. Stamos went on to add, "He's unlike any character I've ever seen." As for Turner's malfeasance on "SVU," the vile character is eventually confirmed to be a reproductive abuser, meaning he lives to intentionally impregnate women without their consent. By the episode's end, it is even discovered that Turner had apparently done so to nearly 50 unsuspecting women across the globe. Given that repulsive story arc, one can understand why Stamos — who'd developed a penchant for playing generally nice guys on-screen — told Digital Spy his initial response to being offered the role was to tell "SVU" producers, "I can't do this ... it makes no sense for someone like me.'"   
If you or anyone you know has been a victim of sexual assault, help is available. Visit the Rape, Abuse & Incest National Network website or contact RAINN's National Helpline at 1-800-656-HOPE (4673).
Stamos' SVU appearance remains one of the series' best high-profile guest spots
Thankfully, "Law & Order: SVU" executive producer Neal Baer wouldn't take no for an answer, and eventually convinced John Stamos to take the part. Per Stamos' comments, Baer's vote of confidence led him to wholly reconsider his celebrity status. The actor said, "You get so caught up in being a celebrity these days that you forget why you're a celebrity – because you're an actor. And roles like this that scare you is where I should be going with my career. I really think it's one of the best things I've ever done on television."
Stamos' "SVU" character is certainly off-putting, but the actor was in top form in the role, with notable outlets like Huffington Post unabashedly praising his work. Likewise, more than a decade after he appeared on "SVU," Stamos still ranks among the best guest appearances the series has ever seen (per InStyle). Speaking of "SVU" guest stars, that list also includes Stamos' late "Full House" co-star Bob Saget, who turned up as a jealous, murderous husband in Season 8. If you've seen Saget's episode, you know it's further proof the former "Full House" duo had range that reached well beyond the realm of tender-hearted fatherly types — even if nobody could've predicted they'd break so unforgettably bad on "SVU."