Why Some MCU Fans Are Already Divided Over Ms. Marvel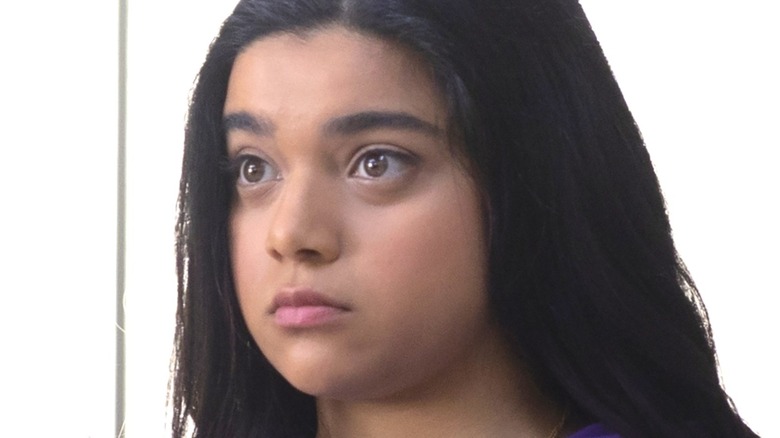 Chuck Zlotnick/Marvel Studios
It's been three years since "Avengers: Endgame" delivered the stunning culmination of a decade's worth of storytelling as Earth's Mightiest Heroes finally defeat Thanos (Josh Brolin) in a dramatic battle for the fate of the universe. But it also set the stage for even bigger adventures further down the line into the Marvel Cinematic Universe's Phase Four slate of projects, like introducing the multiverse in "WandaVision," "Loki," and "What If...?" Marvel Studios has also had a heavy focus on introducing new heroes — and villains — along the way. Fans recently met Marc Spector and Steven Grant (Oscar Isaac) for the first time in "Moon Knight," and Tatiana Maslany is set to join the MCU as Jennifer Walters in "She-Hulk: Attorney at Law" later this year.
But the next new hero to join Marvel's ranks is none other than Ms. Marvel herself, Kamala Khan, played by newcomer Iman Vellani. Yes, the stretchy hero is finally making her way into live action in the "Ms. Marvel" Disney+ series, although Marvel has already changed a few key things about her powers. The first trailer from the series suggests that she has energy powers rather than her Inhuman-based "embiggening" ability in the comics, where she physically stretches her limbs to astonishing sizes.
Marvel chief Kevin Feige explained the change to Empire, saying, "We adapt the comics; it's not an exact translation. [Kamala] came about in a very specific time within the comic-book continuity. She is now coming into a very specific time within the MCU continuity. And those two things didn't match."
Thankfully, the footage seems to perfectly capture the fun, heartfelt tone of the original 2014 comics. But some MCU fans are already divided over "Ms. Marvel."
Some fans aren't happy with the tone
As with any upcoming Marvel movie or TV series, fans have been speculating and debating about what to expect from "Ms. Marvel" — and there's been a huge debate online over its tone. It seems like a lot of Marvel fans aren't impressed with the fun, high school tone in the first trailer — with many saying that it doesn't hold up to the Tom Holland "Spider-Man" trilogy, which also follows a teenage hero at school.
Redditor u/NotNotSilent wrote, "The show looks extremely cheap. Like if CW was given a large budget. ... Ms. Marvel high school feels like Disney [C]hannel high school." Redditor u/QuartersAlpha echoed the sentiment, adding, "I didn't care a ton for the trailer, just because it looked like the MCU equivalent of Netflix's teen stuff, like 'Kissing Booth' or 'Tall Girl.'"
On the other side of the debate, u/Rynoxmc2 suggests that some fans aren't impressed because "Ms. Marvel" simply isn't aimed at them, saying, "The show isn't for me, however, that doesn't mean that it won't be good. The demographic for the show is obviously for [sic] kids, families. That is fine, there is nothing wrong with having different demographics watching Marvel." Redditor u/xaraan says he's glad the MCU is delivering varied shows, adding, "I'm enjoying the mix the [MCU] is starting to offer in content and for me personally getting new stuff (for me) vs only content I'm nostalgic about. Trailer looked great IMO."
"Ms. Marvel" starts streaming on June 8.