Fans Make Their Thoughts On Superman & Lois' Tyler Hoechlin Very Clear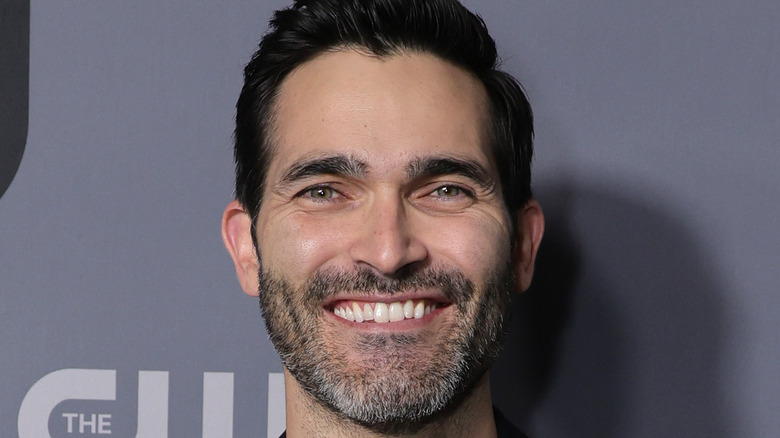 Michael Loccisano/Getty Images
The CW's "Superman & Lois" television series, which focuses on Clark Kent (Tyler Hoechlin), Lois Lane (Elizabeth Tulloch), and their sons Jonathan (Jordan Elsass) and Jordan (Alex Garfin), has received a highly positive response from fans and critics alike (via Rotten Tomatoes). Beginning back in February of 2021, "Superman & Lois" began continuing the story of the versions of Superman and Lois who had previously appeared in other series in the so-called "Arrowverse." 
According to Den of Geek, Hoechlin is now the eleventh actor to portray Superman in a live-action feature film or television series. He has also voiced his recognition of the pressure that comes with playing such an iconic hero (via Collider). Some would certainly say he has tough shoes to fill, as many Superman fans understandably say they have a soft spot for Christopher Reeves' time as the DC Comics hero, while others remain desperate to see Henry Cavill don the red cape again.
During a recent Reddit discussion about Hoechlin's take on the character, an interesting consensus began to form among fans.
Tyler Hoechlin's Superman is beloved by most fans
According to a recent thread on Reddit, a lot of Superman fans are feeling very positive about Tyler Hoechlin's portrayal of the character on "Superman & Lois." U/OuttatimepartIII initiated the conversation by explaining that they just started the show and already had quite strong feelings about Hoechlin's role. "Tyler Hoechlin has completely won me over," u/OuttatimepartIII wrote. "I've never seen such a balanced and well-rounded Superman/Clark Kent." 
This post received more than 50 upvotes and many other commenters appeared to be in general agreement. "Hoechlin is a great Superman," U/Limp_Researcher_5523 wrote, "and the writers actually did the character justice, unlike other DC characters the CW has had." Other users also explained their view that Hoechlin's portrayal shows the clumsy and innocent sides of Clark while having him flip the switch to Superman mode nicely. 
Although u/kappakingtut2 noted that they had low expectations going in, they were pleasantly surprised by this iteration of the character. "I'm enjoying the family aspect of it," this user wrote. "I like that they've shown him helping people around the world on occasions, and the show isn't limited to just Smallville's backyard."
It isn't too surprising that fans might be supportive of Hoechlin's version given the actor's apparent understanding of the character. While speaking with the New York Post in 2021, Hoechlin specifically stated that Superman's hope and optimism drew him to the character. Hoechlin also zeroed in on the family at the center of the series. "It's really not a show about Superman," Hoechlin said. "It's about a husband and a wife who are parents and the husband happens to be Superman."