How Steve Carell Personally Designed Michael's Ending On The Office Forever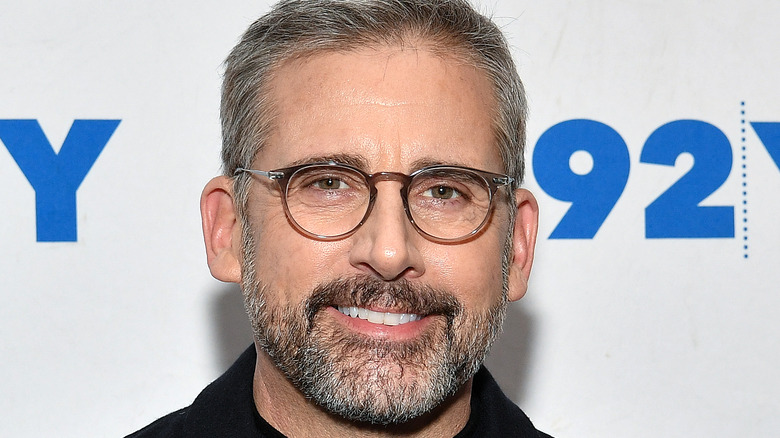 Dia Dipasupil/Getty Images
It's been nearly a decade since television lovers bid a fond farewell to NBC's long-running workplace mock-doc "The Office," and the show is arguably more popular now than it ever was during its original run. That's in no small part due to the series being one of the more heavily syndicated offerings around since its 2013 finale. Whether fans are catching it thanks to reruns or bingeing it in the land of streaming (it's now found a home at Peacock), fans old and new continue to fall in love with the kooky crew who called the Scranton, Pennsylvania branch of Dunder Mifflin their home away from home.
That, of course, includes the typically cringe-worthy antics of big-hearted branch manager Michael Scott, who is portrayed by Steve Carell for the first seven seasons. The character's exit from the show occurs late in the seventh season on the episode "Goodbye, Michael." Today, fans would likely agree that the farewell episode remains one of the most emotionally-resonant episodes of "The Office" aired during its primetime tenure. But it seems Michael Scott's surprisingly elegant series exit may not have always been planned that way, and it was Carell himself who changed the character's exit strategy.
Carell conjured an unexpectedly low-key ending for Michael Scott
According to Steve Carell, Michael Scott duping the Dunder Mifflin team about his last day in Scranton was his own idea. As reported by Mashable in December 2021, he made that claim in the book "Welcome to Dunder Mifflin: The Ultimate Oral History of The Office." Carell's major narrative adjustment added a surprising emotional weight to his departure from the show, with the actor claiming, "The idea I pitched was, obviously, he's going to move on, and he and Holly would be together." Carell continued, "But, on his last day, I thought there should be a party being planned, but Michael should basically trick people into thinking he was leaving the next day [and then, in reality, leave before the party]. I thought that would be the most elegant representation of his growth as a human being."
That change brings a stark contrast to the love- and attention-hungry Michael we meet in "The Office" pilot, and according to Carell, that was exactly the point. "Michael lives to be celebrated throughout the whole series. That's all he wants. He wants to be the center of attention, and he wants pats on the back," he noted, proceeding to touch on Michael's almost primal need to be seen as funny and relatable by everyone he encounters throughout his time on the show. Because the character traits are so integral to understanding Michael, the fact that he seemingly subverts expectations on his final day in the office is nothing short of poignant.