This Fan-Favorite Character Doesn't Belong In Stranger Things 4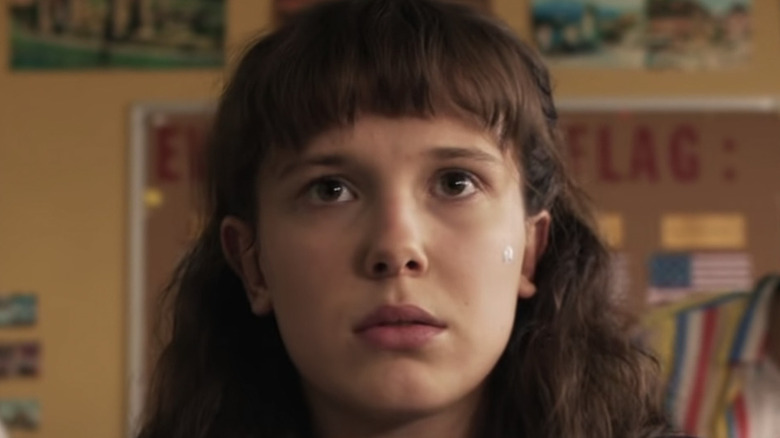 Netflix
Contains spoilers for "Stranger Things 4" Part 1
Let's face it, "Stranger Things" has been suffering from a seriously bloated cast of characters for a while now. The first season of the Netflix hit starts with a sizable, but still manageable cast that includes 10 or so main characters and almost double that amount of major recurring ones. Yet, despite the significant body count of the Demogorgon's rampage, you could argue that the only truly significant death in Season 1 is Barb Holland (Shannon Purser). Come Season 2, the cast just keeps expanding, and characters like Steve Harrington (Joe Keery) and Will Byers (Noah Schnapp) receive much more screen time. Despite a bigger body count, the season once again has just one major character death, that of Bob Newby (Sean Astin). With the biggest death toll in the series so far, Season 3 kills off a whole bunch of second and third-tier characters, as well as Billy Hargrove (Dacre Montgomery). 
Come "Stranger Things 4," this leaves the show with a bit of a problem. The vast majority of the show's notable characters are still alive, with recurring characters like Murray Bauman (Brett Gelman) and returning ones like Dr. Brenner (Matthew Modine) now in full main character mode. This means that the show has to divide its attention between more main characters than ever, along with what may very well be the biggest recurring cast in "Stranger Things" history. 
"Stranger Things" is cool, but that kind of ensemble cast can easily become a bit unwieldy, especially when the story Season 4 Part 1 goes for is ultimately a pretty simple "Good vs. Evil" one. This is all the more frustrating because the previous season had an amazing chance to fix the issue — by killing Jim Hopper (David Harbour) for good. 
Hopper's character arc was already done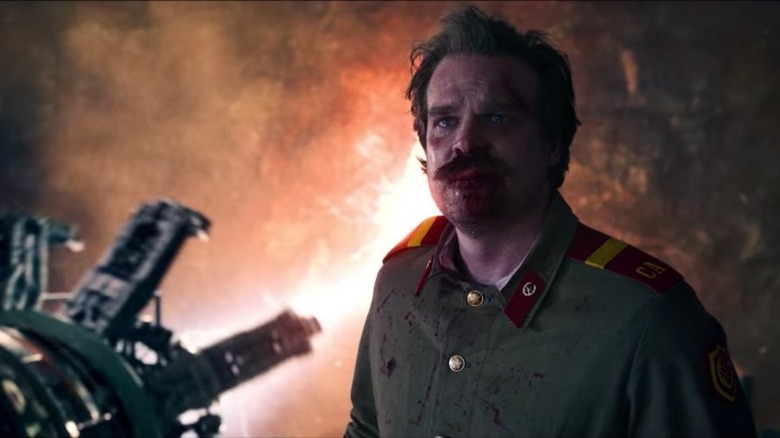 Netflix
There's no denying that Hopper is a good character. The way his Season 1 arc unfolds and reveals a capable and kind man underneath the grumpy, unprofessional facade of the coffee-guzzling Hawkins Chief of Police is pretty fantastic. The development of his father-daughter relationship with Eleven (Millie Bobby Brown) in Season 2 continues his organic development into a gruff, yet warm-hearted action dad type. 
Season 3, however, is a long, hard look at the dark side of Hopper's complex mind. He gets in the way of El's relationship with Mike (Finn Wolfhard), and lets the toxic aspects of his personality get the better of him around Joyce (Winona Ryder). Hopper's various losses and stresses have seemingly turned him into an incorrigible ball of anger and frustration, and even his usual action hero antics can't entirely wash away the bad taste of his treatment of Eleven and Joyce. 
Fortunately, the ending of "Stranger Things 3" gives Hopper — a man who's always been convinced that he sabotages everyone close to him, and has in fact been doing precisely that for much of the season — a perfect moment of redemption when he gives his life in order to shut down the gate to the Upside Down for good. It's a deep, meaningful and fitting heroic sacrifice. Unfortunately, its impact lasts all of a few minutes, before the post-credits scene heavily hints that Hopper survived.
Despite his character self-assassination in Season 3, Hopper is clearly one of the most popular and important characters in the show, so it's kind of understandable that "Stranger Things" found a way for him to survive the explosive ending of the third season ... provided they have a good use for him in "Stranger Things 4."
Hopper's plotline is largely dead weight in Stranger Things 4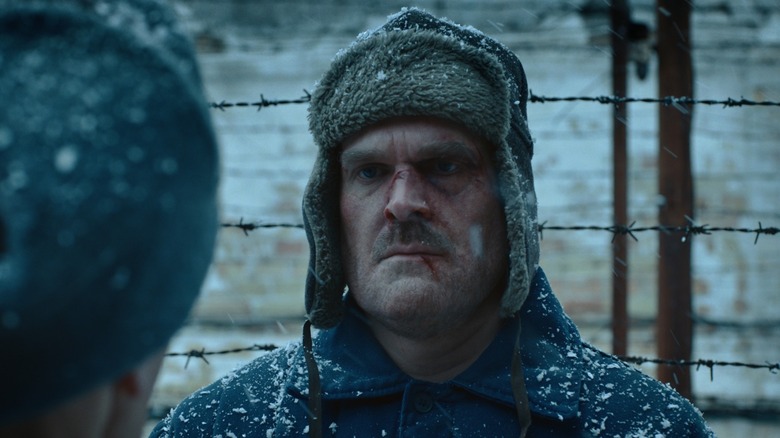 Netflix
Here's the problem, though. "Stranger Things 4" Part 1 doesn't seem to know what to do with Hopper at all. The story of the season unfolds on multiple fronts, and while Eleven's solo adventure and the Hawkins and California groups' various adventures are all worthy plotlines, the Hopper-centric Kamchatka plot comes across as a rescue side quest that progresses at a glacial pace. Thanks to its leisurely pacing and grim nature, it almost seems to be from an entirely different show ... at least, until the Demogorgon finally bursts on the scene, which happens roughly four episodes later than the viewer might have hoped. 
As mentioned, the "Stranger Things 4" cast is huge, and critics have said that this and the lengthy runtime of the episodes can make for a sluggish viewing experience. Had Hopper actually died in "Stranger Things 3" like the plot seemed hell-bent to imply, there would be one less major character to focus on, and the show would have one less major plotline to juggle. 
With this change, the pacing of Season 4 might be much better, and the bloated runtimes of the episodes would definitely be way more manageable. Besides, both Joyce and Murray could easily be tacked on to virtually any other plotline of the season, and arguably be better for the change. After all, what they're doing now is just slowly work their way toward freeing Hopper, which doesn't offer too much room for personal character growth, unless you count Murray's hitherto unseen karate skills. 
Put all this together, and the message is clear. Sorry, Jim Hopper — you were a real one for a good while, but even the best characters need to know when to bow out to give others room to breathe.