Stranger Things 4 Volume 1 Has Critics All Saying The Same Thing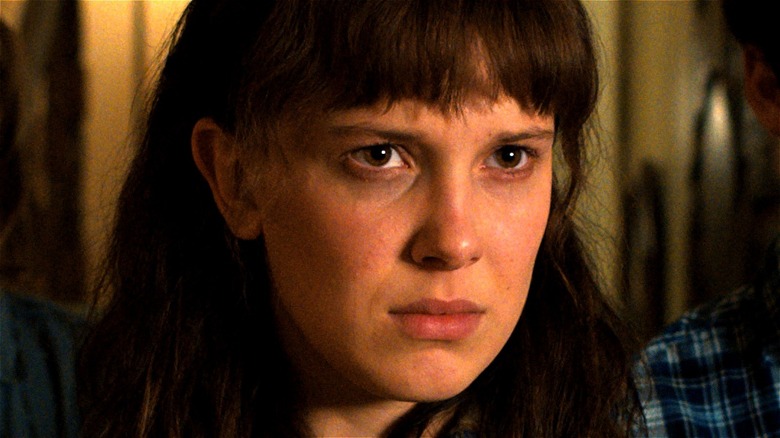 Netflix
"Stranger Things" fans have had to wait a long time for new episodes of the popular Netflix original series. The sci-fi drama's third and most recent season premiered on Netflix in July of 2019, a little less than two years after its sophomore season made its debut in October of 2017. The show's third season received largely positive reviews from critics, though, it currently ranks as the lowest season of "Stranger Things" on Rotten Tomatoes.
The season ended with a few unexpected cliffhangers, and fans have been left to spend a majority of the past three years speculating about the answers and questions that the show's fourth season would, hopefully, provide. Now, that wait is nearly over, with "Stranger Things 4 Vol. 1" set to premiere on the streaming service on Friday, May 27. On that date, the series will return with the first seven installments of its nine-episode fourth season, all of which boast runtimes ranging from 76 minutes to 98 minutes long (via Forbes). The season's final two installments, meanwhile, will premiere on Friday, July 1, and are expected to be similarly supersized in both scope and length.
Fortunately, it sounds like "Stranger Things 4 Vol. 1" may actually manage to live up to fans' lofty expectations, though, there may also be some who find themselves disappointed by the series' long-awaited fourth season.
Critics are in agreement about Stranger Things 4 Vol. 1
With only a few days left to go until "Stranger Things 4 Vol. 1" premieres on Netflix, the first reviews for the series' new batch of episodes have finally hit the internet. Fans of the series should be happy to hear that most of the reviews for the new season are positive as well, with many critics praising the show's darker tone and increasingly cinematic style. For instance, in their review of the season for The A.V. Club, Saloni Gajjar wrote, "The Duffer Brothers' own superpower is reveling in '80s horror nostalgia. And the duo is on top of their game here."
Elsewhere, for Entertainment Weekly, Kristen Baldwin wrote, "Fresh locales, appealing new characters, and a rewarding expansion of the mythology give the new season of 'Stranger Things' a jolt of joyful energy, just when the series needed it most." Meanwhile, in their Empire review of the new "Stranger Things" episodes, Sophie Butcher observed, "'Stranger Things' most sinister season yet still knows how to send shivers up your spine."
However, while most critics seem to agree that "Stranger Things 4 Vol. 1" is an entertaining and satisfyingly scary continuation of the series, that doesn't mean all of the first reviews for it have been totally criticism-free. As a matter of fact, several critics have noted that there are moments in the new season when the series' ensemble cast is too sprawling for its own good. In what may come as a surprise to some "Stranger Things" fans, there are even some critics who have taken issue with the longer runtimes of the series' newest episodes.
Some critics think Stranger Things 4 is too long and too dark
As of this writing, "Stranger Things 4" does not hold a perfect 100% Tomatometer score on Rotten Tomatoes, which means that not every review for it has been positive.
Ben Travers, for instance, penned a negative review of the new season for IndieWire and wrote that "'Stranger Things 4' is sluggish and — for a show built for homages to '80s pop culture and centering [on] a bunch of goofy kids — shockingly glum." In their review, Decider critic Meghan O'Keefe also expressed their own disappointment with the show's new season, writing, "The plot of 'Stranger Things' Season 4 is so spread out, so prolonged, and so stretched that it takes forever to seemingly get going. When it finally does, everything that happens feels blatantly obvious."
There were also some reviewers who ended up feeling more mixed about the new "Stranger Things" season than their fellow critics. That was the case with Daniel Fienberg, who penned a positive review of the new "Stranger Things" episodes for The Hollywood Reporter but also wrote, "The fourth season of 'Stranger Things' is the biggest, scariest, most ambitious 'Stranger Things' season yet. It's also the least charming, least funny and least inventive season yet." The critic additionally observed that the season's "effort to concentrate on moments of human relatability often gets overwhelmed by the attempts at scale."
In other words, it seems safe to say that "Stranger Things 4 Vol. 1" is just as expansive, dark, and cinematic as fans likely hoped it'd be. That said, the series' new episodes may also prove to be too scattered, dour, and long for some. The good news is that "Stranger Things" fans only have a few more days to wait before they find out which opinions they do and do not share with critics about the series' fourth season.