The Community Star You Likely Missed On That '70s Show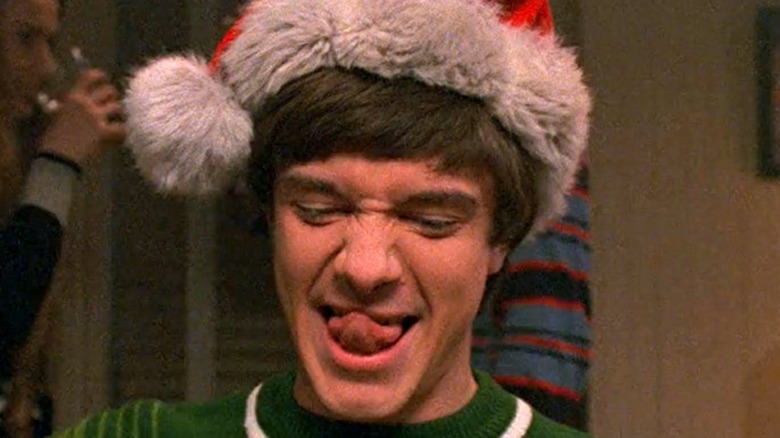 Fox
Over the past few decades, with television having accelerated into arguably its greatest artistic era ever –  yielding a never-before-seen density of bold, brilliant, creative, envelope-pushing shows in all genres, formats and release platforms — it's hard to even pinpoint which series have exerted the most influence over the current landscape. But one thing we can say for sure is that "Community" was a watershed moment in sitcom history.
Created by Dan Harmon, the incomparable series about the adventures of (what began as) a community college Spanish study group melded genre deconstruction, weathered early-2010s irony, brainy meta-comedy, cartoony goofiness, fraught intertextuality, loving cinematic spoofery, labyrinthine inner mythologies, dauntless formal experimentation, and a running supply of emotional sincerity and character-based humor into one of the defining melting pots of internet-era media.
If "Community" chronicled the ridiculousness of the present day, you could scarcely come up with a network sitcom more different from it than Fox's "That '70s Show," a series that took the inverse path by taking a broad, accessible look at the ridiculousness of the past. The one thing both shows had in common were their incredible, breakthrough-laden ensembles — respectively peppered with such future stars as Donald Glover, Alison Brie, Ken Jeong, and Mila Kunis, Topher Grace, and Wilmer Valderrama. 
Interestingly enough, those two ensembles had one man in common: a "Community" star who also had a guest spot for several years on "That '70s Show."
Jim Rash, who played Dean Pelton, used to guest on That '70s Show as Fenton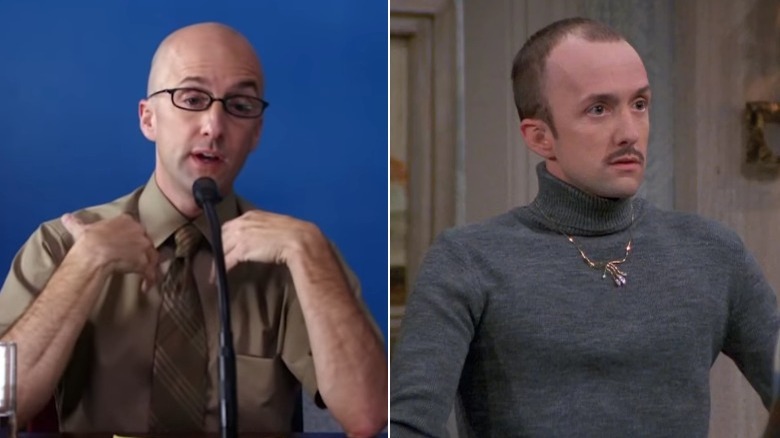 NBC, Fox
One of the key figures of the legendary "Community" ensemble cast was a character who was not a proper member of the core study group, but still interacted with them pretty much on a weekly basis. We're referring, of course, to Craig Pelton, the overworked, overwhelmed, and overzealous dean of Greendale Community College, whose obsession with the "Greendale Seven" often led to disastrous consequences for both parties.
Dean Pelton was played by American actor and comedian Jim Rash, who started out as a recurring player on Seasons 1 and 2, then earned a long-deserved upgrade to series regular from Season 3 onward. If you're in the Venn diagram intersection between "Community" fans and people who used to tune in to "That '70s Show," you may also recognize Rash from his role as Fenton, the flamboyant jewelry store clerk who becomes Fez's (Wilmer Valderrama) nemesis throughout Season 5, and then, much to his chagrin, becomes his and Kelso's (Ashton Kutcher) landlord. After making three appearances on Season 5, Rash went on to pop up in the role of Fenton once a season for the remainder of the series, ultimately totaling six "That '70s Show" guest spots.
There's plenty more to Jim Rash's career — including an Oscar win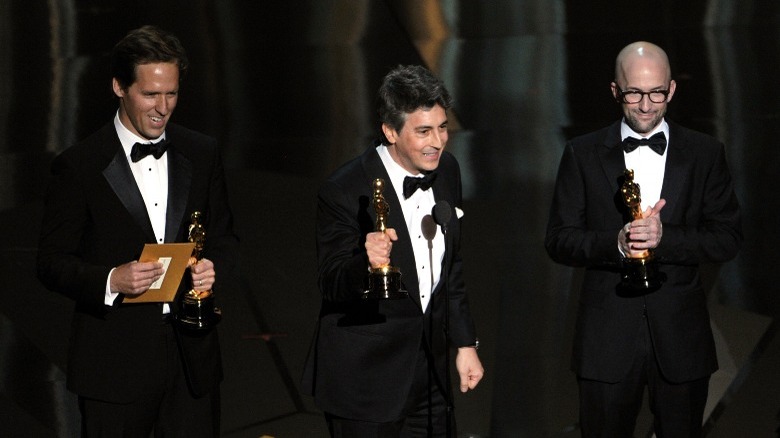 Kevin Winter/Getty
As identified as Jim Rash has become with series like "That '70s Show" and "Community" — particularly the latter — there is much more to his entertainment career. Once a member of the notorious Los Angeles improv troupe The Groundlings (via Broadway World), he actually had three series regular roles on short-lived sitcoms before "Community" — The WB's "Katie Joplin," CBS's "Thanks," and ABC's "Help Me Help You." Throughout the 2000s, he also had roles in comedy films like "Sky High," "Smiley Face" and "Balls of Fury," and continued to make his mark as a TV guest star post-"'70s Show" with appearances on "Reno 911!," "Will & Grace," and, perhaps most memorably, the finale of "Friends."
In addition to his work as a comedic actor, Rash is also a prolific, award-winning screenwriter and filmmaker. He and his longtime comedy partner Nat Faxon wrote the screenplay that would later get re-written by Alexander Payne into the acclaimed, Best Picture Oscar-nominated George Clooney film "The Descendants" (via Deadline). All three men shared the 2011 Academy Award for Best Adapted Screenplay (via IMDb). Later, Rash and Faxon also made their debuts as directors with the endearing 2013 Sundance dramedy "The Way Way Back," which was followed up by the 2020 Julia Louis-Dreyfus and Will Ferrell-starring comedy "Downhill." Rash even brought his talents as writer and director to "Community," penning the Season 4 episode "Basic Human Anatomy," and helming two Season 6 outings alongside Faxon.