The Stranger Things 4 Character You Likely Didn't Know Was Based On A Real Person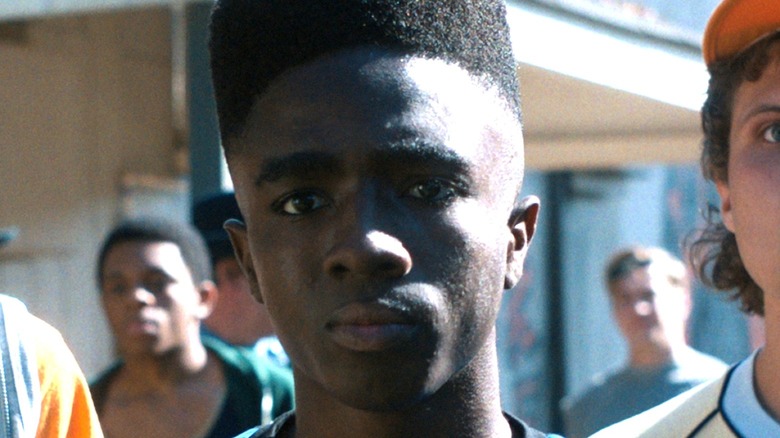 Netflix
The ultra-popular Netflix sci-fi horror series "Stranger Things" which was created by the Duffer Brothers, has returned for its fourth season. Volume 1, which consists of the first seven episodes of the season, was released to the streaming service on Friday, May 27. The fourth season is set six months after the battle at the recently opened Starcourt Mall at the end of Season 3. Eleven (Millie Bobby Brown) and Will Byers (Noah Schnapp) now live in California with Joyce (Winona Ryder) and Jonathan (Charlie Heaton). Meanwhile, Mike Wheeler (Finn Wolfhard), Dustin Henderson (Gaten Matarazzo), Lucas Sinclair (Caleb McLaughlin), and Max Mayfield (Sadie Sink) are back in Hawkins, Indiana, which means our favorite friend group is separated for the first time since Season 1. Meanwhile, Hopper is revealed to still be alive, having survived the explosion at Starcourt, and is being held prisoner by Russian soldiers at a Siberian prison camp.
Along with the characters listed above, other familiar faces return for the fourth season, including Nancy Wheeler (Natalia Dyer), Steve Harrington (Joe Keery), and Robin Buckley (Maya Hawke). Additionally, the season also introduces a slew of new characters – one of whom happens to be based on a real person. Here's the story behind the real-life inspiration for one of the new "Stranger Things" characters.
One of the Stranger Things writers is like Eddie Munson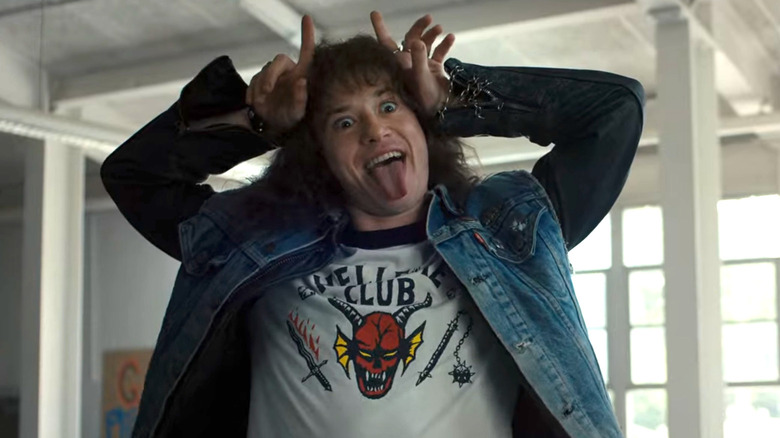 Netflix
One of the new characters of the season is Eddie Munson (Joseph Quinn), a senior who has been held back several times and is the leader of Hawkins High School's Hellfire Club, the official Dungeons & Dragons club. With his long curly hair and grunge style, Eddie has a punk look to him despite being the leader of what is traditionally considered a "nerdy" hobby. In an interview with Netflix's Tudum, the Duffer Brothers explained their inspiration behind Eddie — namely, the fact that they were inspired by someone that they know in real life.
Matt Duffer explained, "A friend who's in the writer's room with us was a metalhead in the '80s, and he loved D&D. He was in a Dungeons & Dragons club. We thought that was really interesting." Duffer noted that usually when a character has a metalhead look like Eddie, they would be more similar to characters such as Billy (Dacre Montgomery), so, likely a bully. Duffer continued, "They're smoking, they pull out knives, they're bullies, they're bad guys. But no, they're actually just geeks. They're outsiders."
Following the premiere of "Stranger Things 4: Volume 1," even more information about the inspiration behind this Hawkins character was revealed. In a tweet from the Netflix Geeked account, fans learned that Damien Echols, one of the West Memphis Three, was another inspiration for Eddie. Echols, along with Jason Baldwin and Jessie Miskelly served nearly 20 years in prison for a trio of murders despite evidence to the contrary (via Britannica). The more you read about them, the clearer the ties between their story and Eddie's "Volume 1" arc becomes.
The Eddie Munson casting process was easy breezy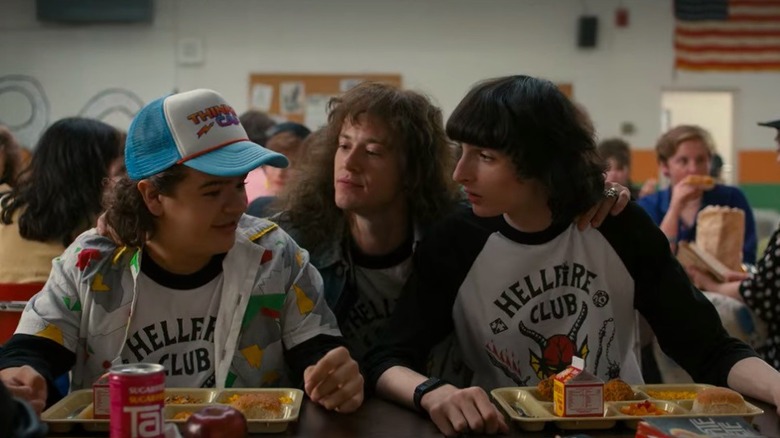 Netflix
In May, Vanity Fair published a profile on Joseph Quinn, the British actor who plays Eddie Munson on "Stranger Things" Season 4. In the interview, Quinn revealed he was cast in the role after sending in just two audition tapes. In other words, he skipped the typical steps of chemistry reads, multiple auditions, or even meeting with the creative team in person.
Quinn also spoke about having an overall positive experience working on "Stranger Things," thanks to those involved. Citing the kindness of his cast members, the Eddie Munson actor shared, "They're lovely people. They've been through this crazy tumble dryer of fame and are very galvanized because of it." Then, on the topic of the show's creators, Matt and Ross Duffer, Quinn said, "Watching them work is intriguing. They can communicate to each other without speaking."
Even though the casting process proved to be a breezy process, Quinn did reveal to Entertainment Weekly that getting into character was a bit trickier. Why? Turns out, the Englishman isn't a bit D&D fan. "I bought a book to try and understand what Dungeons & Dragons was about, and it didn't agree with me. Though, I knew that wasn't going to be my way in, as it were." Instead, Quinn connected far better with the heavy metal-loving side of Eddie.
All in all, Quinn revealed that despite "Stranger Things" now being one of the biggest shows in the world, there is still an underdog-like approach to making the series. He remarked, "There was no grandiosity from the [Duffer] brothers, or from the cast members. The roots of it are very humble." 
"Stranger Things 4: Volume 1" is now available to stream on Netflix. "Volume 2" will arrive on the streamer on July 1.