The New Character In Stranger Things 4 Volume 1 Fans Cannot Stand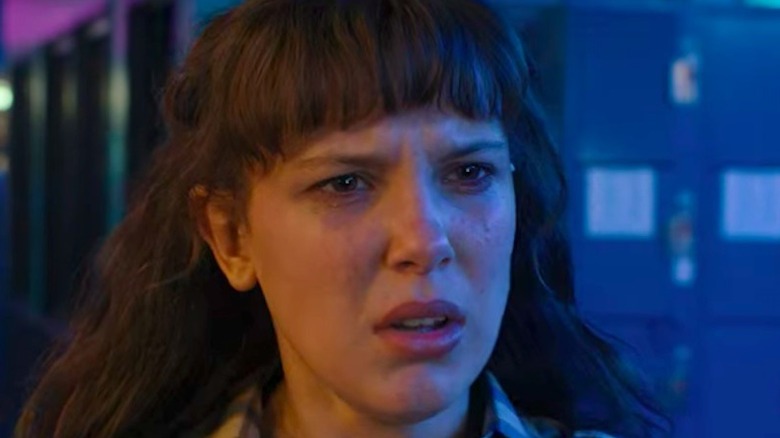 Netflix
The first volume of "Stranger Things" Season 4, which consists of seven episodes, just premiered on Netflix, and fans are already knee deep binging the new content. The new season begins six months after the Battle of Starcourt in Season 3, as the friends are now separated for the first time. Joyce Byers (Winona Ryder) has moved with her kids Will (Noah Schnapp) and Jonathan (Charlie Heaton), as well as Eleven (Millie Bobby Brown), to California, while Mike Wheeler (Finn Wolfhard), Dustin Henderson (Gaten Matarazzo), Lucas (Caleb McLaughlin) and Max Mayfield (Sadie Sink) remain in Hawkins. Plus, there's the news that Jim Hopper (David Harbour) is alive and is imprisoned by Russian soldiers.
There's also a set of new characters who viewers get to meet in Season 4 — one of whom fans are already expressing disdain for. Here's which new character "Stranger Things" viewers can't stand in the new episodes.
Fans can't stand queen bee Angela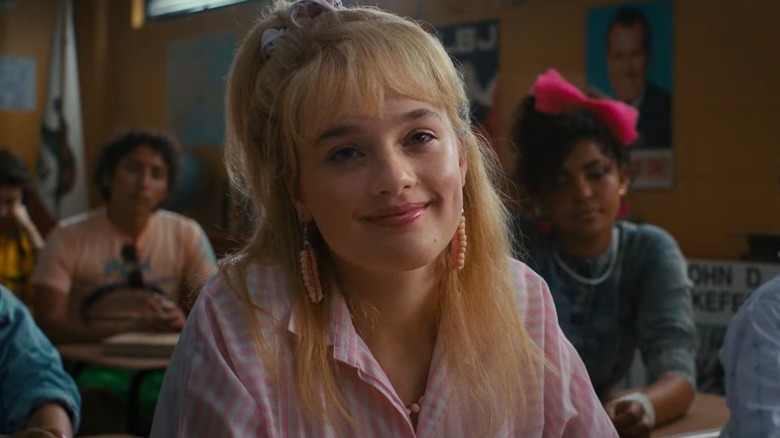 Netflix
In her new home of Lenora Hills, California, Eleven — who is going to school under the name Jane Hopper — is finding it hard to fit in. Not only is she states away from all of her friends (except for Will) but she is getting bullied at her new school — and all of the vicious teasing is led by queen bee Angele (Elodie Grace Orkin). In one scene, Angela cruelly reminds Eleven that her father is dead (as Eleven believes at the moment), causing Eleven to hit Angela in the face with a roller skate. Naturally, viewers are not big fans of Angele.
One "Stranger Things" fan, @therealsupes, posted a photo of Angela to Twitter and wrote, "I'm 2 episodes into #StrangerThings4 and I've never hated a character more than Angela in my entire life." Another fan, @sadierosemx, declared that Angela deserved being hit with the roller skate for bullying Eleven. In agreement, @thebpinks wrote what many fans were thinking: "listen im not one for violence but el did what needed to be done with that angela hag im sorryyyy." Another fan, @thejuliamendes showed their enthusiasm on the topic via an all caps post, writing, "ANGELA DESERVED IT SO BAD GO ELEVEN."
Meanwhile, @IraSnave jokingly described how Angela led to a change of heart, writing, "Me to my therapist a few hours ago: I no longer choose violence. I feel proud of myself. Me now: well Angela. Talk s***...get hit." All in all, Twitter is filled with fans voicing their opinions on how they believe Angela deserved to get hit with the roller skate, as well as how they can't wait for Eleven to get her powers back to use them on Angela.
Elodie Grace Orkin is nothing like her on screen character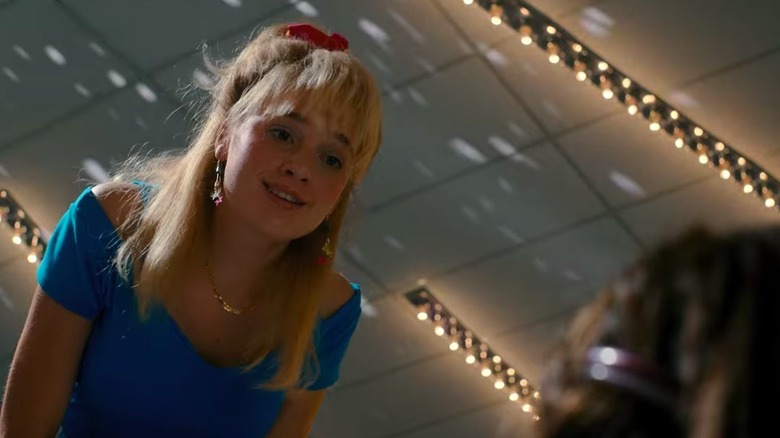 Netflix
Angela may have quickly become one of the show's most hated characters, but the actress who plays her, Elodie Grace Orkin, swears she is nothing like Angela. While speaking with Brief Take, Orkin was asked if she knew any mean girls like Angela in real life. Orkin responded, "No one as mean as her, which I am very grateful for. So I kind of had to just draw on all my inner teen angst."
Orkin then discussed the pros and cons of playing such a mean character, including the fact that it was a bit difficult to bully Millie Bobby Brown within scenes, since the two of them got along well in real life. The actor said, "It's fun to play a mean character because you get to be someone that you never get to be in real life, especially because I'm not confrontational at all. But it made it not as fun because Millie is such a lovely person."
If you'd like to see Orkin's arc as Angela play out, "Stranger Things" Season 4 Volume 1 is now available to stream on Netflix.