The Sad Reason Why Stranger Things 4 Now Comes With A Warning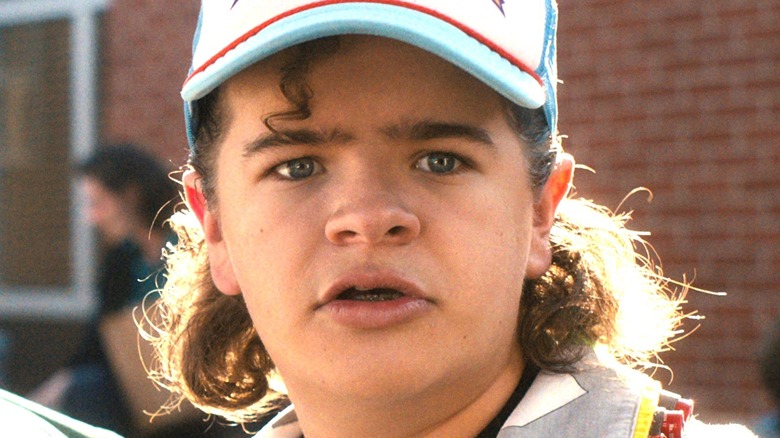 Netflix
The following article includes discussions of gun violence
Since its premiere in 2016, Netflix's nostalgic horror-infused series "Stranger Things" has been a hit with fans. The show investigates the strange occurrences in the small town of Hawkins, Indiana, after young Will Byers (Noah Schnapp) goes missing. The series leans hard into the genre, with so many Stephen King references that even the man himself had to acknowledge it. Season 3 dials up the stakes even further than the first two, as Eleven (Millie Bobby Brown) and her friends inch closer toward adolescence under the watchful eye of new father figure Jim Hopper (David Harbour).
This new dynamic only made Eleven and Hopper more endearing on screen — and the "Stranger Things 3" finale that much more devastating. Hopper's apparent death shook viewers to their core. While promotional materials revealed that Hopper would be back in some capacity for Season 4, his resurrection might be short lived. No one is ever really safe on the show. "Stranger Things" has always had a tragic streak, and that propensity just might explain why "Stranger Things 4" is hitting Netflix with a sad warning attached.
The Duffers thought current events merited a timely disclaimer
"Stranger Things" has featured some heavy topics in the past. First, there was the controversial destruction of Barb during Season 1. Then, even after Will returns from the Upside Down, he experiences residual trauma from his terrifying experiences. Eleven is subjected to experimentation that borders on torture, and Season 4 dedicates even more screen time to that troubling topic. This is why, in light of the recent school shooting in Uvalde, Texas, the newest season of the show comes with a disclaimer. 
According to Variety, viewers in the U.S. will receive a warning in front of the first episode: "We filmed this season of 'Stranger Things' a year ago. But given the recent tragic shooting at a school in Texas, viewers may find the opening scene of episode 1 distressing. We are deeply saddened by this unspeakable violence, and our hearts go out to every family mourning a loved one." 
The scene in question depicts Eleven surrounded by dead children — a fictional horror a bit too close for comfort to the real-life horror unfolding in Texas. Considering the timing of this national trauma, Netflix and the Duffers' decision to tack on a trigger warning feels prudent.