Stranger Things Fans Are Flipping Out Over The First Official Clip From Season 4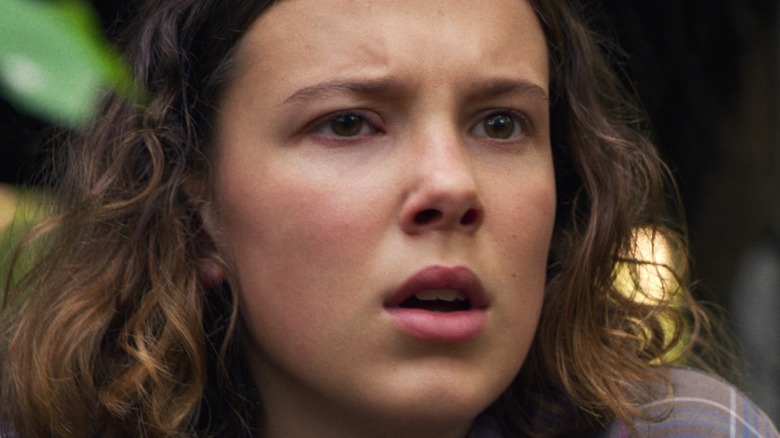 Netflix
"Stranger Things" fans have been impatiently waiting for Season 4 to arrive since 2019, which feels like an eternity when you're a binge-watcher. The closing episode was an emotional affair as lives were lost, characters came of age, and some secret business was teased in a Russian research facility. Netflix's mega-hit was always going to receive another season, but the wait has been so long that it left many wondering if more adventures into the Upside Down were really coming.
That said, the show's hiatus has been productive for "Stranger Things" fans. Some have even come up with some interesting theories about what the next installment of the heart-racing sci-fi series will entail. However, the streamer's latest Season 4 teaser, which debuted at Netflix's Tudum event, has provided more clarity on what we can all expect from the upcoming series, and it looks very creepy indeed. Naturally, this has only made the show's base more excited to see what's in store.
Season Things Season 4 will embrace its spooky side
"Stranger Things" has never shied away from giving viewers the heebie-jeebies, but the latest teaser promises some spine-tingling horror in a haunted house. The clip opens in the 1950s and introduces us to the Creel family in their very spooky home. The flashback scene depicts some supernatural tomfoolery, with flickering lights, massacred bunny rabbits, and the Creel children lying on the floor as their father stares at the door. It's a chilling clip, to say the least.
The trailer then fast-forwards to the present day, with Dustin (Gaten Matarazzo), Steve (Joe Keery), Lucas (Caleb McLaughlin), and Max (Sadie Sink) investigating the now-abandoned house and discussing Sherlock Holmes as amateur sleuths often do. Of course, the big question is, does evil still lurk in the home?
Unfortunately, there was no sign of Robert Englund in the trailer. The '80s horror icon, famous for playing Freddy Krueger in the "A Nightmare On Elm Street" franchise, will play the Creel family patriarch in the upcoming season. But fans will have to wait to see the actor in action.
Fans are going wild for Stranger Things Season 4
Netflix will have another critically acclaimed hit on its hands if the reaction to the "Stranger Things" Season 4 teaser is anything to go by. Fans flocked to social media after it dropped to make their thoughts known, and the sentiments were positive, for the most part.
"HELLOOO IM LOSING MY MIND BC OF THISS," noted one fan on Twitter. While the spooky house footage certainly sent some chills down people's spines, some fans were excited to see their favorite pair back in action. "STEVE AND DUSTIN, OUR FAVORITE DUO," wrote another fan before sharing a still of the characters standing next to each other.
However, some fans weren't happy as the teaser left them wanting more "Stranger Things" content. "We're gonna need more than whatever teaser that was," another tweeter added. "Cool teaser! But that's it? We are not getting anything else today? Very disappointed," stated another aggrieved social media user.
"Stranger Things" Season 4 lands on Netflix in 2022.