Star Wars Fans Have Already Crowned Obi-Wan Kenobi's Breakout Star
If "Obi-Wan Kenobi" just followed the titular character, played by Ewan McGregor, around the arid sands of Tatooine, then we wouldn't have gotten the exciting romp around the galaxy of "Star Wars" that we have. Filled to the brim with both new and colorful characters, pint-sized versions of old favorites, and even call-back characters, "Obi-Wan Kenobi" is shaping up to add a completely new and exciting chapter that helps fill in the background of some of our favorite people from the greater "Star Wars" galaxy.
Starring McGregor, Rupert Friend, Joel Edgerton, Moses Ingram, Sung Kang, Hayden Christensen, and Bonnie Piesse among many others, "Obi-Wan Kenobi" shows that Obi-Wan didn't just spend all of that time between "Star Wars: Episode III – Revenge of the Sith" and "Star Wars: Episode IV – A New Hope" sitting around and waiting for something to happen (via IMDb). Turns out, he is very much active and runs into several very familiar faces in his pursuit of evading capture, while at the same time acting as a mysterious protector to the children of his former friends. Now that fans have gotten their first look at this brand new show, it seems like many have taken a shine to the child version of a certain member of Alderaan nobility.
Fans on Reddit are enjoying the sassy version of young Princess Leia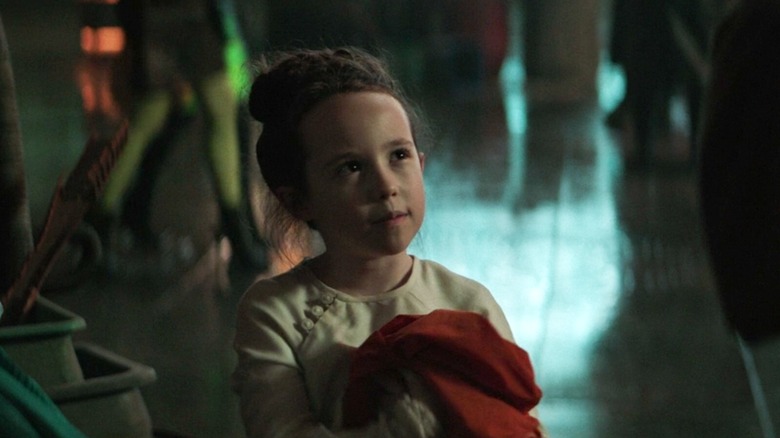 Lucasfilm/Disney+
Converging on the ever-popular subreddit r/StarWars, fans came together to discuss their favorite aspects of the first two episodes of "Obi-Wan Kenobi," and several arrived at the same conclusion — the young actor playing Princess Leia is absolutely knocking it out of the proverbial park. Played by Vivien Lyra Blair of "Bird Box" fame, this pint-sized version of Leia channels the spirit of the character, and "Star Wars" aficionados are here for it. u/throwaway_for_keeps loved the portrayal, and wrote, "10-year-old Leia is my new favorite character. They wrote her so well."
Others also agreed, and u/AaronfromCalifornia joked, "Our cruisers can't repel sass of that magnitude." Redditor u/interrupting-octopus stated that the production crew un-ironically nailed the casting of young Leia in both attitude and looks, while u/ThexanI replied, "I [absolutely] LOVE that they captured that spitfire attitude that is so key to Leia's character."
These were not the only sentiments that sang the praises of Blair's take on Princess Leia. User u/JayEdgarHooverCar added that it takes zero imagination to see this girl turning into the 19-year-old woman who gives Darth Vader (James Earl Jones) and Tarkin (Peter Cushing) the business in "A New Hope." It seems then that fans are enjoying this fresh take on the iconic character, and respect the current direction of young Leia in "Obi-Wan Kenobi."